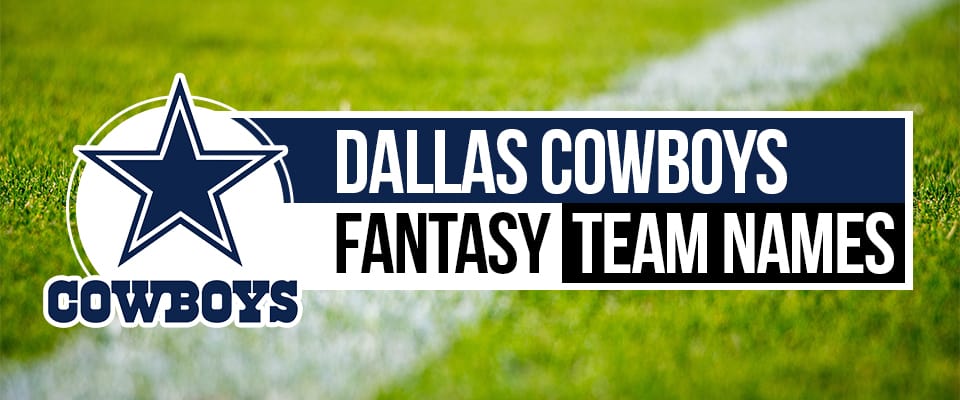 America's team is now officially Dak's team, on the field at least. Above the field, it's still very much Jerry Jones' team. Heck, it's Jerry Jones' world – we're all merely watching football in it.
We offer these Dallas Cowboys fantasy football team names as an offering to appease the Blue and Silver emperor. And just to get you pumped for the 2021 season – is this the year Dak and Zeke finally break through?
Dallas Cowboys Fantasy Names for 2021
Dak's Amore
Dakording to Jim
This one could be pretty memeable. Dak's face + Jim Belushi's body = comedy bronze.
Ezekiel's Bread
Cooper Troopers
CeeDee Drive
See kids, a CD drive was a thing that computers used to – you know what, never mind. I'm just making myself sound old.
Cowboys and Robbers
Aiks and Pains
DallAiks CowTroys
Romocop
Staubach in the Saddle
Novacek Yourself
Witten in the Stars
Back Dallass Up
This is both a message that one should support the Cowboys, as well as some real lowbrow potty humor.
Dak Prescott Fantasy Football Names
Now that Dak is locked down for the foreseeable future, there's one more big thing he needs to do.
Here's a hint: it starts with winin and ends with theplayoffs.
Join the Dak Side
Or simply The Dak Side. If you think this is a great fantasy football team name, here's our full list of Star Wars themed team names.
Welcome Dak, Kotter
Dax Man
Dakumentary Now!
Dak Prescott Bush
Prescott Your Luck
Presscott's Paper Towels
You Prescotta Be in Pictures
Dak Kine
Aloha! to my Hawaiian Cowboys fans.
Dak Chronic
And sup to my pothead Cowboys fans.
Dakcidentally in Love
And finally hi to my Counting Crowboys, which is also a solid fantasy team name.
Cowboys Backfield Fantasy Team Names
If you want more, we've got a full article of nothing but Ezekiel Elliott fantasy football names.
Zeked Out the Win
Kiel Over
The Kiellers
There are tons of other possible Kieller team names:
Kielling It
Kieller Instinct
The Kieller Next Door
The Kieller Inside Me
Kieller Instinct
Amari Cooper Fantasy Football Team Names
Amari Cooper has been a 1,000-yard guy every year he's been in the league. Well, every year except 2017, where he was weirdly bad.
This also happens to be the only year I've drafted Mr. Cooper. That's fantasy, baby.
Cooped Up
Amarevenge
Amariana Grande
Coops I Did It Again
Cooper Heroes
You can modify this any number of ways:
Marvel Cooper Heroes
Comic Book Cooper Hero
Real-Life Cooper Hero
Michael Gallup and CeeDee Lamb Fantasy Football Team Names
With the contributions of Michael Gallup and CeeDee Lamb, the Cowboys may have the best wide receiving trio in football. There are some folks in Tampa that might argue otherwise, but what have they ever accomplished?
Full Gallup
Gallup to No Good
This Cowboys fantasy team name is an excellent idea for female fans. If you're a lady (or want to name your team after one), then grab a girls fantasy football team name from our article dedicated entirely to that topic.
Lamb Roast
Lambasted
Lambskin Larges
CeeDee's Nutz
Most of you probably hate this Cowboys fantasy name. But there are a few hard-core freaks out there that are into it.
Maybe too much.
Simi, Feheel Me
I just want to get in on the ground floor with this one just in case Simi Fehoko turns into something down the road.
Jerry Jones Fantasy Football Names
If you're not a Cowboys fan, Jerry Jones seems like a cartoon supervillain bent on ruling the NFL. And if you are a Cowboys fan, then he's your cartoon supervillain bent on ruling the NFL.
The Devil and Jerry Jones
Scary Jerry
Gene and Jerry's Nice Team
Now there's a wholesome team name: a guy, his wife, and an ice cream pun.
Baxter Cain and the Dallas Felons
And in case that reference was a little too subtle: Baxter Cain = Jerry Jones.
Dallas Defense Fantasy Football Names
Putting the D in Dallas since 1960.
Go Directly to Jaylon
Or there's also Thrown in Jaylon, which also counts as a football pun. Maybe not a good one, but it counts.
Nice Diggs
Go Directly to Jaylon
DeMarcus of the Beast
Texas Motor SpeedLeigh
Not for most casual fantasy fans. If you live in Dallas and love the Cowboys D though, then this a flex name.
Vander Esch Down by the River
Chidobe Acrobat
Feeling Awuzie
I may have to go Leighton.
Sean Top of Old SmokeLee
Ok, that one's just silly.
Dez Bryant Fantasy Football Team Names
We're told that Dez Bryant isn't retired. He's not interested in playing football, but he isn't retired.
No, I don't know what that means either.
Dezpicable Me
Dez Ceased
Because when you leave the NFL, you're essentially dead.
Room for Dezert
Cannabis Dezpensary
Dezinterested
Bryants Go Marching
Don't get so hung up on Dez names that you miss this pretty perfect Bryant team name.
Tony Romo Fantasy Football Names
Some would argue that since his retirement, No Romo is one of the perfect fantasy team names. As a society, I say we deserve better.
Plus, that Cowboys fantasy name is just plain played out.
Romo Money, Romo Problems
Romoceans 9
Because he wore number nine, but also because his entire career seems like a heist movie.
RoMonet
For you more sophisticated owners, this Dallas fantasy football name is yours to keep.
The Romotion of the Romocean
For your less sophisticated owner, you'll have to settle for this one.
Wherever You May Romo
The perfect Cowboys fantasy name for your metal head team owner.
Dallas Cowboys Fantasy Football Names from Around the Internet
Imna be the Don Beebe to these other writers' Leon Lett and just swipe the ball right out of their hands.
America's Fantasy Team
Shoulda Been a Cowboy
Jerry's Kids
Dak to the Future
Dak in a Box
Baby Got Dak
Dak Dynasty
Romo Sapiens
A much classier use of the Romo/homo pun than one typically finds online.
The Walking Dez
Dezed and Confused
Amari 2600
Too Late to Say Amari
Hanging With Mr. Cooper
More Funny Fantasy Team Names for NFL Fans