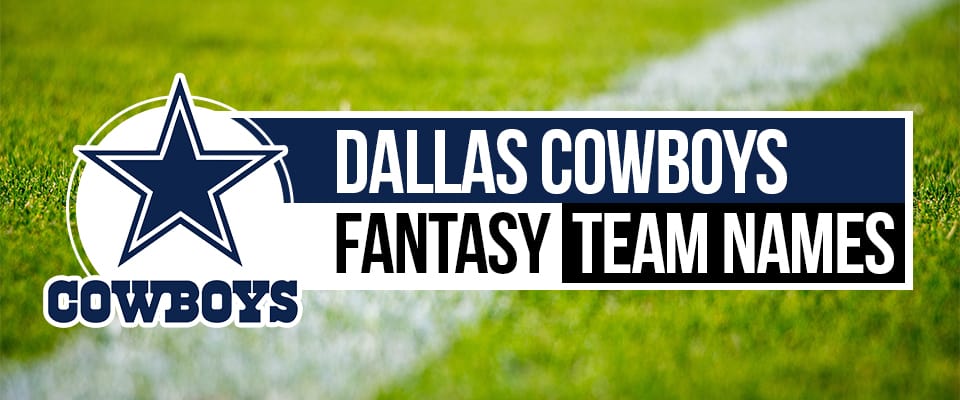 The Dallas Cowboys are expected to take a step back for the 2023 season after winning 12 games last season. It was a strange season where the offense tangibly felt the loss of Amari Cooper despite ranking fourth in points scored.
But even with lowered expectations, that doesn't mean we can't have some fun in 2023! If you're looking for some funny and interesting Cowboys fantasy football team names, we've got you covered!
Dallas Cowboys Fantasy Football Names for 2023
The Cowboys finally got that sweet road playoff victory in 2022, their first since 1992! Let's see if they can build on that in 2023.
Dak Street Boys and N'Zeke
CeeDee Drive
See kids, a CD drive was a thing that computers used to – you know what, never mind. I'm just making myself sound old.
More CeeDee Lamb fantasy names are further down.
Cowboys On the Side
Cowboyz' in the Hood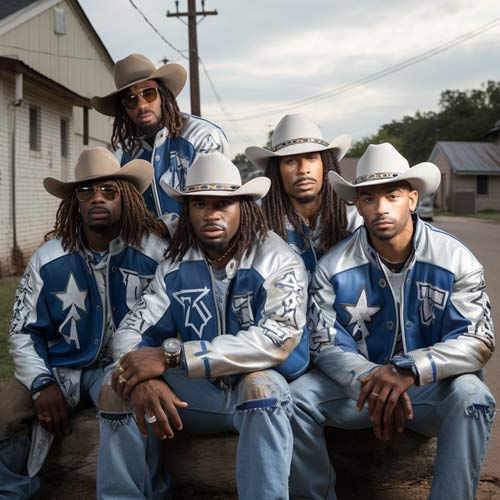 The Boys are Prime
Cowboys Don't Cry
Dak's Amore
Fowler Play
Cookin' With Gas
Ezekiel's Bread
Dakording to Jim
This one could be pretty memeable. Dak's face + Jim Belushi's body = comedy bronze.
Schultz Have Known Better
Kiss the Cook
Schultz I Stay or Schultz I Go Now?
Cowboys and Robbers
Suggest a Dallas Cowboys Fantasy Football Name
Your name may be added to this post!
Back Dallass Up
This Dallas fantasy team name is just a message that one should support their team and nothing more.
Anger Management
DallAiks CowTroys
For Whom the Ball Tols
This Jalen Tolbert fantasy team name is an idea for your dynasty players out there.
Romocop
Robocop did technically come back from the dead. Romo not so much.
Staubach in the Saddle
The Jukin' Jakes
Here's another potential idea for dynasty league players who are Cowboys' die-hards, specifically for their 4th-round pick Jake Ferguson.
Dallas Cowboys Fantasy Football Name Generator
Dallas Cowboys Fantasy Football Names From Writers & The Community
Dallas Cowboys Fantasy Football Names From Readers
Zeke and Destroy
Submitted by: Gerald M.
Check Deez Nutz
Submitted by: King Bill
Dak in the Saddle Again
Submitted by: DM
Big Dak Energy
Submitted by: Derek Reynolds
One Two Micah's coming for you
Submitted by: MayorPayer
CeeDee Burning
Submitted by: DS3
Dropping Da Micah!!
Submitted by: Big Tex
America's Fantasy Team
Submitted by: Dale Hill
Dak Cooks Lamb
Submitted by: Ryan O'Neal
Dak Prescott Fantasy Football Names
In 2022, Dak proved he can win in the playoffs- at least once. He'll need to push them further in 2023 if he wants to stay in the fan's good graces.
If Dak is your stud in 2023, check out our article dedicated entirely to Dak Prescott fantasy team names.
Prescott Your Luck
No whammies!
Dax Man
Dakumentary Now!
Dak Prescott Bush
Presscott's Paper Towels
Dak Kine
Aloha! to my Hawaiian Cowboys fans.
Dak Chronic
And sup to my pothead Cowboys fans.
Dakcidentally in Love
And finally, hi to my Counting Crowboys, which also happens to be a solid Dallas Cowboys fantasy team name.
Cowboys Backfield Fantasy Team Names
If you want more team name ideas from the Cowboys' stable, we've got an entire article of nothing but Ezekiel Elliott fantasy football names.
On the other hand, you may be looking for some fresh Tony Pollard fantasy team names. If that's the case, well, you're a gambler, my friend – but you've earned my respect.
Zeked Out the Win
Kiel Over
The Kiellers
There are tons of other possible Kieller team names:
Kielling It
Kieller Instinct
The Kieller Next Door
The Kieller Inside Me
Kieller Instinct
Stripper Pollard
TP Roll
PolLard Butts
CeeDee Fantasy Names for 2023
CeeDee Lamb played big in 2023, almost tripling the yardage of the next-best wide receiver on the roster. He played so well, he earned his very own article: Cee Dee Lamb fantasy football names.
But here are a few more names if you're too lazy to click that link.
Lamb Roast
Lambasted
Lambskin Larges
CeeDee's Nutz
Most of you probably hate this Cowboys fantasy name. But there are a few hard-core freaks out there that are into it – maybe too much.
Brandin Cooks Fantasy Football Team Names
Did I steal some of these from our Dalvin Cook fantasy team names article? A chef never reveals his secrets.
Brandin Management
Brandin New Day
Brandin Iron
Too Many Cooks
Still nightmare fuel to this day.
Sunday Cook Out
Cook Line and Sinker
Cook's in the Kitchen
Suck My Cook
Micah Parsons Fantasy Team Name Ideas
Here are some fun, creative fantasy football team names based on Micah Parsons, the talented linebacker for the Dallas Cowboys.
Micah's Pride
This Parsons fantasy name idea references Parsons' nickname, "The Lion," showcasing the power and ferocity of a lion leading its pride. It also doubles as a reflection of your pride in having Micah on your team.
Pass Rush Limbrawlers
This name is a funny twist on Parsons' other nickname, "Pass Rush Limbaugh," adding a touch of combativeness that's inherent in the sport of football. Go forth and brawl, Cowboys!
MAGA (Micah's Always Gonna Advance) Parsons
Parson's Den
In this acronym, MAGA stands for "Micah's Always Gonna Attack," a playful twist on his 'MAGA Parsons' nickname.
Parsons in Crime
Jerry Jones Fantasy Names for 2023
If you're not a Cowboys fan, Jerry Jones seems like a cartoon supervillain hell-bent on ruling the NFL. And if you are a Cowboys fan, then he's your cartoon supervillain bent on ruling the NFL.
The Devil and Jerry Jones
Scary Jerry
Jerry had a Little Lamb
A CeeDee Lamb, that is.
Gene and Jerry's Nice Team
Now there's a wholesome team name: a guy, his wife, and an ice cream pun.
Baxter Cain and the Dallas Felons
In case this reference is a little too subtle: Baxter Cain = Jerry Jones.
Dallas Defense Fantasy Football Names
This squad has been putting the D in Dallas since 1960.
Parsons of Interest
People Parsons
Go Directly to Jaylon
There's also Thrown in Jaylon, which additionally counts as a football pun (maybe not a good one, but it counts).
Nice Diggs
DeMarcus of the Beast
Texas Motor SpeedLeigh
This cowboys fantasy name is not for casual Dallas fans. If you live in Dallas and love the Cowboys D, though, then this is a flex name.
Vander Esch Down by the River
Dez Bryant Fantasy Football Team Names
We're told that Dez Bryant isn't retired. He's not interested in playing football, but he isn't retired.
No, I don't know what that means either.
Dezpicable Me
Dez Ceased
When you leave the NFL, you're essentially dead.
Room for Dezert
Cannabis Dezpensary
Dezinterested
Bryants Go Marching
Don't get so hung up on Dez names that you miss this pretty perfect Bryant team name.
Tony Romo Fantasy Football Names
Some would argue that since his retirement, No Romo is one of the perfect fantasy team names. As a society though, I say we deserve better.
Plus, that Cowboys fantasy name is just plain played out.
Romo Money, Romo Problems
Romoceans 9
Romo wore number nine, but his entire career resembles a heist movie.
RoMonet
For you more sophisticated owners, this Dallas fantasy football name is yours to keep.
The Romotion of the Romocean
For your less sophisticated owner, you'll have to settle for this Romo team name.
Wherever You May Romo
The perfect Cowboys fantasy name for a metal head team owner.
Cowboys Fantasy Team Names from Around the Web
Imna be the Don Beebe to these other writers' Leon Lett. Let's just swipe the Dallas Cowboys fantasy team names right out of their hands.
America's Fantasy Team
Shoulda Been a Cowboy
Jerry's Kids
Dak to the Future
Dak in a Box
Baby Got Dak
Dak Dynasty
Romo Sapiens
A much classier use of the Romo/homo pun than one typically finds online.
The Walking Dez
Dezed and Confused
Too Late to Say Amari
This fantasy team name may be even more appropriate now that he's with the Browns.
More Funny Fantasy Team Names for NFL Fans
More Cowboys Fantasy Team Name Ideas?
If you have a unique, funny idea for a Cowboys fantasy team name, tell me about it in the comments below. I'll add the best ones to this list.