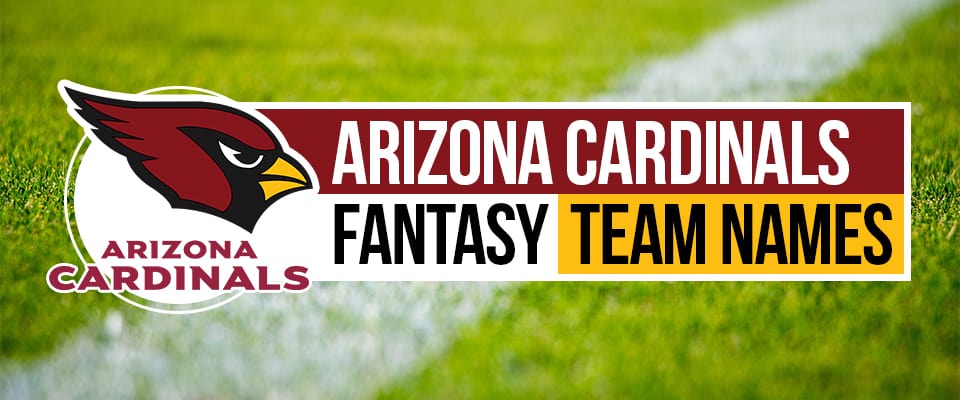 Kyler Murray has made the leap from potential star to actual star. DeAndre Hopkins is a perennial first-rounder.
The Cardinals roster is stocked with players you've probably heard of, like AJ Green, James Connor, and JJ Watt. Pretty impressive group of names.
Now, the next step would be to go from names to winners.
Here are our best Arizona Cardinals fantasy football names to help the team finally get over that hump.
Arizona Cardinals Fantasy Names for 2021
After that intro, you may be wondering how funny Cardinals fantasy team names could potentially translate into team success. My response to that would be stop worrying and trust the process.
Kyler, the Creator
Murray of Hope
I'm not saying Kyler Murray is under a lot of pressure. Sure, the entire direction of the franchise may be in his hands. And if he fails, it dooms all of Arizona for years to come.
But yeah, no pressure.
Giving you Fitz
DeAndre the Giant
Conner Honor
Greener Pastures
Chip and Rondale
Or Rondale's Rescue Rangers, but I like getting the 'chip in there.
Rondale Burgundy
Praterade
Prater Box
You're free to use words spicier than box if that's more you're cup of tea. Also, if that's what you're looking for we have a whole article of just inappropriate fantasy team names.
High Wattage
Swing from the Chandlers
The Budda, the Baker, the Football Taker
Baking With Budda
Kingsbury Me at Wounded ACL
It's Good to Be the Kingsbury
Kyler Murray Fantasy Football Team Names
Did Kyler Murray make the right choice picking football over baseball? Well, if he chose baseball, he'd still be riding the bus in the Texas League for the Midland RockHounds.
So yeah, I think he did pretty good.
MurReboot
It's like the Cards did a superhero-style reboot for the entire franchise.
Ky's Guys
Kyler Ren
Read this Star Wars Fantasy Team Names article if you want more high-midichlorian team name ideas.
Tippecanoe and Kyler Too
This Cardinals fantasy football name is for the true history buffs out there.
Kylord of the Ring
Kylurkers
This name is more aspirational. Someday, Kyler will get that hardware.
D. Hopkins Fantasy Football Names
Check our whole article of DeAndre Hopkins fantasy football names, but here are a few ideas to get you started.
Hopkins, Skipkins, and a Jumpkins
Dr. DeAndre
Kith and HopKins
A.J. Green Fantasy Football Team Names
Sure, AJ Green is on the wrong side of 30 and he's been banged up the last few years. He's also a 7-time All-Star in a new offense with a star quarterback throwing to him.
He's the ultimate lottery ticket – just bear in mind that most lottery tickets are totally worthless.
It's Not Easy Being Green
For example, the poor guy had to spend most of his career on the Bengals.
Green Machine
The Big Green
J.J. Watt Fantasy Football Team Names
It's rare that you can acquire a 5-time All-Pro, 3-time DPOY, SNL host, and professional Tag analyst.
Watter Under the Bridge
Jay-Jay Walking
WatsOn, Watt's Off
This Houston Texans fantasy team name works because Deshaun is still here (for now) and J.J. is gone. And also, because of Karate Kid.
Naked as a J.J. Bird
What, Watt, Watson?
Kliff Kingsbury Fantasy Football Names
Kliff Kingsbury has already spent way more time as an NFL coach than an NFL player. Kingsbury's career stats:
1 Game
2 Passing Attempts
1 Completion
Impressive!
I WILL KINGSBURY YOU
I think it's the ALL CAPS that sells it.
Kliff's Kings Bury Your Queens
I don't care for the sexist language, frankly, but you do what you gotta do for the pun.
The Kingsbury of Queensbury
Kingsburried Alive
Kingsbury Rules
This Cardinals fantasy team name is a boxing joke, if you could call it that.
Kingsburrito Grande
Historic Arizona Cardinals Fantasy Football Names
Twenty-two NFL Hall of Famers have played for the Cardinals. Twenty-three if you add Larry Fitzgerald, because something tells me he's got a pretty good chance.
Fitzgerry Rice
I predict Larry Fitzgerald will only retire when his age is higher than his total receptions.
Werner Herzog's Fitzgeraldo
Legend-Larry
Warner for Your Arrest
Take Aeneas
Take-A-Kneeas
Trippi, Dude
Or The Trippi Dudes.
Wehrligigs
Nevers Say Nevers
Arizona Cardinals Fantasy Team Names from Around the Web
These Cardinals fantasy team names are the equivalent of the Cardinals swiping DeAndre Hopkins from the Texans. I saw something I liked, I took it, and I feel pretty good about it.
House of Cards
Raising Arizona
Cards Against Humanity
Kyler Instincts
Murray Up and Wait
Fitz Like a Glove
Hail Larry
The Wreck of the Larry Fitzgerald
Green With Envy
Eat Your Greens
More Fantasy Football Team Names for NFL Clubs