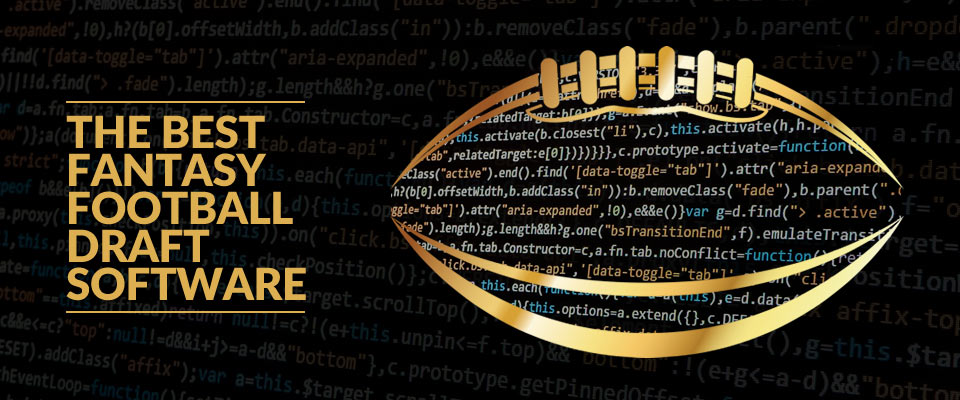 If you're looking for cutting-edge software that provides true expert guidance during your fantasy football draft, you're in the right place. Today, I'm breaking down the most critical features of an effective draft assistant, functionality that will help you win more championships.
Let's start by looking at the best fantasy football draft software for 2023.
Draft Software
League Sync
Auction Support
IDP Support
Devices
Pricing
Supported Sites

Yes
Yes
Yes
Web, App
$39.00/season

CBS
ESPN
FPPC
Fantrax
Flea Flicker
MFL
RT Sports
Yahoo!
NFL.com
Sleeper
Underdog
Manual

review

Yes
Yes
Yes
Web, App
$3.99-$11.99/month

Yahoo
ESPN
Sleeper
CBS Sports
NFL.com
MyFantasyLeague
RT Sports
FleaFlicker
Fantrax
BB10s
NFC
FFPC
FFWC
FanStar
DataForceFF
Reality Sports Online
LeagueTycoon

review

Yes
No
No
Web
$10.99/mo

ESPN
Yahoo
CBSSports
NFL.com
Fantrax
Fleaflicker
Ottoneu
RTSports
Sleeper
MFL

Yes
Yes
No
Web, App
$49.99
Requires plugin and having site open in browser window


Yahoo
ESPN
CBS Sports
NFL.com
Sleeper
MyFantasyLeague
RTSports
NFFC
FFPC

review

No
No
No
Web
Free
N/A
review
The Best Fantasy Football Draft Software for 2023
The best fantasy football software packages have staying power. That's why all the products I review below are industry staples with a proven record of providing value when you're drafting online or in person at the party. Let's get started.
Draft War Room – Real & Mock Draft Management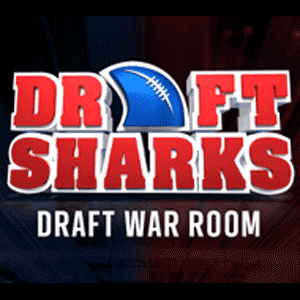 The Draft War Room is a multi-functional draft preparation (and execution) tool from Draft Sharks. Combined with their Trade Value Charts, and Injury Predictor, this software provides the base toolkit available in their 2023 Draft Package.
The Draft War Room doubles as both a trainer and a true live draft room. And this is by design. The mock trainer portion of the tool is provided for free, while the full-featured power of the war room makes it a paid tool. But combining these tools into a single interface eases the transition for owners who run mock drafts and upgrade to a paid membership.
The assistant portion of the Draft War Room leverages value-based rankings to differentiate itself from other draft programs.
"Most draft boards will show you which players have the highest projected points at each position. Honestly, that's never really been a great tool to help you draft. That's why in 1999, Draft Sharks became the first site to use Value Based Rankings to help people draft smarter."

-Draft Sharks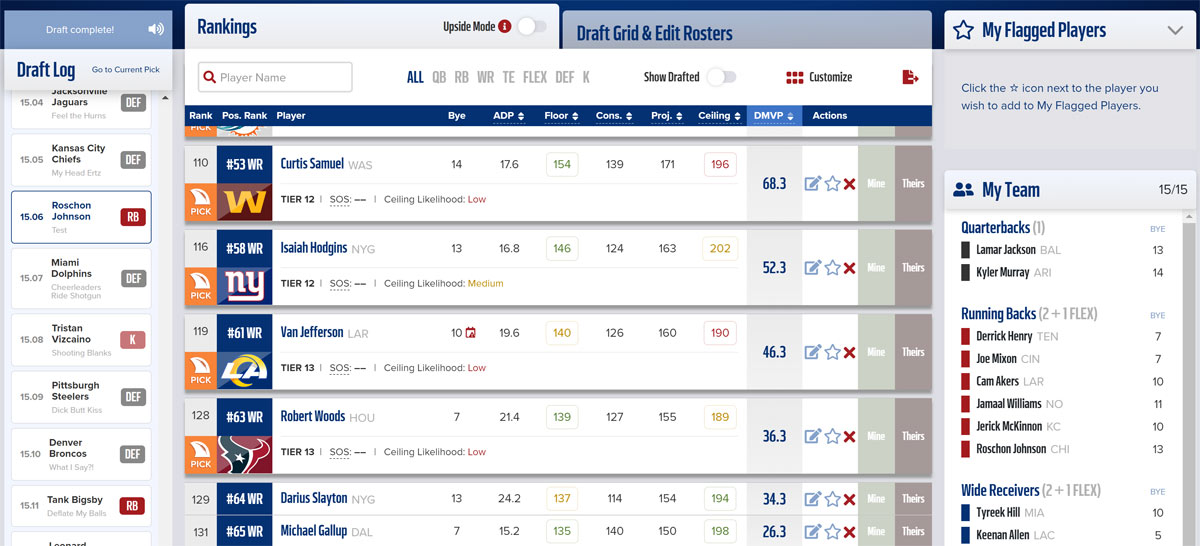 The statistics powering VBR
The engine for Draft Sharks' value-based rankings is based on their proprietary Dynamic Most Valuable Player (DMVP) metric. DMVP incorporates the following data points:
Best players at each position and expected dropoff of your next pick
Team needs (based on your current roster)
ADP of remaining players
The ceiling upside for players in the middle to late rounds
Positional strategies
Multi-dimensional player projections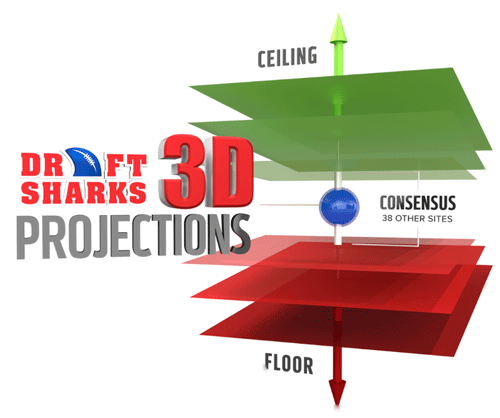 Another unique Draft Sharks feature is their 3D Player Projection insights. This feature is incorporated into Draft War Room and provides wisdom to help you make that crucial call when deciding between two players.
The three components of this feature incorporate:
DraftSharks' award-winning baseline projections
A consensus projection from 38 other sites
Ceiling and floor player projections
Try the Draft War Room for a full week
If you're curious whether the Draft War Room can help you build a legit contender, why not try it for yourself? Draft Sharks is offering my readers one week of free access to DS Insider, their all-encompassing package that includes preparation, in-season management, and DFS tools.
Draft War Room Pros
5-time winners of an FSTA Accuracy Award
Integrated mock tool
Supports multiple drafts for any number of leagues
One week to try the software, risk-free
Draft War Room Cons
Doesn't synchronize with newer league hosts like Reality Sports Online
---
Draft Assistant – GM Software in the Draft Wizard Toolkit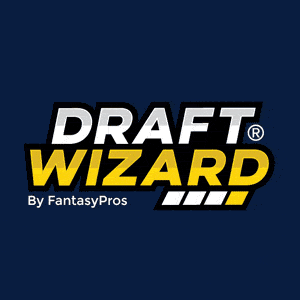 FantasyPros has a fantasy football tool for every phase of the game, and drafting is no exception. In addition to having excellent draft tools, I think they're one of the top fantasy football advice sites on the web.
Their Fantasy Football Draft Assistant connects with your league and automatically updates as owners make their picks. It offers suggestions, relevant statistics, and insightful player comparisons.
This draft pick software comes as part of the FantasyPros Draft Wizard suite and is available on all devices.
Access to this application requires a subscription to Fantasy Pros. If you want league synchronization capability, you'll need the MVP plan that runs $5.99 per month. If you enter picks manually, it's only $2.99 per month.
If it turns out that you only need this tool for one month out of the year, it's an incredible deal. With an MVP plan, you can sync up to ten leagues and get support for auction fantasy football leagues!
The Draft Assistant is my favorite fantasy football draft software in 2023. If you purchase either a six or twelve-month plan, you'll get a 30-day money-back guarantee.
Draft Assistant Pros
3-time winners of the FSTA Best Fantasy Sports Service/Tool Award
Syncs with the best fantasy football platforms
Real-time guidance and player projections for all fantasy positions, including IDP players
Bye week, ADP, and handcuff alerts
Built-in draft analyzer to evaluate your performance
Draft Assistant Cons
The cheapest subscription plan does not support league synchronization
---
Draft Buddy is Free, AI-based Fantasy Advice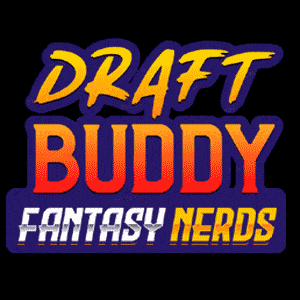 Draft Buddy from Fantasy Nerds is free draft management tool that is highly customizable. You can configure league scoring (even supports scoring customization), keepers, roster settings, player tags ("target", "sleeper", etc), and even organize players into tiers.
The player selection algorithm even uses the IBM Watson AI platform to assist in determining their daft pick suggestions. Even without a league sync feature (you must manage all of the picks yourself), this draft pick software is highly effective.
---
Draft Hero is Free During Launch Period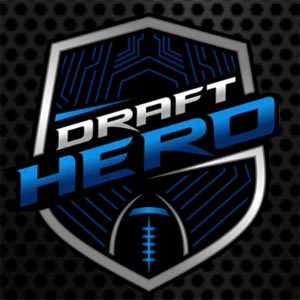 Draft Hero is a new product from the guys at Fantasy Guru. It's similar to the Draft Wizard in that it is a software suite consisting of several tools for preparation.
During their launch period, you can use every feature for free. This includes projections, player rankings, projections, mock capabilities, and draft rooms for both standard and auction-based leagues. Their built-in fantasy team analyzer tool will also grade your performance automatically.
Fantasy Draft Software vs Draft Kits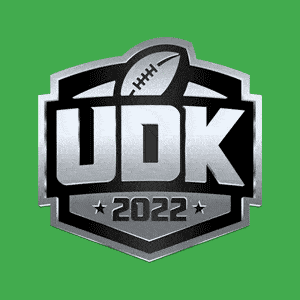 This review focuses entirely on tools that provide guidance during your fantasy football draft. But of course, that's not the only type of fantasy football software on the market.
If you're looking for a program that emulates a paper-based draft board for your entire league to track the draft, you'll want to check out our fantasy draft board review.
If you're looking for features that help you prepare for a live draft, you're likely looking for a fantasy football draft kit. These typically include these types of features:
Customizable cheat sheets
Mock analysis,
Draft order generators
Player profiles
Projections for NFL teams
Exclusive weekly podcasts
Check out my Ultimate Draft Kit review for my thoughts on draft kits.
If you're seeking mobile software for just about any type of fantasy sports application, check out our latest article detailing the best fantasy football apps for 2023.
The 4 Factors You Must Consider Before Buying Draft Software
There is no perfect draft assistance program, only the best software solution for your specific needs. Here are some of the factors you should consider when choosing a helper:
Your live draft format (snake or auction)
League synchronization requirements
The device you'll be using on draft day
How much you're willing to spend on software
Let's examine a few of these in detail.
1. Synchronization with your fantasy football league host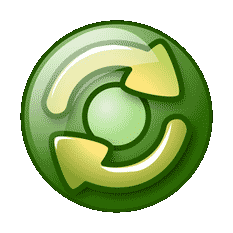 Some software allows you to import your fantasy football team and sync with your league's host so that players are taken off the board automatically after each pick. Other software requires you to keep track of every pick yourself.
Most owners would prefer that their software support league synchronization, but this is a luxury that not all draft software supports. However, some league commissioners like to track picks manually so they can back them out if necessary.
So, synchronization capability isn't a necessity for every league.
2. Support for your specific draft format
Most products accommodate snake drafts, given that serpentine is the most common live format. However, for those in auction leagues, you want to be extra careful and pay attention to the supported features when evaluating your options.
While auction support may seem like it should be a standard product feature, fantasy football auction draft software isn't as prevalent as you might think. So, pay particular attention to auction support when evaluating your options.
League settings are also a factor to consider. If the draft pick algorithm that your software employs suggests player picks, it absolutely must know your scoring settings to make accurate suggestions.
No one wants to pay for a product that doesn't support their league format, especially if that software is non-refundable.
3. Fantasy football software platform support
Some fantasy football draft software only requires an internet connection (kind of important for an online draft). Other fantasy football programs must be installed onto your computer and don't need a connection to the Internet. Others still play well with desktop devices, while others not so much.
Make sure that you know what type of device you'll be using during your fantasy draft and the level of connectivity you'll require.
4. Price and payment options
Software subscription costs can also vary wildly. Some software is available for a one-time, flat fee, while others are part of a monthly service.
Other Popular Fantasy Football Draft Software
ESPN Fantasy Software
It's true, ESPN absolutely has a fantasy football management app for managing your team. However, you their support for drafting your team is very weak. And their awful reviews support this view.
Yahoo Fantasy Draft Program
The Yahoo Fantasy Football App has a much better track record for draft help software. Unlike ESPN, they have useful features and generally favorable reviews.
FanDraft Live Drafts
If you're conducting a remote online draft, FanDraft is an option because it doubles as an online draft board AND player suggestion software. But the one drawback is that all of your league owners will have access to shared player rankings.
Draft Preparation is the Key to Winning Championships
In the same way that GMs must prepare for the NFL Draft, there's no excuse for showing up to your fantasy drafts unprepared. Whether you're completely clueless or a fantasy veteran, fantasy football draft software can provide valuable guidance once you've developed a sound draft strategy.
It only takes one or two key selections to gain an edge. The products reviewed in this article have proven effective at finding those diamonds in the rough.
Draft Software
League Sync
Auction Support
IDP Support
Devices
Pricing
Supported Sites

Yes
Yes
Yes
Web, App
$39.00/season

CBS
ESPN
FPPC
Fantrax
Flea Flicker
MFL
RT Sports
Yahoo!
NFL.com
Sleeper
Underdog
Manual

review

Yes
Yes
Yes
Web, App
$3.99-$11.99/month

Yahoo
ESPN
Sleeper
CBS Sports
NFL.com
MyFantasyLeague
RT Sports
FleaFlicker
Fantrax
BB10s
NFC
FFPC
FFWC
FanStar
DataForceFF
Reality Sports Online
LeagueTycoon

review

Yes
No
No
Web
$10.99/mo

ESPN
Yahoo
CBSSports
NFL.com
Fantrax
Fleaflicker
Ottoneu
RTSports
Sleeper
MFL

Yes
Yes
No
Web, App
$49.99
Requires plugin and having site open in browser window


Yahoo
ESPN
CBS Sports
NFL.com
Sleeper
MyFantasyLeague
RTSports
NFFC
FFPC

review

No
No
No
Web
Free
N/A
review