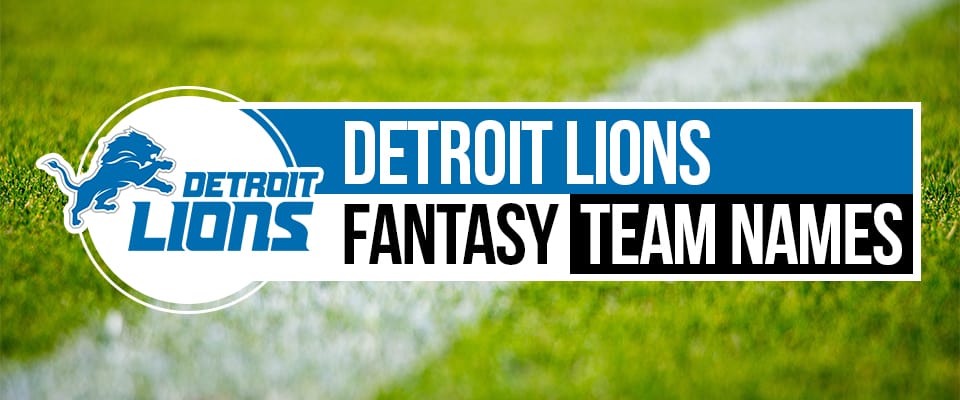 So the Lions are one of four teams to have never made the Super Bowl. That's not great, but at least they're a fairly recent expansion team.
What's that? They've been around since the 1930 season? Ooooooh nooooooooo…
These Detroit Lions fantasy football names celebrate the good, the bad, and the weird of football in the Motor City.
Detroit Lions Fantasy Team Names for 2023
Lions fans were very classy when Matt Stafford won a Super Bowl out in LA. I saw 90% supportive messages, with only one or two sour grapes in the bunch.
How long that graciousness will extend to Stafford's trade partner Jared Goff remains to be seen.
Divine Goffering
Goff and Running
In case you have Jared Goff and some good running backs, not because Jared Goff is fast. Because he is not.
Amon-Rawesome
Jahmyrk of the Beast
We've got more Jahmyr Gibbs fantasy football names down below.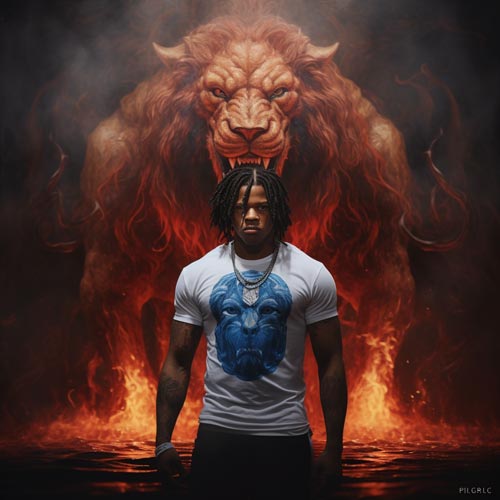 Saint Misbehavin'
We just had to make a whole list of Amon-Ra St. Brown fantasy team names. His name is Amon-Ra St. Brown – how could we not?
Marvin's Room
Very Marvinteresting
Simply Marvilous
Jameson Rocks
If Jameson Williams does indeed end up rocking, that's going to give Jared Goff one heck of a receiving corps.
Shakespeare's Romeo and Julien
The Okwara's parents had to know what they were doing, right? If not, that's a crazy coincidence.
But if so, they named two brothers after a famous couple? Strange either way.
The Goffather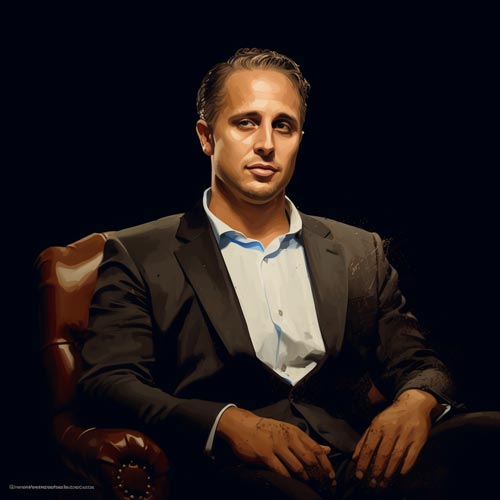 Return to Sanders
After the barren wasteland that has been post-Barry RB's in Detroit, a return to Sanders sounds pretty good. So what if he is in his 50's by now?
The Lions are Perfect
Perfect can mean different things to different people.
Andrey Warrington
Combining the two biggest QB busts in team history because a negative times a negative equals a positive?
A Millen Reasons
Ultimately the Lions couldn't find one good one for him to stay.
Escape Batch
Suggest a Detroit Lions Fantasy Football Name
Your name may be added to this post!
Jared Goff Fantasy Football Names
Jared Goff's career is off to a solid start, but he doesn't get the same respect as the top QBs. Geeze, crap in your pants in one Super Bowl and that's all anyone seems to remember.
On/Goff Switch
Going Goff
Going on the Goffensive
Or Prolific Goffense, Goffensive MVP – you get the idea.
Gofften Enough
Goffly Good
Gofften Imitated, Never Duplicated
Detroit Lions Fantasy Football Name Generator
Detroit Lions Fantasy Football Names From Writers & The Community
Jahmyr Gibbs Fantasy Name Ideas
Jahmyr Gibbs goes by the nickname Jah, for obvious reasons. Let's see if we can honor him by integrating his nickname into some original Jahmyr Giffs fantasy football names.
Jahmazing
The Gibbs Gobblers
Pure Gibberish
Historical Detroit Lions Fantasy Football Names
Out of the top ten rushing seasons in Lions history, Barry Sanders owns the 9th and 10th best. Then good ol' Billy Sims comes in at number eight.
After that, it's all Sanders all the way up.
Barry My Heart at Wounded ACL
Sander and Son
Barry Good
Megatron's Guns
Now this could make for a pretty solid photoshop, if one were so inclined. Maybe a pic of Calvin Johnson flexing, but replace his arms with Megatron-style guns?
MiSanderstood
Simms League
Stay in Your Layne
Calvinball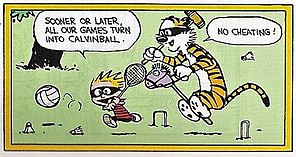 Detroit Lions Fantasy Team Names from Around the Internet
These Lions fantasy team names are the fruits of the shared frustration that binds all Detroit fans.
The Goffather
Goffam City
Jerkin Goff
Shake it Goff
This Rams fantasy name is for fans of both T-Swift and G-Slow.
What Can St. Brown Do for You?
St. Brown Sugar
Chark Week
Charkizard, I Choose You
More Fantasy Names Based on NFL Teams
If the Lions aren't your team, but you're looking for more creative fantasy football names, check out this list.