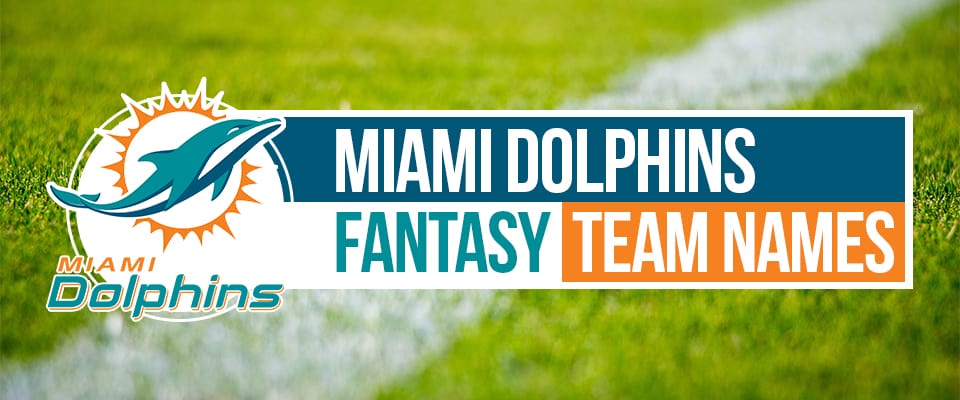 Here's a depressing trivia question for Miami fans: who was the last Dolphins coach to have consecutive winning seasons?
It isn't Coach Flores. And it isn't the coach before him, Adam Gase. It wasn't Joe Philbin or Tony Sparano. And it wasn't Cam Cameron, or even Mr. Alabama himself Nick Saban.
You have to go all the way back to good ole' Dave Wannstedt, who actually did it four straight years, from 2000-2003. But fear not, we've got some all-new Miami Dolphins fantasy football names that are sure to get that next streak started.
Tua Tagovailoa Fantasy Football Team Names
Just as the Dolphins have left a trail of fired head coaches behind them, there's an equally long trail of failed quarterback experiments. Here's to hoping The Throwin' Samoan can find success down in South Beach.
Tongue Oh Vae Loa
If you're still confused about how to pronounce Tagovailoa, let the man tell you himself.
Tua Point Conversion
Tua Hearts
Tua Vakind
Tua Fish
This Dolphins fantasy football name is a reminder that there's a little bit of Dolphin in every can of tuna fish.
Cheers Tuas
Born Tua be Wild
Or, if you're a Mötörhead fan, Born Tua Raise Hell.
Tag Me In
Tag You're It
Sharp Tagovailoa
Silver Tagovailoa
Slip of the Tagovailoa
Or Slip Her the Tagovailoa if you're feeling saucy.
Just the Tua Us
Get on this perfect Dolphins fantasy team name now, because it'll be played out by the time he's a Pro Bowler.
DeVante Parker Fantasy Football Names
If I were Tua (and don't I wish), I'd be doing all I can to buddy up to Devante Parker. I'm not saying that the WR will be his only weapon in the passing game, just his only good one.
DeVantaste of Things to Come
DeVantase Me, Bro
You're the One That I Devant
I Devant It That Way
Parker's Cars
Parker's Posey
Matt Brieda Fantasy Football Names
Matt Brieda is like a one-man case of Would You Rather. Would you rather lose your starting job (but go to the Super Bowl), or be a starter but play for the Dolphins?
Brieda Cheese
Best in Brieda
Brieda Peach
This Dolphins fantasy team name is a cross between Matt Brieda and this class album by the Allman Brothers.
Brieda Hayworth
The Briedals
You can also do:
Meet the Briedals!,
Briedals for Sale
Briedals '65.
Brian Flores Fantasy Football Names
Flores is another branch on the Belichick coaching tree, which includes college greats Nick Saban, Pat Hill, and Kirk Ferentz. Unfortunately, it also includes NFL failures Romeo Crennel, Eric Mangini, Josh McDaniels, and of course, the Dolphins' own Nick Saban.
Flores a Jolly Good Fellow
I'll Love You Flores of Time
Four on the Flores
Floreskin Regeneration
Yes, it is a thing.
The Brian Trust
When I was a kid, my dad called my friends and me The Brain Trust. Today, I finally realized he was making fun of us.
Miami Dolphins Defense Fantasy Football Team Names
Like Jacques Cousteau and Ace Ventura before them, they're just here to defend the Dolphins.
Reshad to Judgement
In the Nik of Time, Just When You Needham
The Collected Works of Lord Byron
Isn't It Byronic?
Doncha think?
A Van Noy Down by the River
Coach Flores brought Kyle Van Noy to the Dolphins to help instill the Belichick Way. What that means is anyone's guess.
Tips on recording equipment? Lectures about proper PSI? Mandatory hoodies?
Historical Dolphins Fantasy Football Names
Shockingly, these Dolphins fantasy names will include some Dan Marino fantasy football names.
Marinoplasty
Marino Biology
Or Marino Biologists.
The Motion of the Marinocean
Shulaces
The Don's Mafia
Csonks for the Memories
Or So Long and Csonks for All the Fish, if you're both a Dolphins and a Douglas Adams fan.
Super Duper Dolphins
Jon, Nathan, Taylor, and Thomas
Miami Dolphins Fantasy Names from Around the Web
Let's fin-ish this.
Fin It to Win It
Miami Vices
Miami Sound Machine
Or the rephrase Sound Miami Machine if your team is a monster.
Blood Sugar Fitzpatrick
It's embarrassing how delighted I was when I read this name. Blood, sugar, baby! Fitzpatrick!
Kiss From a Rosen
Suhker Punch
For more Ndamukong Suh names, see our Tampa Bay Buccaneers fantasy football team names article.
Worst Gase Scenario
Technically, Adam Gase was 23-25 as the Dolphins Head Coach. But emotionally, it felt like he was closer to 13-35. Or maybe that's just me.
Fantasy Football Names for Other NFL Teams
Great fantasy football names must align with your allegiances. If the Dolphins are not your favorite team, check out some of these other NFL team-based names.