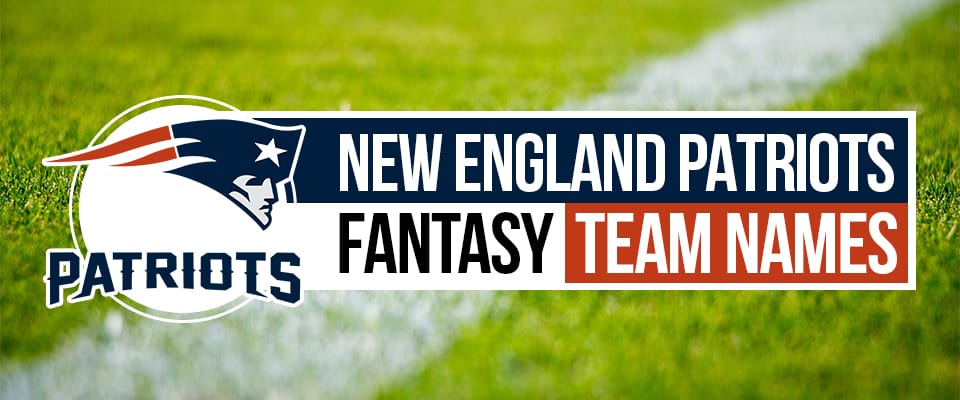 Not only are the Patriots one of the most successful franchises of all time, but they may hold the record for most quality fantasy team name starters as well. There are almost too many colorful characters and historical events to choose from for your Patriots fantasy football team name.
Deflategate, the Tuck Rule, Bill Belichick, and Bill Belichick's hoodie are all worthy starting points. If you want some help titling your team, or if your just a Pats fan looking for a laugh, then Gillette me help.
Here is a slew of new Patriots fantasy football team names (updated for 2021) for you to Bellichick out.
Funny Patriots Fantasy Football Team Names
Pats' Amore
Vladimir Putin's Super Bowl Ring
Talk about a power move.
Gillette Me Love You
Krafty Veterans
Undeflated Champs
You Patrioughta Be In Pictures
We're looking at you, Cincinnati.
The Boston Area America Lovers
Guy Fawkesbrough
21st Century Foxborough
Patriots Players Fantasy Football Team Names
You Sanu-ze You Loose
The Man in the Dont'a Hightower
That's Just, Like, Your Opinion, Edelman
For those of us that fall into that weird nexus of fantasy football players and Big Lebowski Fans.
Edel-Mentos: The Freshmaker
You could also go with The Playmaker, though then you risk people not knowing what the heck you're talking about.
Slater's Special Team
In honor of Mathew Slater, the least famous 7-time Pro Bowl player in history.
Van Noyce
Order in McCourty
McCourting Disaster
Ben Watson-Again, Off-Again Relationship
Ben Watson and the Pats together just feels right.
Bill Belichick Fantasy Football Team Names
Belichick, Please
You Can Belichick In But You Can Never Belichick Out
Ring My Belichick
Belichicken Tenders
Or, if you prefer, Belichicken Breasts, Belichicken Wings, Belichicken and Waffles, etc.
Stephon Gilmore Fantasy Football Team Names
Because let's face it, the best fantasy player for the Pats this season was their defense.
Gilmore Than Words
Filled to the Gills
Stephon And On
Stephontasy Island
Old School Patriots Players Team Names
Tom BraDEEZ NUTS
This one is here for nostalgia. As weird as it sounds, you'll have to check out our Tampa Bay names article for the latest and greatest Tom Brady fantasy names.
Rob Gonekowski
Gronk has joined Brady in Tampa. Check out our latest Gronkowski team names if you're still drafting a TE in the first round.
RIP ROB
We Love You Gronk, Please Come Home
Gronkowski 2020
Bledsoe What?
Drew Bledsoe: the Wally Pip of the NFL.
Red, White, and Bruschi
Feeling patriotic? Here are some more political fantasy team names.
Russell Wilson's Butler
Allow me to take that ball for you, sir.
Yes M'loy
You'll Be Hearing From My Lawyer Milloy
A Formal Petition for Antonio Brown to Go Into the HoF as a Patriot
If you love following AB's drama, check out our full list of Antonio Brown fantasy football team names.
Vulgar Patriots Fantasy Football Team Names
We've got an entire article dedicated to dirty fantasy football names if you want more ideas.
Deflated Balls
Vince Wilfork Yourself
Tuck You
I Love Having Rex but I'd Rather Get Burkhead
Shout out to Academy Award winners Three 6 Mafia.
If you're looking for other running back team names, check out these Saquon Barkley fantasy team names.
Robert Kraft's Massage Therapist
Aaron Hernandez' Taxi Service
Julian Edelman's Tinder Date
Even Super Bowl champs aren't immune to resorting to Tinder. Or regretting it.
Classic Patriots Fantasy Football Team Names
I'd never claim to be the first one to come up with these names, but that doesn't mean they aren't still funny.
Belichick Yourself
Krafty Like a Fox
PSI Love You
Sony Delight
Ladies and Edelman
Donta's Inferno
The Big Gronkowski
Or you can try the Little Gronkowski Urban Achievers if you want to go even deeper down the Dude-hole.
Fantasy Football Names for More NFL Teams
Conclusion
If you like fantasy names based on NFL teams, check out my Eagles fantasy football names. If you have other ideas for Patriots or Brady team names, tell me about them in the comments below.