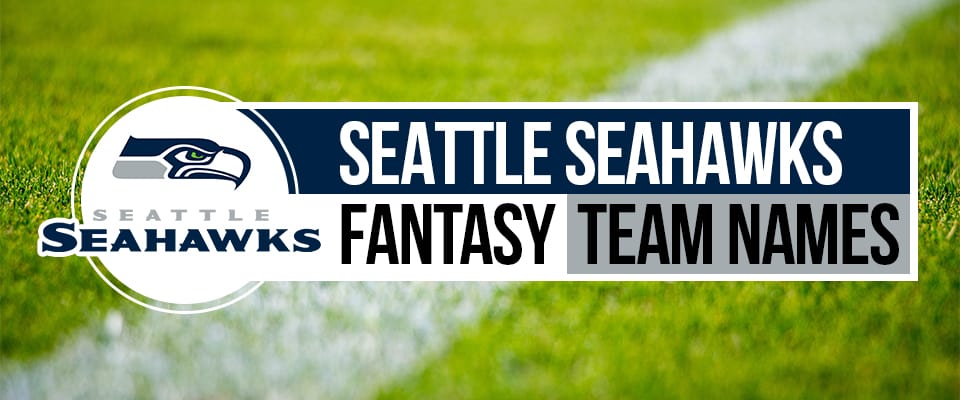 If you ever wonder how much the Seattle fans love their Seahawks, look no further than the record books. Not the football record books, mind you, but the Guinness Book of Records.
Seattle fans have appeared there many times, both for the loudest crowd and the strongest human-generated earthquake. Beastquake 2011, anybody?
Here are some Seattle Seahawks fantasy football names dedicated to the most enthusiastic fans in the league.
Seattle Seahawks Fantasy Football Names for 2021
I was late to the party for the Seahawks-Broncos Super Bowl, which was a mistake. The game was already 15-0, the 7-layer buffalo dip was gone, and the halftime show was Bruno Mars. Yikes!
I'm pretty sure the only person who had a worse time was Peyton Manning.
Hawk 'n' Roll
Seattaboys
12th Maniacs
Seahawkward
Seahawccidentally In Love
Legion of Zoom
Seawitched
Spirit of '76
The Sea of Our Pants
A, B, Sea's
Oh Say Can You Seahawk
Wagnerds
Everything that Russell Wilson is to the Seattle offense, Bobby Wagner is to the Seattle Defense. But defense doesn't get the glory, and Wagner's girlfriend is just a little less famous.
Way of the SoDo
Wingmen
Lumenated Manuscripts
Lumentorship
Kingdummies
My brain knows the Seahawks play in Lumen field. But in my heart, they will always play in the Kingdome.
Russell Wilson Fantasy Football Team Names
Russell Wilson tops an incredibly exclusive list of quarterbacks. He's the best quarterback of all time under 6' tall – and frankly, it isn't even close.
What, you're a big Eddie LeBaron fan? Please.
Russell Athletic
Wilson Sporting Goods
I don't think we talk enough about how Russell Wilson's name combines two separate sporting goods companies. That definitely seems like some kind of conspiracy.
Russell Sprouts
Brussel Wilson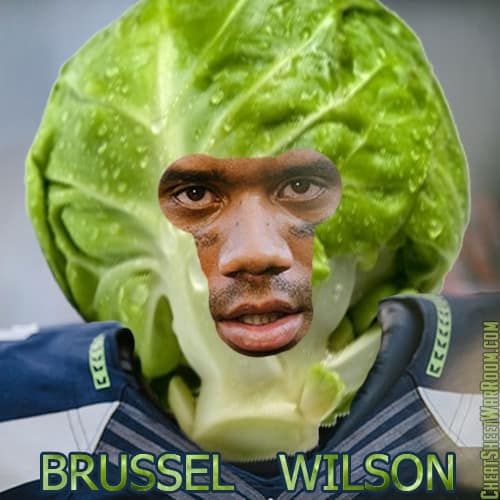 Cattle Russellers
I'm Sorry Wilson!
I stole this Seattle Seahawks fantasy team name from the movie Castaway. It's a classic.
Russell Outs
Russ to Conclusions
Russ Belt
Russ and Them
The Story of Russ
Funny Seattle Seahawks Fantasy Football Team Names
So I was today years old when I realized that no one knows what a Seahawk is. It could be an osprey, except the mascot is a regular hawk and their logo is a Native American Thunderbird.
Apparently, even the guy that proposed the name didn't even know what they were. So I guess it just sounds cool next to Seattle?
Sea-Tacky
Faux Hawks
Zornery Bastards
I'm Bringing Hassel Back
Bellore of the Rings
Largent at Arms
SeaHawks of Cortez
Ready, Willing, and Kreiger
Easley Does It
Bosworth It
Bosworthless
This Seahawks fantasy football team name is probably more accurate than Bosworth It.
Stuck in the Mirer
Secret AdMirer
Hawk and Ball Torture
Space Needledicks
D.K. Metcalf Fantasy Football Names
When an announcer accidentally called him "Decaf" on-air, Metcalf did the only thing that made sense. He started his own decaf coffee line– with the proceeds going to charity, of course.
The Golden Metcalves
Kill the Fatted Metcalf
Metcaffinated
Metcaftans
Hey, I Just Metcalfed You and This is Crazy
So here's my number, it's 14 baby.
Met Life
Metcalfterburners
DK Country
Dead Kennedys Metcalf
Kato DeKaylin
You thought his parents just wrote "D.K." on the birth certificate?
Tyler Lockett Fantasy Team Name Ideas
Tyler Lockett is good, but his contract extension bummed me out. Everyone kept saying how rare it was for an older receiver to get a three-year extension.
He was only 28. FML.
Lockett Down
Lockett Up
It's strange that lock it up and lock it down mean essentially the same thing.
Turn the Key and Lockett
Locketamine
Lockett Ness Monsters
There's a Lockett in My Pocket
This Seattle Seahawks fantasy football name is inspired by the Dr. Seuss classic (and because Lockett's only 5'10"). He and Russ may be the shortest QB-WR combo in history.
Chris Carson Fantasy Football Team Names
Everyone has a soft spot for waiver-wire players that end up saving their season. For me, that was Chris Carson in 2018.
Thanks for the 1300 yards and 9 touchdowns, big guy.
Get in the Carson
Truck Dads and Carsons
32 CCs, Stat
The Carson Show
Here Come Carson
Pete Carroll Fantasy Football Names
When Pete Carroll was coaching at USC, his nickname with the student section was Big Balls Pete. Presumably, it's because he had a tendency to go for it on 4th down.
In retrospect, maybe they knew something about his recruiting tactics.
Pete's Dragons
RePete Champions
Sweet Carroll
On a CarRoll
We Carroll Lot
I Don't Carroll, Do U?
Cheat Carroll
Just in case you're still salty from those USC days.
Seahawks Fantasy Football Names from Around the Internet
There's no such thing as a Seahawk? I still can't get over it.
FantaSeahawks
Ball Hawks
Suck My Hawk
Rock Out With Your Hawk Out
Hustle Wilson
RussellMania
Russell and Flow
DangerRuss
Every Day I'm Russelin'
Christmas Carrollers
The OK Carroll
Beauty and the Beastmode
Heart-Shaped Lockett
Hot Locketts
Try saying it in a Jim Gaffigan voice.
More Team Name Ideas for NFL Teams
If the Seahawks aren't your team, check out our other team name articles for the rest of the NFL.
AFC East
AFC North
AFC South
AFC West
Have a Seahawks Fantasy Team Name Idea?
If you have unique idea for a Seahawks fantasy football name, tell me about it in the comments below. I'll add the best ones to this article.