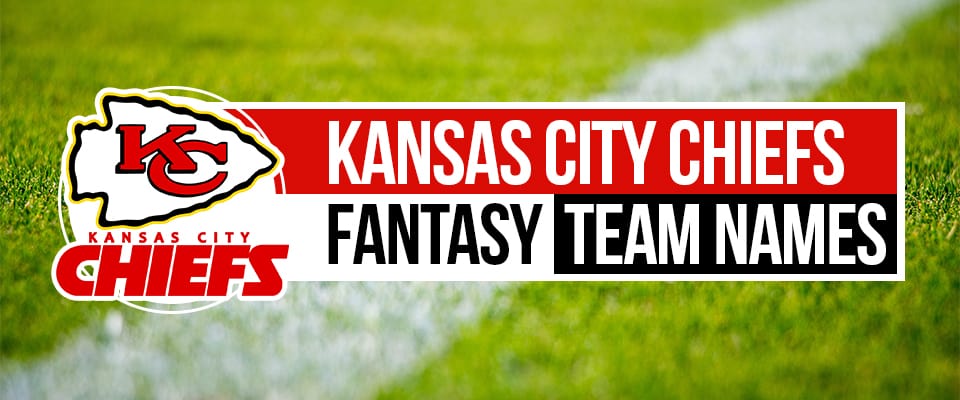 In a way, I feel bad for Patrick Mahomes. He's so young, yet he already has an MVP, a Super Bowl win, and most impressive: he broke the Madden Curse.
What's he going to do next, cure cancer, win the lottery, and finally sort out this whole Gaza Strip business?
Something tells me he'll figure it out. In the meantime, all we can do is to pay tribute with some Kansas City Chiefs fantasy football names.
Kansas City Chiefs Fantasy Names for 2021
The Chiefs have arguably the top fantasy QB, WR, and TE. Also they have a pretty good RB, a Pro Bowl KR, and an underrated defense.
Something tells me this team isn't going away any time soon.
Mahoming Missile
I'll never understand why commentators don't call every one of his passes Mahoming Missiles. It just makes sense.
We've also got plenty more Mahomes fantasy names where that came from.
King of the Hill
We also have another article with more hilarious fantasy football team name ideas for Tyreek Hill. Like I said, these guys are good.
Fast as Hill
Hill on Wheels
Dawson's 'Reek
This Kansas City Chiefs fantasy name is an ingenious combo of Hall of Famer, a modern-day player, and prime Van Der Beek.
Kelce What You Did There
A Hardman is Good to Find
Reiding Rainbow
Chief Amongst Us
1962 Dallas Texans
This K.C. Chiefs fantasy football name commemorates the franchise's last season as the Texans and their only championship with that name.
Arrowhead of the Class
The Kansas City Chefs
Just one question: who are the Chefs?
Travis Kelce Fantasy Football Names
Is it too much of a stretch to call Travis Kelce the only fantasy-worthy tight end? Yes. But not by that much.
Kelce You In The Funny Papers
Or Kelce You at the Super Bowl if you're feeling cocky.
The Vanilla Gorillas
IMHO The Vanilla Gorilla is one of the more fun nicknames in the NFL today.
The Fibonacci Kelcequence
InKelcequential
Vanilla Godzilla
This Chiefs fantasy football name is an even bigger, more monstrous take on the Vanilla Gorilla riff.
Clyde Edwards-Helaire Fantasy Football Names
Clyde Edwards-Helaire just accomplished the impossible. He got a great job at the top company in his field, right out of college.
That's Edwards-Helairious
Bonnie and Clyde Edwards-Helaire
The Edwardian Hel-Era
Clyde and 'Reek
Perfect name if you happen to land both Tyreek Hill and CEH in the draft. Which also seems like a pretty good start on etching that name onto a league championship trophy.
Andy Reid Fantasy Football Names
If you watched the 4th quarter of the Chiefs' victory in Super Bowl LIV, you saw Andy Reid's legacy change completely. In six minutes and change, we saw him go from "veteran NFL coach" to "future Hall of Famer."
Andy Moustache You a Question
Andy's the Commander in Chiefs
Greid is Good
Reid All About It
Reid 'Em and Weep
There are any number of other Reid/Read puns.
Hot Reid
Reid All About It
Easy Read
Reid Aloud
K.C. Chiefs Defense Fantasy Names
Tyrann Lannister
Honey Badger Colony
Mathieu, Mike, Lucas, and Juan
For those that aren't in the trenches of the defense, this Chiefs fantasy name incorporates Tyrann Mathieu, Mike Pennel, Jordan Lucas, and Juan Thornhill.
Willie Gay for Pay?
I can't say I'm proud of this one. But it may be perfect for the right owner in the right league.
And that particular owner will be a dirty bird.
Kansas City Chiefs Fantasy Football Names from Around the Web
Big stars. Unique names. It's no wonder there are lots of folks writing Cheifs fantasy team names.
Mahomes Depot
We're not in Kansas City Anymore
Sherlock Mahomes
Sail the Open Kelces
'Reek and Destroy
'Reek-a-Leek
Son of a Veach
More Fantasy Names for Fans of NFL Teams