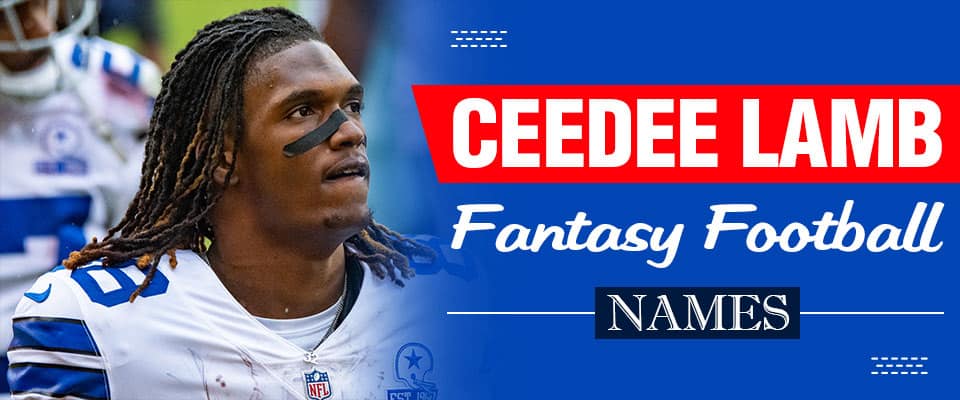 CeeDee Lamb is ready to fill the No. 1 wide receiver role for the Cowboys in 2022. He's improved with each passing year, but will he be able to handle the pressure of being the guy?
It's his coveted 3rd year, and I believe he could finish in the top five fantasy wide receivers. To celebrate the owners who staked their fantasy WR corps on Cedarian, here are our best CeeDee Lamb fantasy football names.
CeeDee Lamb Fantasy Team Names for 2023
CeeDee spent all three of his college seasons running routes for Heisman Trophy finalists (and two eventually winners). So did he make all those quarterbacks successful, or the other way around?
CeeDee said it best: "I'm a luck receiver".
Speedy CeeDee Lambs
Cee Hate Me
This CeeDee Lamb fantasy name references an XFL legend.
The Battering Lambs
Lamb Chops
Cee Works Hard for the Money
I'm old enough to remember when this was a hit on the radio. Yikes.
Seedy Lambs
The Legs of Lamb
CeeDee Sundays
CeeDee Phone Home
If there's one thing we learned by watching the Cowboys draft Lamb at 17th overall, it's that you don't mess with the man's phone. Ladies, take notice.
Lamb Dunks
CeeDee Gonzelez
Lamb Dancing
Violence of the Lambs
Lambased
CeeDees Tds
This idea may be more appropriate if you're looking for female fantasy football names.
Murder Cee Wrote
Lamb-Roasted
Lamb, Bam, Thank you Ma'am
Lamb Sessions
Lamb of Gods
Funny CeeDee Lamb Fantasy Names for 2023
The nickname CeeDee was coined by his first pee-wee football coach. The spelling is still a mystery.
Lamb, I Wish I was Your Lover
I CeeDee Light!
CeeDeez Nuts
Speedy CeeDees
Lamb Roast
The Lamb and Tommy Tape
To celebrate pride month…
CeeDee Part of Town
Lambskin Larges
Uncle Lamb Wants You!
CeeDee Lamb Fantasy Football Names from Around the Web
I admit that brainstorming team names for Mr. Lamb wasn't the easiest. So I don't mind admitting to borrowing a few other names from around the Internet.
Here are some of my favorites.
That's What CeeDee Said
CeeDee Drives
Silence of the Lambs
Now you CeeDee, Now you Don't
CeeDee Burner
Fantasy Football Names for Other NFL Wide Receivers
Check out our other articles targeting fantasy names for WRs in the NFL.
More CeeDee Lamb Fantasy Football Name Ideas
Do you have a funny idea for a DeeDee Lamb fantasy football name? Put it in the comments below. We'll consider adding the best ones to this list.