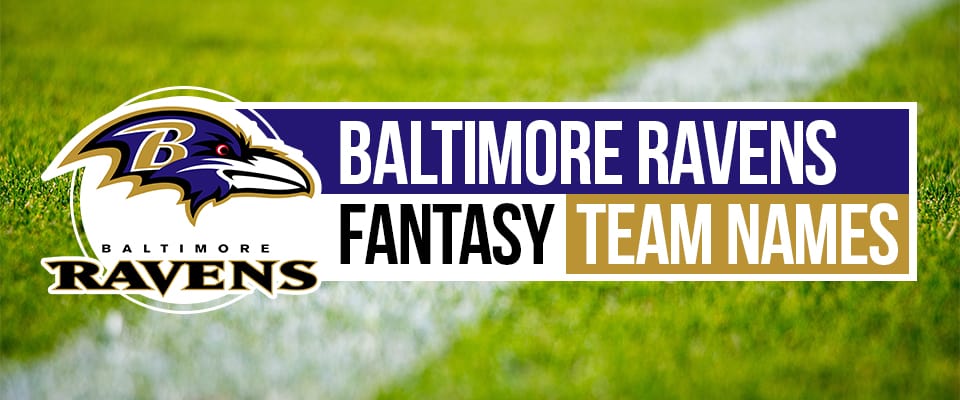 The Baltimore Ravens organization is built on the foundation of their defense. And that seems logical, especially since they were literally stolen from another city.
But it does make it a little strange to see them with the single most dangerous offensive player in football. Lamar Jackson has become the offensive version of Ray Lewis, but without all that "murder" stuff.
With that, here are some all-new Baltimore Ravens fantasy team names to help you kill it this season.
Lamar Jackson Fantasy Football Names
Here are a few bold predictions for Lamar Jackson:
Finishes his career first in Ravens history in passing yards
Finishes his career first in rushing yards
Finishes his career sixth in receiving yards
Look, I don't know how he'll do that last one either. But at this point, I'm putting nothing past him.
Ravens of the Lost Lamarc
Lamar of the Beast
Lamar of the Deal
Lamar You Ready?
Lamar You Not Entertained?
Captain Lamarvel
Playaction Jackson
Let me Jax You a Question
Jax to Grind
Super Lamario
Lamario would be the name of Mario and Luigi's baby. And that concept is just plain wrong on so many levels.
Mark Ingram Fantasy Team Names
Mark Ingram has quietly put up over a decade of quality fantasy production. And at times, he's posted monster numbers for both the New Orleans Saints and Baltimore Ravens.
He can't be counted on as a true RB1. But he's certainly been the RB2 on more than one fantasy championship roster.
Ingram We Trust
Ingrampas
For this Ravens fantasy football name, you could also use Ingrandmas. Just take your pick based on which grandparent you like better.
Ingram Filter
Ingram Account and InstaIngram would also work for this Ravens fantasy team name.
Half Gram
This Ravens fantasy name is relevant because he's a halfback. Theresa ls 2 Grams, because he's technically Mark Ingram II.
Wham, Bam, Thank Ingram
John Harbaugh Fantasy Football Names
Here's a shocker: the Harbaugh brothers' dad was a football coach. You never would've guessed it!
Like a Harboss
The Better Harbaughs
No Harb No Foul
Harb the Heralds
Harbie the Love Bug
Harbaughngers of Doom
You could go with Harbaughngers of Victory for this Harbaugh fantasy team name if you're an optimist. I am not.
Baltimore Ravens Defense Fantasy Names
The Ravens having a good defense is just a thing, like the Patriots winning or the Chargers being terrible at just about everything.
Tastee Humphreez
Marlon Gone
Fishing for Marlon
Judon CHOP!
Lamarlon
Offense. Defense. Lamarlon.
Funny Baltimore Fantasy Football Team Names
Lamar Jackson isn't the only player on this team, y'know?
Captain Jean-Luc Rickard
Skura the Gentle Shark
Marquise de Saad
You could go with Marquise de Snead if you want a twofer.
Hurst Trap
Griffinished
Look, I'm as surprised as you are that RG3 is still in the league.
Historical Ravens Fantasy Football Names
You may be thinking that, since I mentioned it up top, we must be done making Ray Lewis murder references. You would be wrong.
Ray Lewis' Limo Service
We'll pick you up and put you down.
Feeling Good, Lewis
Suggs to be You
And Haloti You Too
Yanda Know Better
Heaps of Fun
Artistic Modellities
This Ray Lewis team name is for all you fantasy owners in grad school.
Baltimore Ravens Fantasy Football Team Names from Around the Internet
I stole these from other writers, just like Art Modell stole the Browns from Cleveland.
That's So Ravens
Stark Raven Mad
Lamar the Merrier
Lamarvel Cinematic Universe
New Jax City
Ingram Toenail
Snead 4 Speed
It's almost too perfect.
Harbs to Handle
Bad Mother Tucker
Suggs Not Drugs
Flaccoholics Anonymous
Congratulations on being sober from Joe Flacco since 2018.
More NFL Team Fantasy Name Ideas
If you're a fan of other NFL teams, check out our fantasy football name ideas for all other teams below.