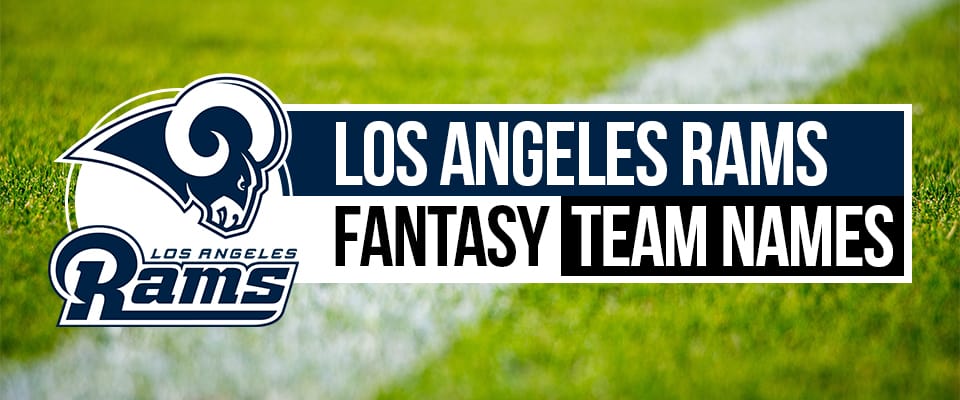 The Rams are LA's team, and you know it's true.
Regardless of where you are in LA, you always see more Rams jerseys than Chargers jerseys. Even at the Chargers' games!
With a young and talented core, the Rams are poised to stay LA's team for a long, long time. Since the Rams are here to stay, here are some Los Angeles Rams fantasy football names to rub in Chargers fans' faces.
Jared Goff Fantasy Football Names
Jared Goff's career is off to a great start. But he doesn't get the same respect as other QBs.
You let Bill Belichick eat your lunch in one Super Bowl and that's all anyone seems to remember!
Goff and Running
You get it, right? Goff does the throwing and your RBs do the running.
It's the perfect Goff fantasy name.
On/Goff Switch
Going Goff
Going on the Goffensive
Or Prolific Goffense, Goffensive MVP – you get the idea.
Gofften Enough
Goffly Good
Gofften Imitated, Never Duplicated
Robert Woods Fantasy Football Team Names
Robert Woods is an LA guy. He was born in LA, went to college at USC, and plays professionally for the Rams.
If his career continues on this trajectory, they might as well call it Robbywood.
Robbywood
It's a pretty good Rams fantasy team name, too. Also, try the derivations HollyWoods or Bobbywood.
Into the Woods
The Hundred Yard Woods
This Robert Wood fantasy name is for all the Winnie the Pooh fans out there in fantasy land. Keep that shit to yourselves.
I've Got Woods
'Bert and Zeurnie
Cooper Kupp Fantasy Football Team Names
Fun fact: Cooper Kupp was recently named to the all-dishware team. Other nominees include:
Todd Bowles
Brandon Spoon
Nick Cleaver.
Kuppside down
It's In the Kupp
Golf lingo.
In my Kupps
Alcoholic lingo.
Kupp My Balls
Pick your favorite combo of balls and Kupps, you savage.
Kupp Your Balls
Balls in the Kupp
Ball Kuppers.
No Gurleys, One Kupp
Speaking of savage, how long are we going to keep referencing that one gross video? At least as long as the puns are this perfect, I guess.
Funny Los Angeles Rams Fantasy Team Names
Pro tip: you can take any of these L.A. Rams names and add your own derivations to make them fit your team, league, or sense of humor. In LA, they just call that a punch-up.
End of Zeurline
Hekker Doggos
Heckin good name, fren.
Malcolm FleX
I hope Malcolm Brown plays well enough to justify this Rams fantasy name. It's damn good.
Higbee-Boson
You can go Higgs-Beeson if you like that permutation better.
Sean McVay Fantasy Football Team Names
Sean McVay was named Rams head coach at 30 years old. Cool cool cool cool cool said every career offensive and defensive coordinator in the league.
You're so McVain
McVay of the Dragon
Actually, you can do a bunch of Way of the names:
McVay of the Sword
McVay of the Gun
McVay of the Superior Man
McVay of the Samurai
McVay of the Warrior
Rams Defense Fantasy Football Team Names
Jalen Ramsey and Aaron Donald could easily be the top players at their position in the entire NFL. So why is their team defense so bad?
LA Ramseys
Ramsey's Rams
The Aaron of Grievances
Because Festivus falls during football season.
The Donald
Aaron Defense
Aaron defense, a pass defense, all the defenses.
The Brave Weddle Taylor
Two in one blow.
Reynolds-Rapp
Ok, so Josh Reynolds isn't a defensive player. But the pun was too spot-on not to ignore.
Historical LA Rams Fantasy Football Team Names
The Rams organization has a great history. Not all of it revolves around change-of-address forms.
The Faulk In Our Stars
Early Warner System
Warner Before It's Too Late
Bulger In My Pants
Bruced to It
Bruced Egos
Isaac at Fantasy Football
That's a self-burn.
LA Rams Fantasy Football Names from Around the Web
In LA, it's not called plagiarism. It's called un homage.
God Bless Ramerica
Or Goff Bless Ramerica, depending on your particular religion.
Sacrificial Rams
Ramming It In
The Goffather
Goffam City
Jerkin Goff
Shake it Goff
This Rams fantasy name is for fans of both T-Swift and G-Slow.
Kupp, Kupp, and Away
My Kupp Runneth Over
Though mostly he receiveth over.
Akeelah and the Higbee
Bad Rapp
What the Hekker
Unsinkable Malcolm Brown