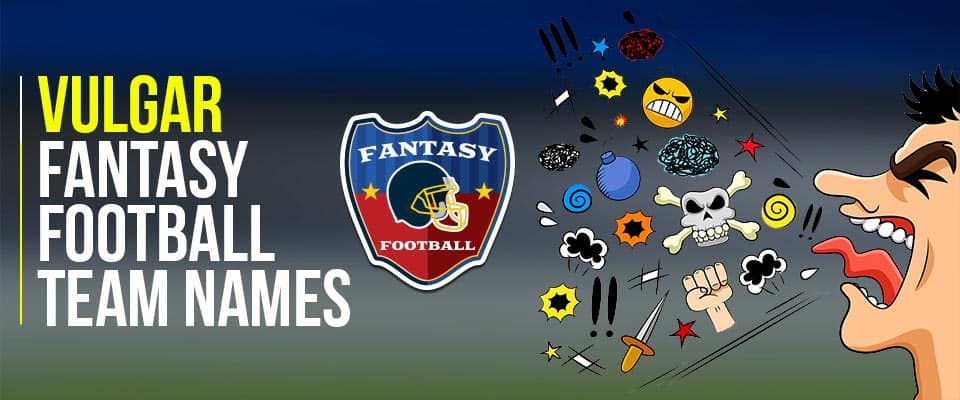 For some fantasy football leagues, you want your team name to sound witty and fun. On the other end of the spectrum, some leagues expect vulgar fantasy football team names – and the raunchier, the better.
Admittedly, these aren't the smartest fantasy football names. And I can't say I'm proud of all of them.
But here they are, over one hundred of the dirtiest, most offensive fantasy football team names to use at your discretion (but maybe not for the office league). Don't say I didn't warn you.
Vulgar Fantasy Football Team Names for 2022
It's 2022 and the PC police are lurking around every corner. If your league host won't permit low-brow humor in your fantasy football league name, then lowering the bar with your team name is the only solution.
Let's start this year with the dirtiest of the dirties.
1. TimeToSee Tit Tans
2. Washing Foreskins
3. Steeler Virginity
Note that we are choosing not to add a Ben Roethlisberger joke here. But if you're curious, we've got a section dedicated entirely to Ben Roethlisberger fantasy team names.
4. Heinie Feeled
Or here.
5. JAX Off
6. Draguars
Fierce!
7. Sex DALs
Real Sex DALs, Living Sex DALs, etc. You get it.
Quarterback-themed Offensive Fantasy Football Team Names
8. Dak Off
9. Dak Head
10. Jack Goff
Yes, that's already our third jack-off reference. And I can't promise there won't be more.
11. Resting Mitch Face
12. AssFoles
13. Brees Nutz
14. Realistic Sex Dalton
15. Minscaping
You need a Gardener to take care of that bush.
16. JacksOn, Jacks Off
That's a Lamar Jackson joke, a karate kid joke, and our fourth jack-off joke all rolled into one.
We've got plenty more of these in our dedicated article for Lamar Jackson fantasy name ideas.
17. Take Off Your Pants and L-Jax It
For the record, I count this more as a Blink-182 joke than a jack-off joke.
Dirty Fantasy Football Team Names for the 2022 Season
18. Double D Kupps
19. No Fournette Play
20. Landrey's Nutz
It's turning into a race to see if there will be more Deez Nutz names or jack-off jokes.
21. Chris Godamn
22. Get it Ingram
23. Chris Carson of a Bitch
Or just Chris CarSonofa if you like to keep it tight.
24. I Did it All For the Nuk
25. Josh JackOffs
And that's our fifth jack off-based name, for those keeping score.
26. Kamara Up and See Me Sometime
You'd be the only kid on your block with a Mae West-themed team name, that's for sure.
28. BJ Chark
28. DJ Shart
29. Robert Woody
Robert Gives Me Woods, etc… This one you probably could have figured out on your own.
30. Kittle's Bits
31. Austin Pooper
32. James Conner Into Bed
Conner Into Bed, Steeler Virginity?
Raunchy New England Patriots Fantasy Football Team Names
When raunchy Robert Craft is involved, you know the team names are going to be adult-only.
33. Bundchen's Bitch
34. I Love Having Rex, But I'd Rather Get Burkhead
35. Bradeez Nutz
That's a third Deez Nutz ref, just to keep things interesting.
36. Go Wilfork Yourself
37. Choking the Belichicken
This nasty team name is both funny and horrifying.
38. Illegal Pat-Down
If you like these names, check out our 60+ New England Patriots Fantasy Team Names.
Crude Cleveland Browns Fantasy Football Team Names
Sure, I picked an easy target with the Browns. Expect this collection of raunchy fantasy team names to grow quite quickly.
39. Cleveland Brown Noise
40. Nick Chubby
41. Nick Chubby Chaser
If you like this filthy fantasy name, you'll love other dirty Nick Chubb fantasy team names.
42. Baker Mayfield You Up
43. Odelling in the Canyon
Inappropriate Denver Broncos Fantasy Football Team Names
44. Highway To HElway
45. Mile High Stadium Club
46. Hung Like a Bronco
47. Bradley's Chubb
48. Philip Lindsay (She's Been Asking for It)
You can also make it Philip Lindsay Lohan (She's Been Asking for It) if you want to get personal about it.
49. Sutton My Face
This song will get stuck in your opponents' heads easier than Baby Shark.
Dirty Defensive Player Fantasy Football Team Names
Because you guys in the IDP leagues need some love too.
50. Flexur Cocks
If you're using the Philly defensive linemen.
51. JJ Twatt
Or TJ Twatt, Dereck Twatt, or even Twatt Brothers.
52. Mack Your Bitch Up
A bit of a rude team name in the #MeToo error. But rest assured, I'm harmless.
53. Return of the Mack
54. Danielle MILF Hunter
Or Danielle Bitch Hunter if you want to make an obscure 30 Rock reference.
55. We're All Gonna Get Calaised
56. Tre DeFlowers
57. Peppers Spray
58. Darius Leonard Part 6
In case you wondering why this name is on the list:
59. Myles Jack Off
I mean, we couldn't pass up a sixth time
60. Chunging Cock
Maybe the grossest name on this list.
61. Mathieused Rubber
Never mind, this is the grossest.
Dark Fantasy Football Team Names
62. Aaron Hernandez' Taxi Service
We'll pick you up and drop you!
63. Kellen Hits a New Winslow
64. Nation's Capital Racial Slurs
Here are even more political and Donald Trump team names.
65. Adrian BeatYerSon
66. Alshon Jeffrey Didn't Kill Himself
If you're still looking for an Iggles-themed name for your 2022 fantasy team, check out our list of Philadelphia Eagles Fantasy Football Team Names.
Old School NSFW Fantasy Football Team Names
These offensive fantasy names are a bit dated, but even in 2022 they still hold up.
67. Fred Smoot's Boat Rentals
68. Vick Brothers Obedience School
69. Ron Mexico's Taco Stand and Free Clinic
Papusas and pap smears!
70. Suck My Ditka
71. Shannon Shart
72. Chris Carter's Fall Guy
73. Faulk Off
74. Favre Got Dick Picked Off
75. Marino Means No
You could also go with No Marinos No. Whichever you prefer.
76. Joey Wants a Kiss
Still one of the most cringy moments in TV history.
Pot-Themed Fantasy Football Team Names
These badass fantasy team names are still inappropriate in most states. But maybe one day we'll look back on these, and they'll seem quite normal.
77. James Winstoned
You know what they say: you Winstoned, you lose stoned.
78. Aaron Jonesing
If that's too simple, you could also go with Aaron Jonesing For a Hit (or Fix, but Hit is more on-point, football-wise.
79. Julio Jonesing
Or, for that matter, Ronald Jonesing, Marvin Jonesing, or Daniel Jonesing. You get it.
80. Budda Baker's Edibles
81. Smoke a Bowe
Classic Vulgar Fantasy Football Team Names
Here's a selection of some of my favorite dirty fantasy football team names culled from around the web. I promise it won't hurt my feelings if you choose one of them instead of one of the ones that I wrote.
82. Show Me Your TD's
83. Two Gurleys, One Kupp
I will not be linking to the reference point for this name, and you're welcome for that.
84. My Ball Zach Ertz
85. Golden Showers
86. Golden Taint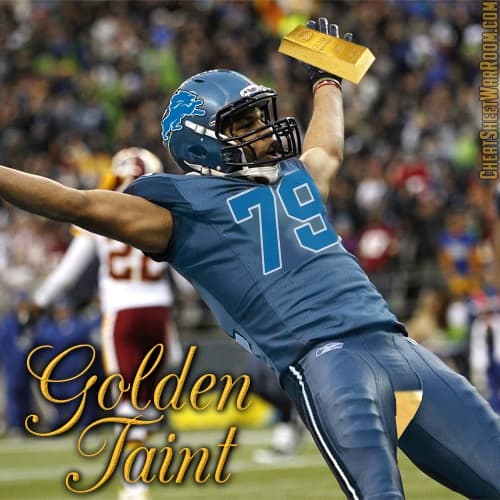 87. Hyde the Salami
88. Baby Got Dak
89. Turn Your Head and Goff
90. Little Red Fournette
It's only dirty if you read the lyrics of the song.
91. Fournettecation
92. Touchdowns Syndrome
93. Cam on Your TD's
94. Wendell's Got Smallwood
95. Hard Gore Porn
Frank Gore will still be in the league once we're all dead and buried.
96. Amari Pooper
97. Kissing Cousins
98. Witten Your Pants
99. Wham Bam Thank You Graham
100. Fill My Lips Rivers
101. OJ Howard Is Khloe's Dad
102. Oops I Crapped My Fants
Oh, and just for the record, the final score is Jack-Off Jokes: 6, Deez Nutz Names: 3. Because I know you are invested in that narrative.
More Dirty Team Name Ideas?
If you have more ideas for obscene, filthy, and vulgar fantasy team names, tell me about them in the comments below. I'll add the really good ones to this list.