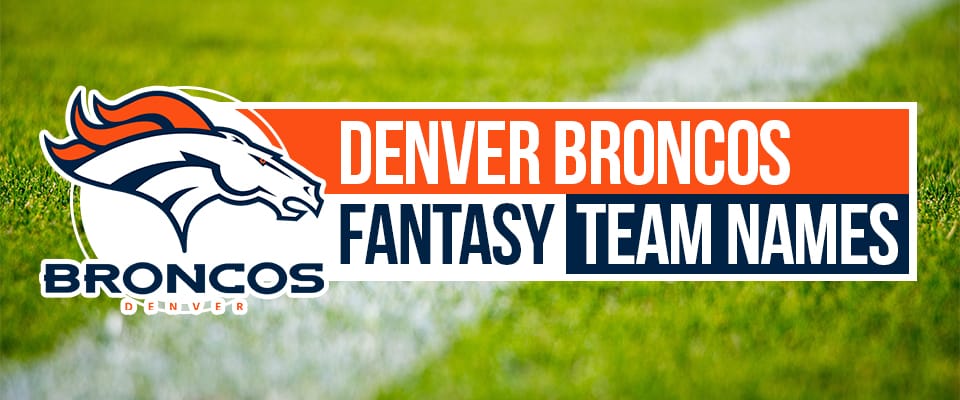 Drew Lock was on the Rise, the Broncos had two starting-quality running backs, and Courtland Sutton was a Pro Bowler. Best of all, Joe Flacco was gone.
Mile high fans were drinking the blue and orange Kool-Aid. Then, like it did to so many folks, 2020 happened.
Here are some brand new Denver Broncos fantasy football names that celebrate the start of a new era. Again.
Denver Broncos Fantasy Team Names for 2021
Times have been tough since Peyton Manning left Mile High. I mean Invesco. I mean Sports Authority. I mean Empower.
Don't worry, I'll get it figured out by the time the Broncos are relevant again.
No QBs, No Problem
Ok, there were some problems.
Bridgewater Over Troubled Bridgewater
I guess you could do just Bridge over Troubled Water. But c'mon, live a little and get silly.
Teddy Footballgame
Courtlandia
Sutton Death
Courting Death
I'm not trying to be morbid, but two death puns just happen to work with his name.
Gordon, Gordoff
Gordon's Geckos
Melvincible
Judge Jeudy
Locked In
Out of Lock
Locked Out
The Fants Go Marching
Fantcestry.com
Noah's Arc
Noah Fantasy Football
Difficulty-wise, this is the extra point of fantasy football team names.
Von Down by the River
Say it with me now:
Von in 60 Seconds
Barrell Man-iacs
Flaccouttahere
Joe Flacco has made every team he's been on better, and all he had to do was leave.
Courtland Sutton Fantasy Names
My hope for Courtland Sutton is that he eventually gets to play with a quarterback that's as talented as he is.
Oh, and health. That would be good too.
Court's Authority
Or is that a touchy subject, Broncos fans?
Order in the Courtland
Suttonly, Last Summer
Maybe you're a Broncos fan, a fantasy owner, and Mr. Tennessee Williams aficionado.
Suttonly Susan
Maybe you're a Broncos fan, a fantasy player, and a Ms. Brooke Shields aficionado.
Sutton My Facemask
Or maybe you're a Broncos fan, a fantasy player, and an aficionado of gross puns.
Teddy Bridgewater Fantasy Names
Teddy Bridgewater will be the fifth opening day starter since Peyton Manning left. The Broncos will be Bridgewater's fourth team in the last five years.
Who knows, maybe that means they're perfect for each other. But if I'm Teddy B, I'm looking to rent a place instead of buy.
Bridgewatering the Gap
Bridgewatering the Garden
Teddy Bridge Game
Teddy's TDs
Teddeez Nutz
Drew Lock Fantasy Football Names
Is the Lock era over, or just on pause for a bit? I'm not all that optimistic, but I'm also not throwing out the Drew Lock fantasy team names just yet.
Stone Cold Locks
Locked and Loaded
Three Locko
Because Lock wears number three, and Four Loko makes Broncos games go faster (and slower) at the same time.
Locking Good
Bagels and Locks
And the bagels are the other teams' scores? Because our defense is good? Does that read?
Brandon McManus Fantasy Names
One of the lesser-known rules of fantasy is you never bet against a Mile High kicker.
Another is to beware of the owner who named his team after the kicker. Because that dude is crazy.
You the McManus
McManus About Town
Big McManus On Campus
Of Wolfe and McManus
To most of you, this means nothing. But some Metallica-loving, Broncos die-hard just found his soul name.
Von Miller Fantasy Team Names
I'll spare you Von Miller Time for the umpteenth time. In the words of my wife: If they can't get Von Miller Time themselves, they don't deserve a team.
Got Miller?
Mill Communication
If you like this Broncos fantasy team name, then you'll probably also dig this classic review of Ill Communication.
Von Like Donkey Kong
The Von Millagro Beanfield War
Any other fans of the 1974-book-turned-1988-movie about water rights in New Mexico out there? No? Just me?
Denver Broncos Defense Fantasy Names
Because it's ok to have an Orange Crush on defensive players other than Von Miller.
Orange is the New Sack
Chubb Chasers
Surtainly
Justin Time
Fuller House
Fist Fuller Dollars
Maximum Derek Wolf
John Elway Fantasy Team Names
John Elway: the Broncos greatest quarterback and okayest executive.
Elway or the Highway
Do it John's way or get the Flacco out of here.
Yankees 2nd Rounders
Dude had a .896 OPS in his one season of minor league ball. Pretty legit.
El Way Homers
This Broncos fantasy team name works in a few different ways:
You're a homer, one who roots for the home team.
Elway was a baseball player (see above).
A Way Homer is a joke that someone gets on their way home, much like this far too complicated name.
Elway's Helicopter Rides
The trip may be bumpy, but he gets you there.
Classic Denver Broncos Fantasy Football Names
Over the years, there have been some criminally underappreciated Broncos greats. Naming your fantasy football team after one of them is the least you could do to honor their legacy.
Mecklenburgers
Like Wahlburgers, but better at stopping the run.
New Schlereth in Town
Terrell or Not Terrell
Single Elamination
I also like the variation Single Elam Nation
McCafferey's Mustard
Seriously, that stuff was as good as Eddie Mac's 2000 season.
Manning Pacquiao
This Denver Broncos fantasy football name is begging for a gross photochop.
Manning the Gun
Or Manning Your Battle Stations.
Manning Down
Never Leave a Manning Behind
A Real Manning
Griese Chicken
Floyd's Little Barber Shop
Looking Sharpe
Sharpe Dressed Men
You even get your very own theme song:
The Best Broncos Fantasy Football Names from Around the Web
If you haven't seen anything you like so far, here are some options from other writers that may tickle your fetlocks. Fetlocks is a horse term, by the way.
Bronc to the Future
Denver Mint
Orange Crushing It
Hot Chubb Time Machine
Full Chubb
Am I proud to include this name on the list? No. Are some of you animals going to use it? Oh, most definitely.
NFL Fantasy Names for NFL Teams