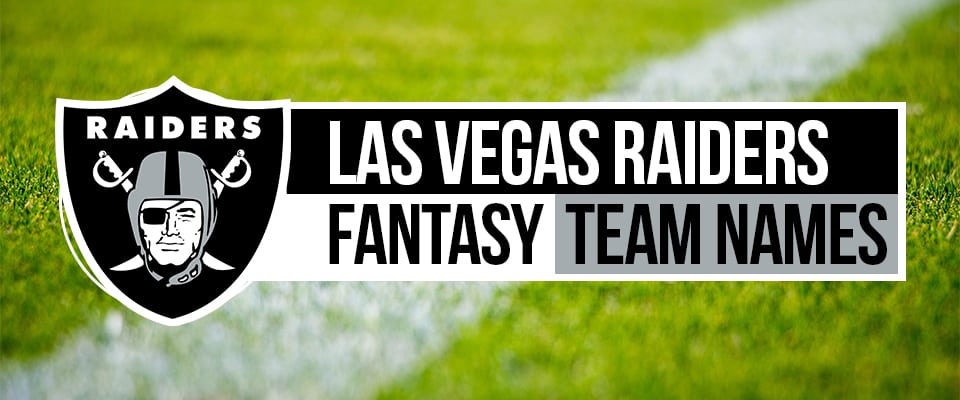 I'm still getting used to saying the Las Vegas Raiders, but I think I might like it.
Vegas is crazy, Raiders fans are extra crazy.
Vegas has unique fashion, Mark Davis' hair is the uniquest fashion.
Here are some fresh Las Vegas Raiders fantasy football names to celebrate this match made in heaven. Or, if not heaven, at least an all-night drive-through wedding chapel.
Viva Las Raiders!
Las Vegas Raiders Fantasy Names for 2023
It remains to be seen which side of Las Vegas the Raiders will end up resembling. Will they represent the glitzy, glamorous Las Vegas of the strip?
Or are they going to be more akin to the Naked City side of Vegas? It's a roll of the dice.
DA's Office
Wall-Er
This one is primed for photoshopping.
I'm Wall In
Just Joshing
Josh Jacobs Jingleheimer Schmidt
Carr D B
René D Carr
Just in case you happen to be in a league of fancy-pants college boys.
Be Carrful
Kenyan Dig It?
Swing from the Chandlers
Renfrow Me the Damn Ball
Hunter the Hungry
Maxximum Effort
Take it to the Maxx
Mullen It Over
Davante Adams Fantasy Football Team Names
Fun fact: after a touchdown in college, Davante Adams once performed the complete choreography for Bob Fosse's All That Jazz. Less fun fact: I made that up because I don't have any fun facts about Davante Adams.
Davantaste of Things to Come
AdDavantege
Adamsight Better
Because Devante is a damn sight better than any wide receiver the Raiders have had in a long time.
Devantailor Made
Don't Davantase Me, Bro
Darren Waller Fantasy Team Names
What kind of Kool-Aid does a 27-year-old career backup have to drink to turn into a top-5 TE overnight? Follow-up question: where can I get some of that?
Build the Waller
Political.
Tear Down that Waller
Waller of Sound
Waller Atcha
Dumb.
Josh Jacobs Fantasy Football Names
Everyone talks about Josh Jacobs like he's wasted his potential these first few years in the league. Meanwhile all he's done is pile up yards from scrimmage and finish in RB1-RB2 territory every season.
If that's wasted potential, just think of the numbers he could put up if he ever puts it all together.
Josh Kosh B'Gosh
This Josh Jacobs fantasy team name is for the dads out there.
LL Cool Jacobs
Let's face it, at this point this one's probably for the dads as well.
Corn on the Jacobs
JJ's Boulangerie
This is a deep Vegas cut. But if you've ever stayed at the Paris casino, then you get it.
Derek Carr Fantasy Football Names
Derek Carr is an enigma: is he young or old? Good or bad? Well consider these stats:
He's the Raiders' all-time leader in passing yards, but also in QB losses
He has a miserable 4.3% TD rate and an incredible 1.9% INT rate
I still call him David sometimes
Sports Carr
Putting D Carr Before D Horse
No Carrgument
The Carr of War
After The Art of War by Sun Tzu.
The Carr of the Deal
After The Art of the Deal by Son Sue.
Kenyan Drake Fantasy Team Names
Kenyan Runner
Drake Malfoy
Kenyonder Mountain String Band
Kenyan and Barbie
Historical Las Vegas Raiders Fantasy Football Names
These are excellent Raiders fantasy team names if you need to prove to Raider Nation that you deserve spiked shoulder pads.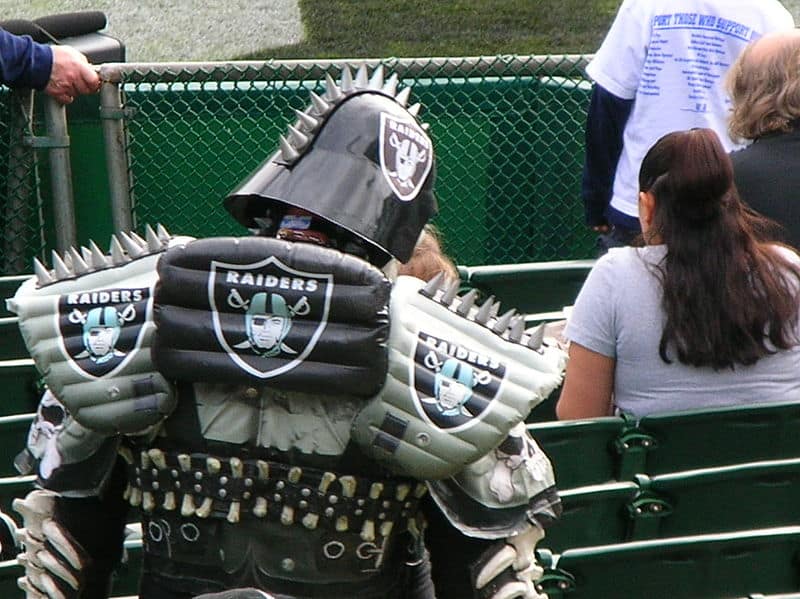 Howie Long John Silver and Black
We Were Robbinsed
Being Robbinsed is a lot like being robbed, except the only person you're stealing from is yourself.
Lamonica Solo
This is a pretty good pun that I guarantee you won't get its due.
Marcus the Beast
Because seriously, the dude was a beast back before we called people that.
JaMarc of the Beast
The curse of JaMarcus Russell will follow the Raiders forever.
GruDen of Wolves
Cult of Chucky
You're forgiven if you didn't actually know that this was a film.
Motley Grü
John Gruden was an NFL coach for over 20 years. Yet somehow, he still looks like the video room intern.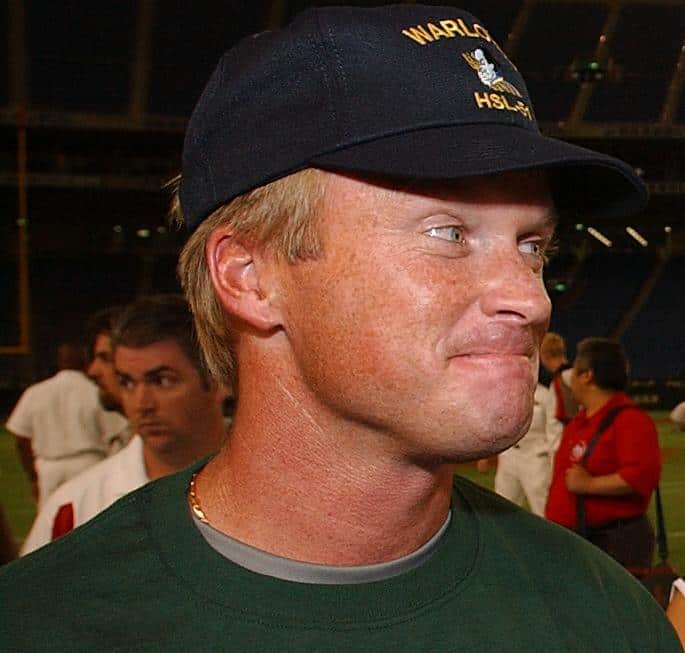 Raiders Fantasy Team Names from Around the Web
I've picked out some great fantasy football team names from the minds of Raider Nation. Because some of the other stuff in those minds gets weird.
Raiders of the Lost Yard
Darth Raider
RefrigeRaiders
Davante's Inferno
The Adams Family
Carrmageddon
Dude, Where's My Carr
How are we, as a society, still referencing this film?
Josh Jacobs Jingleheimer Schmidt
And they said the perfect pun doesn't exist.
Chucky Part II
Grudenough
Witten Protection Program
At Witten's End