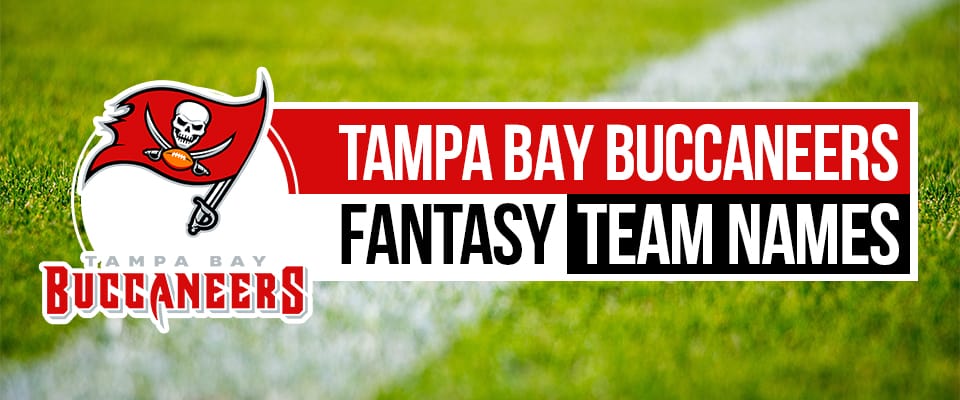 This season in Tampa is going to be a little different. For one thing, they added Ndamukong Suh to replace the departed Beau Allen on the defensive line.
Oh, right – and they also signed some Brady guy. And then Brady's trusty bodyguard-sidekick-bouncer Gronk came out of retirement to join him. And now only one thing is sure: the party's in Clearwater this year.
Here are some all-new Buccaneers fantasy football names to get this party started right. Somebody pass me the Gronk Juice, and let's get into it.
Tom Brady Fantasy Football Team Names
Ok, it's crazy prediction time. TB12 plays until he's 45, just like he said he would. Then, Brady has so much success in Tampa that he goes into the Hall of Fame wearing the pewter and red.
Hey, crazier things have happened.
TB in TB
Tampa Brady
Or even Tompa Baydy, if you want to get nuts with it.
Brady Goes to the Arians
Bill Belichick's Broken Hearts Club
Poor Bill, no one wants to play with him anymore.
Brady Shark
Win or lose, you'll walk away from your matchups with the smug satisfaction that at least you got this song stuck in their head.
Copyright Tom Terrific
Final Score: The US Patent and Trademark Office: 1, Tom Brady's lawyers: 0.
The Brady Bündchen
Bündchens of Fün
It's just fün to say fün.
Luck be a Brady
Brady Yoda
If you're a Warsie, check out these Star Wars fantasy names.
The Brady Bunch
Brady Gaga – My Favorite Tom Brady Team Name
Brady collaborates with Lady Gaga to create a jersey manufactured entirely of dead squirrels.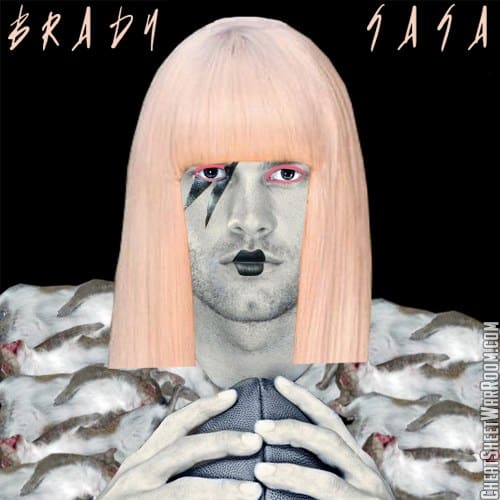 The Real Slim Brady
Hit Me Brady One More Time
Rob Gronkowski Fantasy Football Names
It was the British statesman and poet Enoch Powell who once wrote, "History is littered with Rob Gronkowski fantasy team names which everybody knew."
Here's a few you (hopefully) haven't heard yet.
Gronccaneers
Gronkowski Bums
Gronk-Ass Man
Gronkowskeet Shooting
BaGronkaGronk
Mike Evans Fantasy Football Names
So Mike Evans is already Tampa Bay's all-time leading receiver, and it isn't even close. I'm not sure if that says more about Evans or the organization itself.
Evans Cowgirls Get the Blues
Evans' Essence
Throw it to M.E.
Mike'd Up
Speaking of which, here's a Mic'd up Mike:
We'll Win Again Evansually
Chris Godwin Fantasy Football Names
Chris Godwin has improved every season in catches, yards, touchdowns, catch percentage, and yards per target. And now he has Tom Brady throwing to him.
We Godda Win
Godwin Friended Me
Godwinging It.
Godwinning
Godwinter Is Coming
Frankly, I prefer just Godwin Is Coming. But it might require a little work to make sure people don't get the wrong idea.
If you dig this Buccaneers fantasy football name, check out our article dedicated entirely to Game of Thrones Fantasy Names.
Tampa Bay Defense Fantasy Names
This year's Buccaneers team is looking to add to the franchise's legacy of vicious defenses. Former Pro Bowlers Ndamukong Suh and Jason Pierre-Paul have joined Shaq Barrett, Lavonte David, and the gang to make one last run at the 'ship.
Shaqson Pollock
Lavonte Davideo Games
Lavontaste at the Stranz
Now this is some deep Tampa history.
King Ndamukong
Donkey Ndamukong Country
Suh What
Suh Tang Clan
Down With JPP
Pierre-Paul the Kings Men
JPP Slap Me Three
Don't play with fireworks, kids. That is unless you're a dynamic defensive player in the NFL. In which case, you can still go on to a long and productive career.
And I had to pull this one out of the vault. It's still one of my favorites.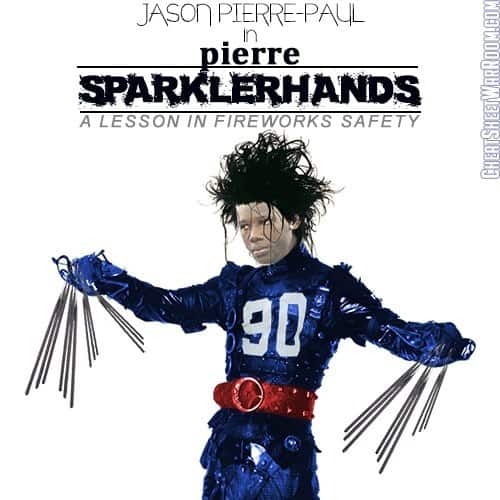 Historical Tampa Bay Bucs Fantasy Football Names
Brooks and Dunn
That's a 2-for-1. You could also switch it to Brooks and Dungy if you are so inclined.
Dungy Beetles
Savage Barberians
Wilder'n' Out
Alstott the World and Melt With You
I've Got No Quarles
It's true, and you haven't since 2006.
Testaverdecal Leap
Tampa Bay DILFS
Because of our old buddy Trent, and no other reasons. No. Other. Reasons.
Bruce Arians Fantasy Football Names
Bruce Arians coached four separate quarterbacks to Pro Bowls. Plus, he helped Jameis Winston to throw for over 5000 yards in a year.
You tell me which is more impressive.
Arians Go Marching
Arians go marching ten by ten hurrah, hurrah!
The Bruce Juice
The Bruce Juice has helped such superstars as Peyton Manning, Ben Roethlisberger, Andrew Luck, and Carson Palmer. The football world is salivating to see what it can do to someone that's already the greatest of all time.
The Bruce is Loose
We're taking it back from that murderer/Twitterer. Also, if you want more OJ Simpson fantasy football names, we've got you covered.
Arians 51
Arianswers
You've got questions, and we've got Arianswers.
Jameis Winston Fantasy Football Names
It's real easy to get over a breakup when you've already started dating someone hotter, richer, and more accomplished (even if they are a little older).
Happy trails Jameis Winston. Don't let the door touch you in an inappropriate manner on the way out!
Winston's Smoked
Winston's Intercepted Leaving the Store
Jameis Is Publix Enemy #1
Winston's Uber Talented
Winston, Lose Some
Because Winston did lose some (quite a bit, in fact). Famous Jameis' overall record as the Bucs QB: 28-42.
Buccaneers Fantasy Football Names from Around the Web
Yar, some might say I plundered these Bucs fantasy names from other writers! And some might not say that because they don't like cheap pirate puns.
Clearwaters, Full Hearts, Can't Lose
The Bucs Stop Here
Mother Buccers
Pass the Bucs
Stairway to Evans
Knocking on Evans Door
Thank Evans
Evans Isn't Too Far Away
In Godwin We Trust
JPP's Right Hand Men
Gramatica Correct
I Beg to Dilfer