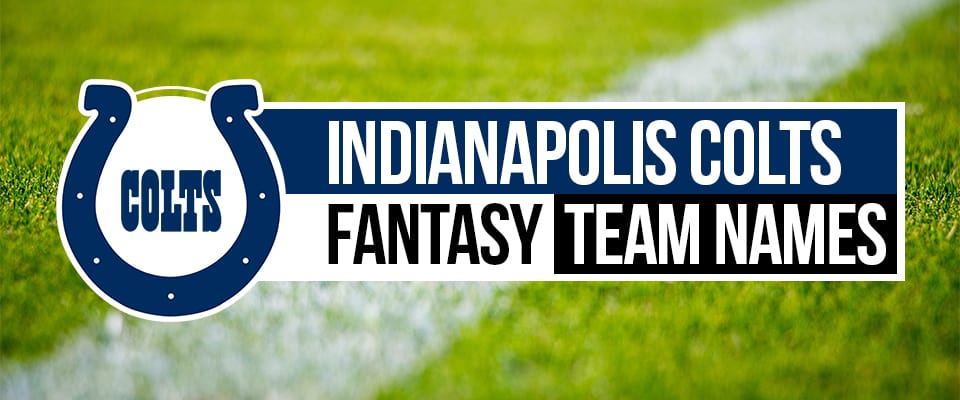 Andrew Luck retires unexpectedly.
The Colts then bring in Philip Rivers, and he retires after one year.
Carson came and Wentz.
What is happening to the Colts quarterbacks, and does Matt Ryan need to be worried?
Here's a new set of Indianapolis Colts fantasy football names to help encourage Matty Ice to stick around a while.
Indianapolis Colts Fantasy Names for 2023
Johnny Unitas had Raymond Berry. Andrew Luck had T.Y. Hilton. Peyton Manning had Marvin Harrison and Reggie Wayne.
Who's Matt Ryan's partner in crime going to be? Michael Pittman Jr is a good bet, or maybe it could be 2022 draftee Alec Pierce.
Or maybe they should just shut up and give the ball to Jonathan Taylor.
Colt Shoulders
Colt Following
Or Colt Leaders if you want to be bold.
Taylor Made
If Jonathan Taylor is your stud RB in 2023, first off lucky you! Second, you can check out our entire article dedicated to Jonathan Taylor fantasy football names.
Flyin' Ryans
Ice Guys Finish First
Get Rich or Die Ryan
Feeling Hiemotional
Hiemergency Room
Mosh Pittmans
Michael Pittbulls
Piercing the Veil
Tears for Pierce
Into the Woods
Irsay Can You See
I Like Reich
Manning Brothers Retirement Home
Someone, please make this Colts fantasy football name into a t-shirt.
Came and Wentz
Unitas Front
A Rivers Runs From It
Unlucky Rivers
Luck Ran Out
No Lucks to Give
Matt Ryan Fantasy Football Names
Matt Ryan is hoping to be the 2023 version of Matthew Stafford. Spend years establishing yourself as the greatest quarterback in one franchise's history, but then go win a ring somewhere else.
Saving Private Matt Ryan
Tom Clancy's Matt Ryan
Tom Hanks and Matt Ryan
Ryan to Live
MattStick Men
Matt Cryin'
Colts Defense Fantasy Football Names
Historically, the Colts' best defensive option has been a great quarterback. Now that Stephon Gilmore, Darius Leonard, and DeForest Buckner are here, the Colts D is scary on its own.
Gilmore Than Words
Filled to the Gills
Stephon And On
Stephontasy Island
DeForest and DeTrees
Young Buckners
Hello Kwity
Paye the Man
Leonard, Part 53
A fantastic Colts team name, unless for some reason you didn't want to reference the works of Bill Cosby.
Andrew Luck Fantasy Football Names
The real question post-retirement: What happens to Andrew Luck's neckbeard?
Out of Luck
Lucked Out
Luck Off
Unlucky Horseshoes
Lame Luck
Peyton Manning Fantasy Football Team Names
Now that he's in the Hall it's officially safe for Colts fans to name their fantasy teams after Peyton again.
Manning Pacquiao
This Indianapolis Colts fantasy football name is begging for a gross photochop.
Manning the Gun
Or Manning Your Battle Stations.
Manning Down
Never Leave a Manning Behind
A Real Manning
More Historical Colts Fantasy Football Names
Here's a nod to some of the franchise's non-quarterbacks.
Thank You, Hilton
TYte Fit
To the Hilton
Hiltons of Fun
You could combine two of our Colts name ideas here: HilTons of TYs.
TYger King
If you're looking for more Tiger King fantasy team names, check out our full list here.
Living on the Edgerrin
Saturday Dwight's All Right for Freeny
For those struggling to keep up, this Colts fantasy name combines these greats:
Jeff Saturday
Dwight Freeny
Dungy Beetles
For such a classy dude, this is a seriously gross Colts fantasy team name idea. But maybe you party like that?
Marvin's Room
Wayney Days
Indianapolis Colts Fantasy Team Names from Around the Internet
Lo, just as Indianapolis swiped the Colts from Baltimore, so too have we swiped the best Colts fantasy team names.
Hilton Honors Club
Suit and TY
Unitas We Stand
My Cousin Vinatieri
Dungys and Dragons
Make it Wayne
Fantasy Team Name Ideas for Other NFL Teams