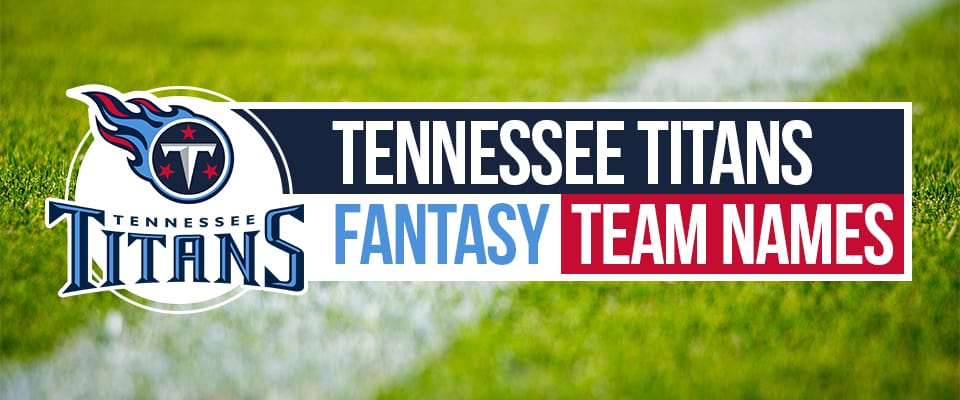 AJ Brown and Julio Jones are gone, and Ryan Tannehill isn't getting any younger. Has the championship window for the Titans closed?
All I know is that if they still have a healthy Derrick Henry, then the window is still open. Because if it's not, he'll open it himself with one of those wicked stiff-arms.
Here are our best Tennessee Titans fantasy football names, because I don't want to be on Tractorcito's bad side.
Tennessee Titans Fantasy Names for 2023
The music, the history, the Loveless Cafe. Unquestionably, Nashville is a city with soul. What they're missing, however, is an NFL championship.
I'm not saying that these hilarious Tennesee Titans fantasy football names can help with that – but it can't hurt either.
Titan Up
Nissan Titans
It's a truck. It's their stadium. It all adds up.
NashVillains
Derrick Rolled
Titannehill
I've Got Woods
Into the Woods
The Hundred Yard Woods
This Robert Wood fantasy name is for all the Winnie the Pooh fans out there in fantasy land.
Treylon of Tears
Tractor Traylon
I have no idea if Traylon Burks can replace the production of AJ Brown and Julio Jones. I do know now's your chance to be the first player in your league using Traylon Burks fantasy team names.
Where There's a Willis There's a Way
I Need to Take a Malik
You may be a bit early on Malik Willis fantasy names this year – or you may be a prophetic genius.
You, Me, and Bud Dupree
Attack on Titans
For this Tennessee Titans team name, you could go with Attack by Titans if you think your league-mates can make the leap.
Gnashville Teeth
TenNasty
Tennessee What You Did There
Show Me Your Titans
This Tennessee Titans fantasy team name is not for everyone. But it's most definitely for someone out there.
Memphis Oilers
Does anyone remember the Memphis Oilers, Oklahoma City Hornets, San Juan Expos, or even 2020's Buffalo Blue Jays? I'm always a sucker for those one-season anomaly teams.
Jeff Fisher Kings
Get Me to Del Greco
Being the franchise leader in points is nothing to sniff at.
Bud's Bills Birds Bill
Apparently, Bud Adams paid a cool $250K for the pleasure of fingering the Buffalo faithful. For you, that's just a free profile pic.
Titans Fantasy Football Names for Tractorcito
I was all in on Derrick Henry during his first couple of seasons. But he stunk, so I stopped drafting him.
That decision has, shall we say, not aged well. Since then, he's even earned his very own article dedicated to Derrick Henry Fantasy Football Team Name Ideas.
Oiler Derricks
This Titans fantasy team name incorporates the past, the present, and a stupid pun. This one's got it all, people.
DerrIcky Shuffle
Derrick to Be Great
Or for the Weird Al fans out there, Derrick to Be Stupid.
Regarding Derrick Henry
Henry Team, Henry Time, Henry Place
Henrything Goes
Howdywood Henry
Ryan Tannehill Fantasy Football Team Names
Ryan Tannehill is to quarterbacks what settling is to life partners. Sure, you'd like to think you can do better, but deep down, you know you don't deserve it.
Here are some Ryan Tannehill fantasy team names to honor the pretty goodest QB in the league.
Stannehills
You can also go with Big Fannehills if Stannehills is too Gen Z for you.
Tannehill to Die On
Faves and RT
Tannehill O' Beans
The Lauren's Husbands
Black 'n' Tannehills
Game Plannehill
Mike Vrabel Fantasy Football Team Names
Vrabel has a ways to go before reaching the ranks of Bum Phillips and Jeff Fisher. But he's getting closer.
Even still, it'll be hard for the former linebacker to top his multiple Super Bowl touchdown catches.
Vrabull Dogs
Vrabelichick
Mike Vrabel is just another branch of the Belichick coaching tree.
Turn the Vrabels
VraBell Cows
Vra Gun
Vrabullets
Vrabullies
Titans Fantasy Team Names from Around the Web
Are some of these Titans fantasy team names stupid, profane, lowbrow, or just plain weird? Yeah, sure.
Am I also jealous that someone else thought of them first? You bet.
Titan Your Butthole
Music City Miracle Workers
Cain and Vrabel
Vrabel Bodied Men
Willing and Vrabel
Vrabel Syrup
He's a good coach, but a great fantasy team name starter.
Remember the Titans
This Titans fantasy name is a little hacky, sure. But when you get eliminated from the playoffs, you can change your team name to Forget the Titans.
More Fantasy Team Name Ideas for NFL Teams
Looking for fantasy team names based on other NFL teams? In 2023, we've got them all covered.
Ideas for Titans Fantasy Football Names?
If you have a funny idea for a Tennessee Titans fantasy football name, tell me about it in the comments below. I'll add the good ones to our official list.