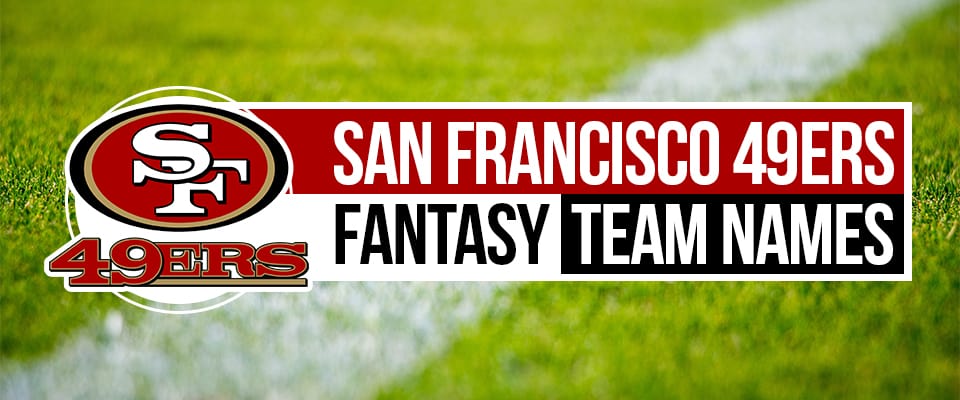 The last few seasons have been a wild ride for the Niners. Lots of losing, then a Super Bowl, then right back to losing.
Are they a great team that's been brutally unlucky with injuries or a terrible team that got really lucky one season? Or maybe just a mediocre team that's been a little lucky and a little unlucky?
Here are some brand-new San Francisco 49ers fantasy football names until we figure it out.
San Francisco 49ers Fantasy Team Names for 2021
The San Francisco 49ers have an impressive history of great quarterbacks and insanely talented receivers. Also insane receivers, moderately talented running backs, and defenses that are wildly inconsistent from year to year.
But one thing's for sure: they always look great in that crimson and gold.
San Frantasy Football
I Haight and Will Ashbury You
San Francisco has a rich history of art, culture, and legendary weirdos. So many freaky, freaky weirdos.
Alcatraz Escapees
Covid-49
Too soon? Not soon enough?
GaroppoLone Wolves
GaroppoLow Maintenance
Kittle Buddies
George Kittle's face on Gilligan's body?
Kittles and Blitz
I can hear the song now: Kittles and blitz and blitz and blitz, Kittles and blitz and blitz…
Treyning Day
Trey +
I'd say that Trey Plus is more of a solid B.
Jusz the Cyzk, Please
Deebo Shoots Deearrows
Deebo's Nutz
I don't try to get a Deez Nutz into every one of these articles, it just happens that way.
The Mostert Dangerous Game
You're Not the Bosa Me
Candlestick Kids
The Wattersboy
Ricky Watters: criminally underrated. The Waterboy: legally underrated.
Jimmy Garoppolo Fantasy Football Names
There's been a pattern with Jimmy Garoppolo in San Francisco: he plays, they win. He's hurt, they lose.
If the Niners could only figure out how to keep Jimmy G healthy, they might have a franchise QB.
GaroppoLone Survivors
Garoppoling Hooks
Marco Garoppolo
Only the Garoppolonely
George Kittle Fantasy Team Names
I think it's awesome that George Kittle hosted Tight End University to help improve the league's TEs. Now maybe the position won't be such a black hole, fantasy-wise.
Kittle Miracles
Kittle by Kittle
Kittle Me This
Kittle All Work Out
Classic San Francisco 49ers Fantasy Football Names
The 49ers have thirteen players and coaches who have been elected into the hall of fame. Giovanni Carmazzi is not on that list.
Jerry Rice-A-Roni
I know it's obvious, but it's also the San Francisco Treat.
Montana Yer Hide
Steve Young and the Restless
Young at Heart
Frank Gore Lives!
They say that he's still out there somewhere, averaging 3.5 yards per carry and stealing jobs from younger backs.
Garcia Later
Terrell or Not Terrell
That was the question in 2004, and the Niners went Not Terrell.
Tittleating Y.A. Fiction
I wish we lived in a world where someone would use this as their team name. I don't think we do.
But a man can wish, can't he?
49ers Fantasy Names From Around the Web
I don't care if you use one of my names. Use one of these 49ers fantasy team names from some other very funny folks.
I simply want you to choose a name that will adequately annoy the Dallas Cowboys fans in your league.
Kittles, Taste the Rainbow
Kittle Corn
Aint Nothin' But a Jimmy G Thang
Garoppolypse Now
The Garoppolos Islands
El Garopollo Loco
Jimmy G-Spot
All About That Bosa
The Bosa-Matic
This is a deep cut for the hardcore SNL fans out there.
Shannahanigans
How Deebo Your Love?
Any Bee Gees fans out there?
Comedic Gould
Because naming your team after your kicker is the ultimate power move.
More Fantasy Name Articles for NFL Teams