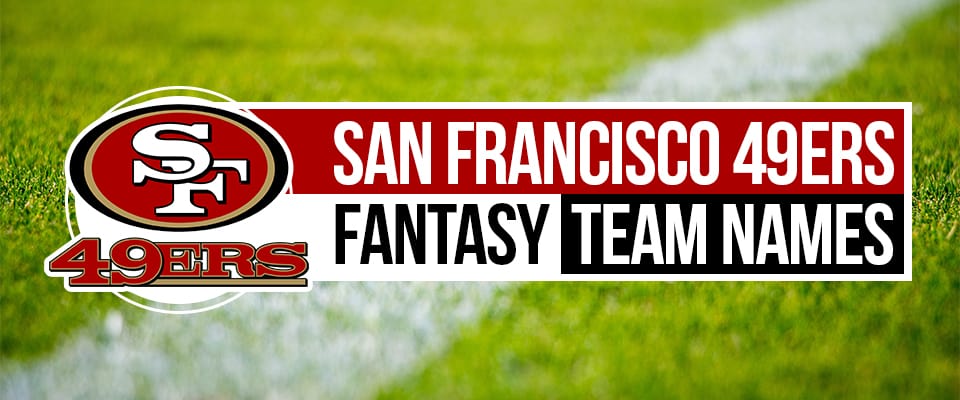 Sure, the lasting memory of Super Bowl LIV is Patrick Mahomes and the Chiefs roasting the 49ers in the 4th quarter. But lost in all the ticker-tape is the fact that very few expected the Niners to be there in the first place.
Remember, San Francisco was 4-12 in 2018, and 6-10 the year before that. With that in mind, you have to say that the future is looking pretty bright out by the bay.
Here are some brand-new San Francisco 49ers fantasy football team names for 2021. And don't worry – there's not a single Frisco reference on the list.
The Best San Francisco 49ers Fantasy Football Names
Traditional options when naming a fantasy team are referencing an all-pro player, the coach, or even the city itself. I personally like more obscure names because, well, your opponents have all season to figure out what the hell you're referencing.
Here are the best 49ers fantasy football names for the upcoming season.
San Frantasy Football
Covid-49
Too soon? Not soon enough?
Brieda My Hair
Jerick McKinnon's Super Bowl Ring
Dude gets injured in the preseason, and never plays a down, but still gets a ring.
Please Staley, Joe
Joe Staley's been a Niner for two Superbowls, 12 starting quarterbacks, and seven head coaches (including Jim Tomsula twice).
Jusz the Cyzk, Please
Deebo's Nutz
I don't try to get a Deez Nutz into every one of these articles, it just happens that way.
The Mostert Dangerous Game
Jimmy Garoppolo Fantasy Football Names
Is it any coincidence that Jimmy Garoppolo's first full season with the 9ers is the first time they go to the Super Bowl post-Harbaugh?
GaroppoLone Wolves
GaroppoLone Survivors
Garoppoling Hooks
Marco Garoppolo
GaroppoLow Maintenance
Only the Garoppolonely
George Kittle Fantasy Team Names
Fantasy-wise, tight end is such a black hole that it's exciting whenever anyone decent comes along. Thank god for George Kittle, who's become one of the two or three reliable fantasy TEs in the league.
Kittle by Kittle
Kittle Miracles
Kittle Me This
Kittle All Work Out
Kittles and Blitz
I can hear the song now: Kittles and blitz and blitz and blitz, Kittles and blitz and blitz…
Classic 49ers Fantasy Football Team Names
The 49ers have thirteen players and coaches who have been elected into the hall of fame. Giovanni Carmazzi is not on that list.
Jerry Rice-A-Roni
I know it's obvious, but it's also the San Francisco Treat.
Montana Yer Hide
Steve Young and the Restless
Young at Heart
Candlestick Kids
The Wattersboy
Ricky Watters: criminally underrated. The Waterboy: legally underrated.
Frank Gore Lives!
They say that he's still out there somewhere, averaging 3.5 yards per carry and stealing jobs from younger backs.
Garcia Later
Terrell or Not Terrell
That was the question in 2004, and the Niners went Not Terrell.
Tittleating Y.A. Fiction
I wish we lived in a world where someone would use this as their team name. I don't think we do.
But a man can wish, can't he?
City of San Francisco Fantasy Football Team Names
San Francisco has a rich history of art, culture, and legendary weirdos. So many freaky, freaky weirdos.
Coleman Gate Bridge
I Haight and Will Ashbury You
Alcatraz Escapees
City Lights Blocks
Original home of the Beat movement. The Beat Your Ass movement, that is.
The Sherman House
This may cut deep, even for some San Franciscans. But trust me, this is a near-perfect reference.
49ers Defense Fantasy Football Names
Maybe you play in an IDP league. Or maybe, you want to honor the players that get wins but little fantasy glory.
Kwon Way Or Another
DeForest For DeTrees
You're Not the Bosa Me
Isolation Ward
Like Revis Island for the Covid generation.
Anger Shermanagement
49ers Fantasy Names From Around the Web
I don't care if you use one of my names. You can even use one of these good fantasy football names from some other very funny folks. I simply want you to choose a name that will adequately annoy your opponents.
Kittles, Taste the Rainbow
Kittle Corn
Aint Nothin' But a Jimmy G Thang
Garoppolypse Now
The Garoppolos Islands
El Garopollo Loco
Jimmy G-Spot
All About That Bosa
The Bosa-Matic
This is a deep cut for the hardcore SNL fans out there.
Mother Buckners
Shannahanigans
How Deebo Your Love?
Any Bee Gees fans out there?
Tevin Eleven
Comedic Gould
Because naming your team after your kicker is the ultimate power move.
More Fantasy Name Articles for NFL Teams