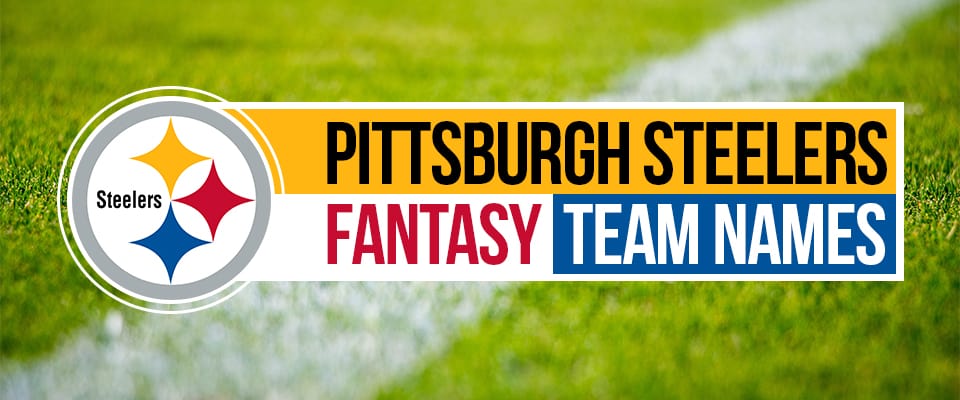 The Men of Steel are trying to build on an encouraging conclusion to the 2022 season (winning six of the last seven games). Entering this season, they're hoping their second-year QB Kenny Pickett makes a leap, giving them a chance to compete for the AFC North title.
If you're a fan of the Black and Gold, you'll love our updated list of the best Pittsburgh Steelers fantasy names for 2023.
Pittsburgh Steelers Fantasy Football Names for 2023
As Jack Lambert said in his immortal Hall of Fame introduction speech:
"If I could live my life over, I'd be a fantasy player. And you damn well better believe I'd name my team after the Pittsburgh Steelers!"
Mr. Steeler Girl
High Wattage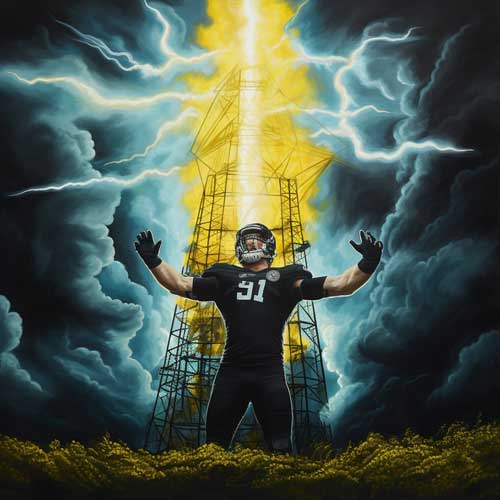 Liars, Cheaters, and Steelers
Steelite
This Steelers fantasy team name can be modified in any number of ways:
Steelite Skills
Steelitists
Steelite Team
Steelite School
You Can't Diontame the Beast
Najeep Wranglers
Season of the Mitch
Stuck in Bergertory
This Steelers fantasy name hints at what having Mitch Trubisky as your quarterback may feel like (after having Ben Roethlisberger for nearly two decades).
This Team is Freier
Freiered Up
Mr. Robinson's Neighborhood
Classic Eddie Murphy.
Championship Chase
Bradshawwww Yeaaah
Poloamorists
Psycho Ward
Hines' #7
This Steelers fantasy football team name idea is a reference to either Steelers championship #7 or possibly to Hines Ward's favorite QB.
And, of course, it's a reference to the underrated ketchup alternative.
Draculas in Cleats
Hinezsight
Because Heinz Feild is in the past – it's Acrisure Stadium now, like it or not. And I'm guessing you do not because that name is objectively terrible.
Najee Harris Fantasy Team Names
Crazy prediction time: Najee Harris becomes the next Steeler to go over 2000 yards from scrimmage. Maybe it happens, perhaps it doesn't. But I want it in writing just in case.
Plus, if it never happens, I can just return and delete this. Win-win!
Najee Whiz
Ya or Najee?
Najee By Nature
Najeenius of Football
Pittsburgh Steelers Fantasy Football Team Name Generator
Pittsburgh Steelers Fantasy Football Team Names From Writers & The Community
Kenny Picket Fantasy Football Names
Kenny Pickett is expected to improve in 2023, but probably not enough to warrant drafting in most leagues. But you dynasty fans may find a nugget or two.
First Round Pickett
Pickett Fences
Pickens of the Litter
TJ Watt Fantasy Names for 2023
Last season was forgetting for Watt. Can he shake the injury bug and live up to expectations in 2023?
Turn Down for Watt
I Know Watt you did Last Season
Watts Up
Here are several other derivations on the Watts-What's Steelers fantasy team name theme:
Watts Up Witchu
Watts New
Watts Happening
Watts the Buzz
Watts Your Problem
Watts Your Damage
Watts the Situation
Diontae Johnson Fantasy Football Team Names
The Steelers have churned out impressive wide receivers for years. But the Antonio Browns and JuJu Smith-Schusters are gone. Now, it's Diontae Johnson's time.
If you're feeling nostalgic, you can always check out our Antonio Brown fantasy names and JuJu Smith-Schuster fantasy names articles.
A Diontaste of Things to Come
Diontataste of Pittsburgh
DJ Catches
Not to give away too many industry secrets, but you can put pretty much anything after DJ. For example:
DJ Hands
DJ YAC
DJ Steel
DJ Titletown
Diontake a Breath
Diontake a Minute, Diontake Your Time, etc.
The Dionte Hall Problem
This one might be just for me.
Allen Robinson II Fantasy Names
Here are some Allen Robinson fantasy names to help welcome Matt Stafford's newest weapon to LS.
II Legit
AR Goggles
That's Allen Robinson + the future.
Cops and Robinsons
II Much Robinson 4 U
Or just II Much if you are into the whole brevity thing.
Allen's Wrenches
Swiss Family Robinson
Pat Freiermuth and Darnell Washington Fantasy Names
The Steelers run tons of two-tight end sets, so it only makes sense that we package these team names in a set.
Standing Pat
Darnell's Dawgs
Freiermuth Fury
The Darnell Difference
Pat on the Backfield
Mitchell Trubisky Fantasy Football Team Names
The Mitch Trubisky experiment failed big in 2022, so you probably won't use these Steelers' fantasy names. But we need some keywords, so here goes.
Karma's a Mitch
Mitched Blessings
Too Good To Be Trubisky
MitchMatched
Mitch, Please!
Tru Believers
Get Mitch or Die Tryin'
Little Mitch Can't Be Wrong
Spin Doctors anyone? Anyone? Anyone?
Mike Tomlin Fantasy Football Team Names
Mike Tomlin has gone from being one of the youngest coaches in the league to one of the longest-tenured. I guess going to the Super Bowl in two out of your first four seasons buys a little job security.
Very Tomlinteresting
If your league plays for serious money, Let's Make This Tomlinteresting might be a better idea for a Steelers fantasy team name.
Tomlin to You
Let Me Tomlin
You can also go with Let Me Tomlin to Your Heart if you want to be sweet. Or Let Me Tomlin the House if you want to be creepy.
Tomlin's Trippin'
In case you forgot this gem:
Ben Roethlisberger Fantasy Football Team Names
Big Ben leaves the Steelers as their career leader in everything. Here are just some of his records:
Most passing attempts
Most completions
Most touchdown passes
Most wins as a QB
Most game-winning drives
Ruthlessbergers
Pittsberger
Big Ben Strikes
Berger King
Ben Around
If your league allows the characters, you could go with Ben Around the Block.
Get Ben'd
Pittsburgh Steelers Fantasy Football Team Names From Readers
Kenny 2-Gloves
Submitted by

Bill
Max 3 votes.
Pickenboogers
Submitted by

Avonte Burks
Max 3 votes.
THE STEEL PICK
Submitted by

Dale Goering
Max 3 votes.
Pickett Fences
Submitted by

Jason
Max 3 votes.
Watt A Steel!
Submitted by

Eddie Velazquez
Max 3 votes.
Can you Pickett?!
Submitted by

Drew S
Max 3 votes.
Slim Pickens
Submitted by

Wimber
Max 3 votes.
Pickens and a Grinin
Submitted by

Chuck
Max 3 votes.
Nice or Najee?
Submitted by

Anthony Arvayo
Max 3 votes.
Easy Pickens
Submitted by

Requis Johnson
Max 3 votes.
Najee germany
Submitted by

Josh fox
Max 3 votes.
You got a loud MUTH
Submitted by

Trey Layman
Max 3 votes.
Steel her virginity
Submitted by

Sebastian Fernandez
Max 3 votes.
Pittsburgh Steelers Fantasy Team Names from Around the Web
Q: How many Steelers fans does it take to change a lightbulb?
A: Two – one to change this bulb, and another to stand around talking about how great the last six were.
I kid, and besides – you should be able to take any joke whose punchline is you have so many championships. Anyway, here are some Steelers fantasy team names I just found lying around the internet.
Men of Steel
Valeryian Steelers
The Immaculate Collection
American Najee Warrior
Trubisky Business
Mitch Slapped
Where You Ben?
Straight Outta Tomlin
Rooney Tunes
Steelletto Heels
Steeler Heart
Steely Gaze
Galvanized Steelers
Stainless Steelers
Steel Traps
Steeler Toed Boots
Tittsburgh Feelers
If I ignored this classic Steelers fantasy team name, you'd think I hadn't done my due diligence as a researcher.
Fantasy Team Names for Other NFL Teams
If you're looking for fantasy team name ideas for other NFL teams, we've got you covered.