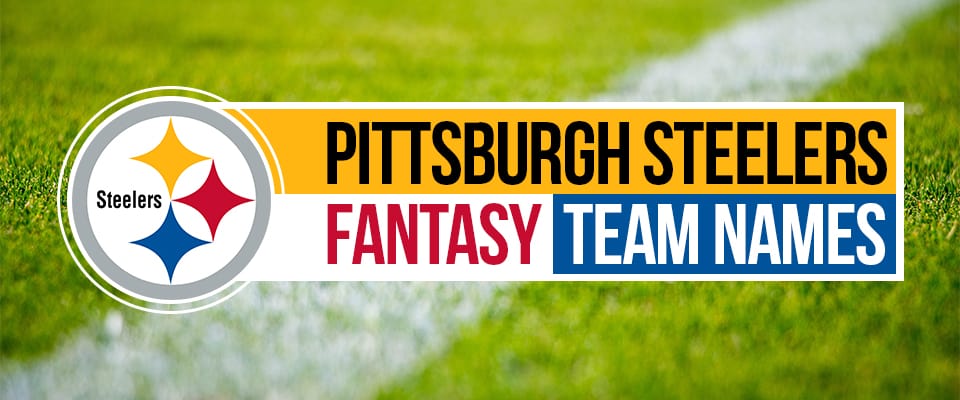 Few organizations care about their history as much as the Steelers.
Secretly, I think Pittsburgh fans secretly breathed a sigh of relief when Tom Brady broke up with Bill Belichick. Sure, Brady kept winning titles. But for team wins, the Steelers are still tied at the top.
So today I present our 2021 Pittsburgh Steelers fantasy football names celebrating the ups and downs of the Steel Curtain. Here we go, Steelers!
Pittsburgh Steelers Fantasy Names for 2021
As Jack Lambert said in his immortal Hall of Fame introduction speech:
"If I could live my life over, I'd be a fantasy player. And you damn well better believe I'd name my team after the Pittsburgh Steelers!"
Ruthlessbergers
On a Big Bender
Somebody that I Schuster Know
High Wattage Defense
Liars, Cheaters, and Steelers
StEel and Cucumber Rolls
Steelite
This Steelers fantasy team name can be modified any number of ways:
Seelite Skills
Steelitists
Steelite Team
Steelite School
Bradshawwww Yeaaah
Poloamorists
James Gonner
You could also go with the Steelers fantasy football name Conner His Memory if you want to be more respectful.
Le'Veon Brown
This Steelers fantasy team name is for owners who are trolling Steelers fans, or for Steelers fans that still need therapy.
Psycho Ward
Hines' #7
This Steelers fantasy football team name idea is a reference to either Steelers championship #7, or possibly to Hines Ward's favorite QB.
And, of course, it's a reference to the underrated ketchup alternative.
Hinessight is 2021
I suppose either of these Steelers fantasy team names could be spelled Heinz (if you'd rather reference the stadium). Your call, Steeler fan.
Draculas in Cleats
Ben Roethlisberger Fantasy Football Team Names
Big Ben is the Pittsburgh career leader in everything. But nationally, he's never received the same praise as his contemporaries.
But when your contemporaries are Peyton Manning, Drew Brees, and Tom Brady, that kinda makes sense.
Pittsberger
Big Ben Strikes
Big Ben Strikes Seven might play with your Steeler die-hards.
Berger King
This Pittsburgh Steelers fantasy name works because Roethlisberger is pretty much the king of Pittsburgh. But I also like using your local burger joint, like, for example, Applewood Smoke Berger.
Bergirthy
Ben Around
If your league allows the characters, you could go with Ben Around the Block.
Stuck in Bergatory
Roeth IRA
We Ben Here
Get Ben'd
Smith-Schuster Fantasy Team Name Ideas
JuJu's a great player with a great name, so it's no wonder he's a popular choice as a mascot. We've got an entire article dedicated to JuJu Smith Schuster Team Name Ideas, but here's an appetizer to get you started.
JuJuked Him Out of His Schues
JuJuke Box Hero
Hey, JuJu Guys!
PikaJu, I Schuse You!
Diontae Johnson Fantasy Football Team Names
Everyone's rushing out to name their team after JuJu because he's flashier and has the cooler name. True Steelers fans know that Johnson is pretty darn good too.
And Diontae is definitely an above-replacement level name.
A Diontaste of Things to Come
Diontataste of Pittsburgh
DJ Catches
Not to give away too many industry secrets, but you can put pretty much anything after DJ. For example:
DJ Hands
DJ YAC
DJ Steel
DJ Titletown
You Can't Diontame the Beast
Diontake a Breath
Diontake a Minute, Diontake Your Time, etc.
The Dionte Hall Problem
This one might be just for me.
Najee Harris Fantasy Team Names
Is Najee Harris going to be the next in the long line of former Alabama backs to turn into fantasy studs? Or will he- nah, that's probably what's going to happen.
Najee Whiz
Najeep Wranglers
Ya or Najee?
Najeenius of Football
Mike Tomlin Fantasy Football Team Names
Mike Tomlin has gone from being one of the youngest coaches in the league to one of the longest-tenured. I guess going to the Super Bowl in two out of your first four seasons buys a little job security.
Very Tomlinteresting
If your league plays for serious money, Let's Make This Tomlinteresting might be a better idea for a Steelers fantasy team name.
Tomlin to You
Let Me Tomlin
You can also go with Let Me Tomlin to Your Heart if you want to be sweet. Or Let Me Tomlin the House if you want to be creepy.
Tomlin's Trippin'
In case you forgot this gem:
Steelers Defense Fantasy Team Names
If it feels like the Steelers always have a good defense, that's because the Steelers always have a good defense. Seriously, they've been in the top ten in points allowed three out of every four years since forever.
Minkah Coat
Mink'd Up
Joe Haden Me at Hello
Let's Get Tuitt
Watts Up
Other derivations on the Watts-What's Steelers fantasy team name theme:
Watts Up Witchu
Watts New
Watts Happening
Watts the Buzz
Watts Your Problem
Watts Your Damage
Watts the Situation
Pittsburgh Steelers Fantasy Team Names from Around the Web
Q: How many Steelers fans does it take to change a lightbulb?
A: Two – one to change this bulb, and another to stand around talking about how great the last six were.
I kid, Steelers fans! Besides, you should be able to take any joke where the punchline is you have so many championships.
Men of Steel
Valeryian Steelers
The Immaculate Collection
Junior Bacon Roethlisberger
Roethlisberger Helper
Where You Ben
Turn Down for Watt
Straight Outta Tomlin
Rooney Tunes
Steelletto Heels
Steeler Heart
Steely Gaze
Galvanized Steelers
Stainless Steelers
Steel Traps
Steeler Toed Boots
Tittsburgh Feelers
If I left it off this favorite Steelers fantasy team name, you'd think I hadn't done my due diligence as a researcher.
Fantasy Team Names for Other NFL Teams
If you're looking for fantasy team name ideas for other NFL teams, we've got you covered.
More Steelers Fantasy Football Team Name Ideas
Do you have a funny idea for a Steelers fantasy football name? Tell me about it in the comments below. I'll add the best ones to this article.