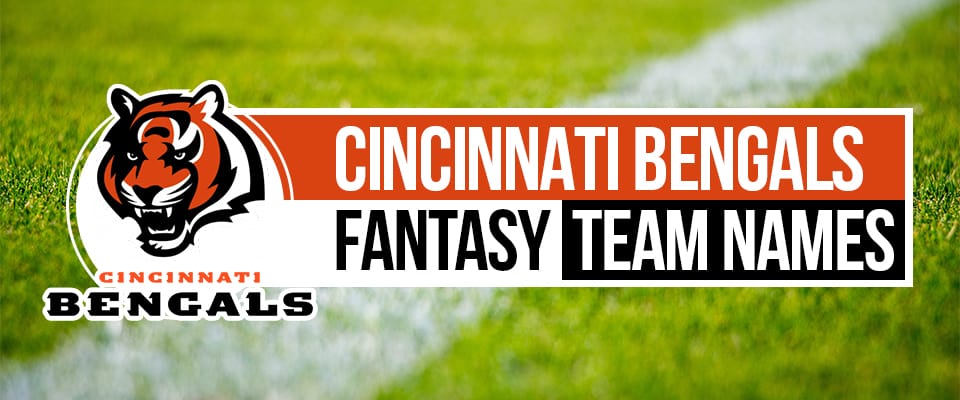 Sorry Cats fans, but the Dalton-to-Green era of Cincinnati Bengals football has come to a close. Those two Class of 2011 draftees had one of the most successful stretches in the franchise's history.
Andy Dalton owns the franchise record for passing touchdowns, and A.J. Green is second in receiving yards to some guy who wore number 85. Weird that I can remember his number but not his name.
Here are some brand new Cincinnati Bengals fantasy football team names for 2021. They honor the past, look toward the future, and poke some fun at Cincy's, um, unique history.
Andy Dalton Fantasy Football Team Names
Andy Dalton has been a solid quarterback for almost a decade, with multiple Pro Bowls and a 70-61 overall record. He's also 32, hasn't had a winning record since '15, and the Bengals just drafted a QB first overall.
Uh-oh.
Daltons of Fun
Andy Dalton in Bengal Law
I could explain this Bengals fantasy name, or I could let Quentin Tarantino do it:
The Millennium Dalton
Red Rider BBs
Because he's a redhead, and you're a ride-or-die Dalton fan. And also because of A Christmas Story, the expression throwing BB's, and the fact that BB sounds like babies.
Too much?
Andeez Nutz
Not for everyone, but maybe it's just your style. Different names for different leagues (not as catchy as Different Strokes – I'll work on that).
Joe Burrow Fantasy Football Team Names
Speaking of the #1 overall pick, Joe Burrow. Franchise savior or the next Akili Smith?
Or should I not even mention that name to Bengals fans?
Bengal Burrow
Burrowing Down
Brother Can I Burrow a Dime?
Burrowed Time
Burrow Row Row Your Boat
Or Row Your Beauxt for the LSU fans.
Dead and Burrowed
You the Heis-man, Joe
Joe Burrow is the Tiger King
Joever-the-Rhine
Now this is a Bengals fantasy football team name for real Cincinnatians only.
A.J. Green Fantasy Football Team Names
Confession time: I drafted A.J. Green after his ankle injury thinking I had a late-season lottery ticket on my hands. I was right too – in that most lottery tickets are totally worthless.
It's Not Easy Being Green
For starters, he had that wicked ankle injury that cost him the whole 2019 season. If that's not bad enough, Green has spent his entire career on the Bengals.

Poor guy.
Green Machine
The Big Green
Classic Gutenberg.
Greener Pastures
Greener pastures are why A.J. might be leaving Cincinnati for good. Sorry, is that wound too fresh?
Joe Mixon Fantasy Football Names
Confession time, part two: I've never been able to spell Cincinnati right. Thanks to this article, I think I know it now.
And thanks to the magic of spell check, you'll never know if that's a bluff or not.
Mixologists
Mix Tape
Because a fantasy team is like a mixtape, it's all the best cuts from separate albums.
Mixon Bowl
Because a fantasy team is also like a mixing bowl., it's the perfect blend of contrasting ingredients.
Hard Hittin' Joe Mixon
Because a fantasy team is… You know what, no comment on this one.
Zac Taylor Fantasy Names
In 2019, Zac Taylor made the leap from quarterbacks coach to head coach, a considerable jump. Now let's see if he can make the jump from head coach to winning head coach.
Now that would be something.
Taylor Made
Tinkering Taylor's Soldiers and Spies
Sorry, do ten-year-old Gary Oldman references hold up?
TayLords of the Realm
Zac Attack
Egg-Zac-ly
Historical Bengals Fantasy Football Names
Maybe Joe Burrow will write a brand new chapter of success in the Bengals history books. Until then, here are some names to help you remember the glory days.
Plain as the Munoz On Your Face
The Shadow Munoz
I think we're about due for another Shadow remake since the last one was the Alec Baldwin version from 1994. And it was so forgettable that you'd forgotten it until just now.
Munoz Before Hos
I know that's a lot of Anthony Munoz names, but he is the only Bengal in the NFL Hall of Fame.
Where's Cedric Ben, Son?
Akili's Heel
Hey, not all history is good.
The Best Bengals Fantasy Football Names from Around the Web
More brilliant minds than mine have written many beautiful words about the Cincinnati Bengals. Also, some dummies out there wrote these silly names.
WhoDey and the Blowfish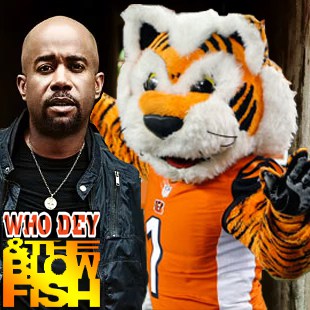 Andy Dalton's Red Zone
Mixon, Mix-Off
The Mixon Administration
Mixon It Up
Mixon Match
Green With Envy
Eat Your Greens
Null and Boyd
Little Boyd's Room
One of the Boyds
This Bengals fantasy football name could be a twist on the old expression. But I prefer to think of it as a reference to old school Katy Perry.
Po' Boyd
Geno Atkins Diet
Bernard After Reading
Just in case you're still carrying the Gio Bernard torch. Oh, and if you are: stop.
More Fantasy Names based on NFL Teams