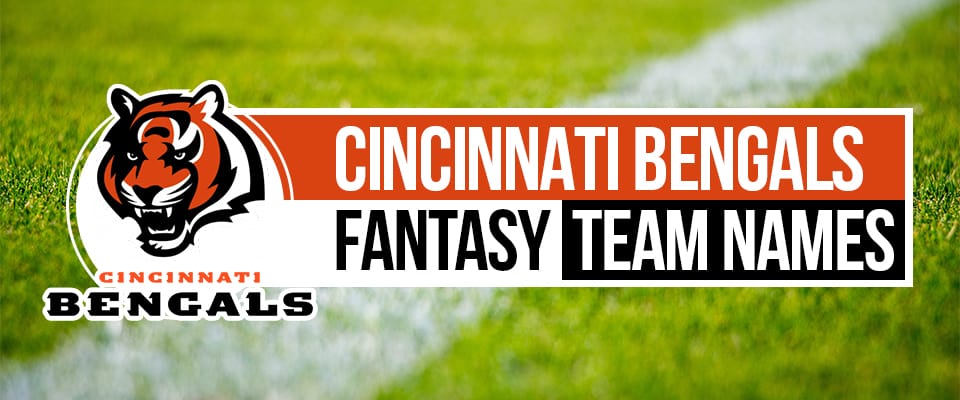 Great news: the Joe Burrow era officially began!
Less great news: then it stopped.
Great news: it's started again!
Now it's time to see if the Tiger-turned-Bengal has what it takes to lead this franchise back to the playoffs. Regardless of what happens on the field, we've got the Cincinnati Bengals fantasy football names covered off it.
We'll honor the past, look toward the future, and poke some fun at the Queen City's history.
Cincinnati Bengals Fantasy Team Names for 2022
Confession time: I've never been able to spell Cincinnati right. I think I know it now, if only because I've had to type it so many times for this article.
And thanks to the magic of spell check, you'll never know if that's a bluff or not.
WhoDey and the Blowfish
Bengal Burrow
Joe Burrow, Tiger King
Marr Burrow Smokes
The Bengals are hoping that Joe Burrow and Ja'Marr Chase can be the next Andy Dalton and A.J. Green. But, y'know, with a playoff win or two.
Sir Mixon-A-Lot
The Mixon Administration
Mixon Match
Boyd to be Wild
Boyd Howdy
This Boyds Life
Fits to a Tee
Tee it Up
Ja'Marr of the Beast
Mar Chase
Ja'Marr Chase Bank
Chase Your Ja'reams
Chidobe Acrobats
Or you can use any of the other fine products from Adobe. Adobe Spark, Adobe Readers, Adobe Creative Cloud – you get it.
Feeling Awuzie
Jessie Bates Motel
Because I have far to much class to ever suggest anything like Master Bates.
Joe Burrow Fantasy Football Team Names
Is Joe Burrow the savior of the franchise, or the next Akili Smith? Or should I not even mention that name around Bengals fans?
Burrowing Down
Brother Can I Burrow a Dime?
Burrowed Time
Burrow Row Row Your Boat
Or Row Your Beauxt for the LSU fans.
Dead and Burrowed
You the Heis-man, Joe
Joever-the-Rhine
Now this is a Bengals fantasy football team name for real Cincinnatians only.
Joe Mixon Fantasy Football Names
Mixologists
Mixon It Up
Mix Tape
Because a fantasy team is like a mixtape, it's all the best cuts from separate albums.
Mixon Bowl
Because a fantasy team is also like a mixing bowl., it's the perfect blend of contrasting ingredients.
Hard Hittin' Joe Mixon
Because a fantasy team… you know what, probably best not to make any further comments on this one.
Zac Taylor Fantasy Names
In 2019, Zac Taylor made the leap from quarterbacks coach to head coach, a considerable jump. Now let's see if he can make the jump from head coach to winning head coach.
Taylor Made
Tinkering Taylor's Soldiers and Spies
Sorry, do ten-year-old Gary Oldman references hold up?
TayLords of the Realm
Zac Attack
Egg-Zac-ly
Bengals Fantasy Team Names for Former Players
Maybe Joe Burrow will write a brand new chapter of success in the Bengals history books. Until then, here are some names to help you remember the glory days.
Daltons of Fun
Andy Dalton in Bengal Law
I could explain this Bengals fantasy name, or I could let Quentin Tarantino do it:
The Millennium Dalton
Red Rider BBs
Plain as the Muñoz On Your Face
The Shadow Muñoz
I think we're about due for another Shadow remake since the last one was the Alec Baldwin version from 1994.
Muñoz Before Hos
I know that's a lot of Anthony Muñoz names, but he is the only Bengal in the NFL Hall of Fame.
Where's Cedric Ben, Son?
Akili's Heel
Hey, not all history is good.
The Best Cincinnati Bengals Fantasy Football Names from Around the Web
More brilliant minds than mine have written many beautiful words about the Cincinnati Bengals. Also, some dummies out there wrote these silly names.
Andy Dalton's Red Zone
Mixon, Mix-Off
Null and Boyd
Little Boyd's Room
Po' Boyd
One of the Boyds
This Bengals fantasy football name could be a twist on the old expression. But I prefer to think of it as a reference to old school Katy Perry.
More Fantasy Names based on NFL Teams