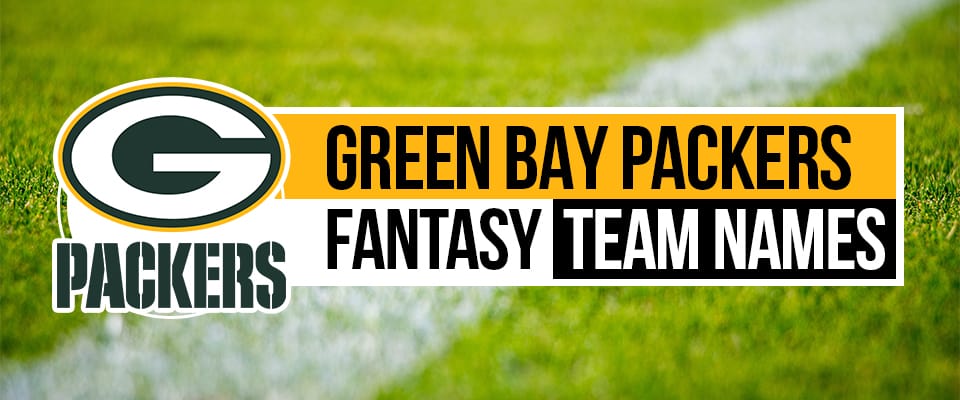 I don't think we appreciate how amazing it is that there's an NFL team in Green Bay, Wisconsin.
It's the smallest city with a major American sports team, but they embraced football early on and never let go. It's kind of like a Hallmark movie, but with more drunk shirtless guys with cheese on their heads.
Here are some Green Bay Packers fantasy football names to celebrate the love story between a city and their team.
Green Bay Packers Team Names for 2021
The Bears and the Packers have the most historic rivalry in the NFL, but the Packers are clearly winning. Green Bay is second all-time in total wins behind the Bears, but they have more Super Bowls.
And here's the real proof: Milwaukee is clearly a Packers city, despite the fact that they're actually closer to Chicago. If you don't understand why that's a clincher, you've never driven Wisconsin roads in the winter.
Mr. Rodgers Neighborhood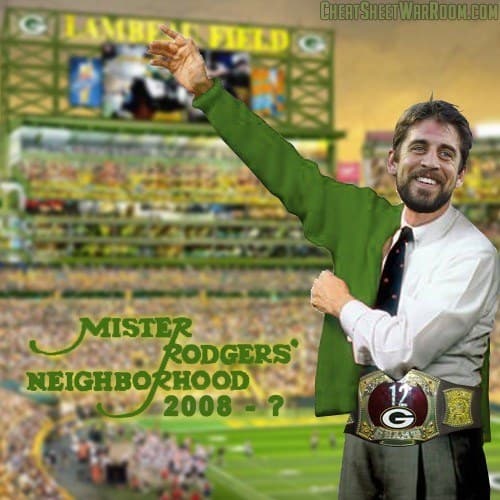 Aaron the Jewels
Or should it be AaRun the Jewels? Either way, this team name is as tight as Nobody Speak.
Discount Double-Checkdown
Higher AJcation
This Aaron Jones fantasy football name is good if you're an owner that's also a college student. This name is perfect if you're an Aaron Jones owner that's also a college stoner.
DA's Office
Air Jordan
Name your team after Jordan Love now. That way, when he replaces Aaron Rodgers, you can be the I told you so guy.
Because everybody loves that guy.
Love the Packers
Masonic Temple
Trivia time: which Packer has scored the most points in history? Ahman Greene? Jordy Nelson? Paul Hornung, maybe?
Nope. It's kicker Mason Crosby, and it isn't even close.
Marcedes-Benz
Bunchess of Funchess
I've Got a Funch
Dillon Pickles
If you're an A.J. Dillon fan, you can probably use some of our Aaron Jones names too.
Truth or Za'Darius
Junior Savages
Coming to Disney+ this fall.
LaFleurce of Nature
Lambeau Dors
Lamborghini Doors plus Dorsey Levens. This Packers team name is perfect for the fan that appreciates the finer things in life.
Aaron Rodgers Fantasy Football Names
When a guy's been as good for as long as Aaron Rodgers, you'd think all the best fantasy team names would've been used. And you'd be right.
But here are some new names anyway!
AR-12
AR Glasses
Get ready for Augmented Reality, people. It's the thing your kids will love, but you'll think is foreign and strange.
Praise Godgers
Rodgers and Hammering You
An Aaron Rodgers team name those that love fantasy football and musical theater.
Rodgersy Boys
This Rodgers fantasy name is for those that love fantasy football and musical theater, but want options.
Aaron Jones Fantasy Team Names
This dude isn't even the best Aaron on his own team. But he will be the highest-drafted for fantasy purposes.
I-Run Jones
AJ and the Green
This Aaron Jones fantasy team name is good if you're an owner that's also a drag queen. This name is perfect if you're an Aaron Jones owner that's also a drag queen stoner.
AJ Styles
Aa Batteries
Sometimes I wonder why we use two A's to spell Aaron. The best answer that I have is that Aron looks weird.
Davante Adams Fantasy Football Team Names
Fun fact: after a touchdown in college, Davante Adams once performed the complete choreography for Bob Fosse's All That Jazz. Less fun fact: I made that up because I don't have any fun facts about Davante Adams.
Davantaste of Things to Come
AdDavantege
Adamsight Better
A damn sight better.
Devantailor Made
Don't Davantase Me, Bro
Matt LaFleur Fantasy Football Names
Matt LaFleur came to Green Bay with a reputation as the quarterback whisperer behind Matt Ryan's MVP campaign. Now he's the head coach behind Aaron Rodgers' MVP.
Or rather, one of the head coaches behind one of Rodgers' MVPs.
Four on LaFleur
LaFleurs for Algernon
LaFleurce of Habit
LaFleur It
Historical Green Bay Packers Fantasy Football Names
If there's any fanbase that appreciates an obscure reference, it's the one that owns literal shares in their team.
UnLevens Bread
Farve from Over
Ahman for All Season
Driver to the Green
Starr Players
Nitschke's Beyond Good and Evil
Lacy Underalls
That's an Eddie Lacy reference and a Caddyshack reference. Which is nice.
Green Bay Packers Fantasy Team Names from Around the Web
Just as the Packers belong to the people of Green Bay, these Green Bay team names are also public property now.
Leader of the Packers
Green Bowl Packers
You potheads really have options here. But what do you expect from a team with green in their name?
The Lone Rodgers
Aaron it Out
Armed Rodgery
Cops and Rodgers
Jolly Rodgers
Game of Jones
Check out this list of GOT fantasy football names.
Davante's Inferno
The Adams Family