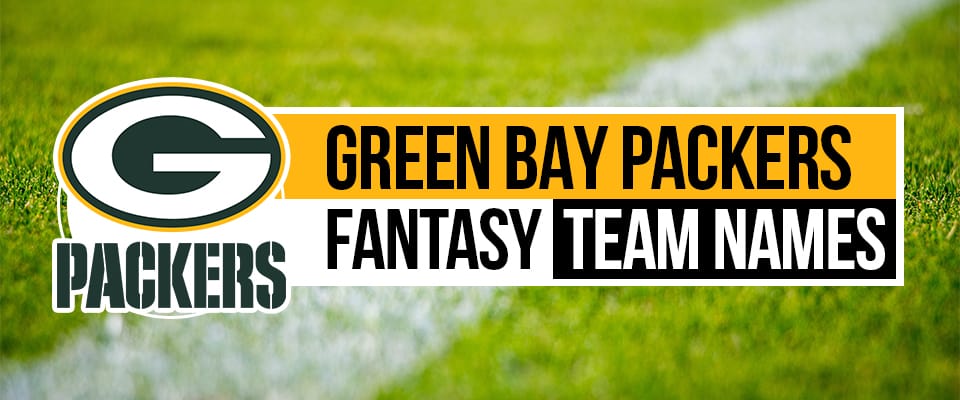 I don't think we appreciate how amazing it is that there's an NFL team in Green Bay, Wisconsin. It's the smallest city with a major American sports team, but they embraced football early on and never let go.
It's kind of like a Hallmark movie but with more drunk, shirtless guys with cheese on their heads.
Here are some Green Bay Packers fantasy football names to celebrate the love story between a city and their team.
Green Bay Packers Team Names for 2023
The Bears and the Packers have the most historic rivalry in the NFL, but the Packers are clearly winning. Green Bay is second all-time in total wins behind the Bears, but they have more Super Bowls.
Higher AJcation
This Aaron Jones fantasy football name is good if you're an owner that's also a college student. This name is perfect if you're an Aaron Jones owner that's also a college stoner.
The Air Jordans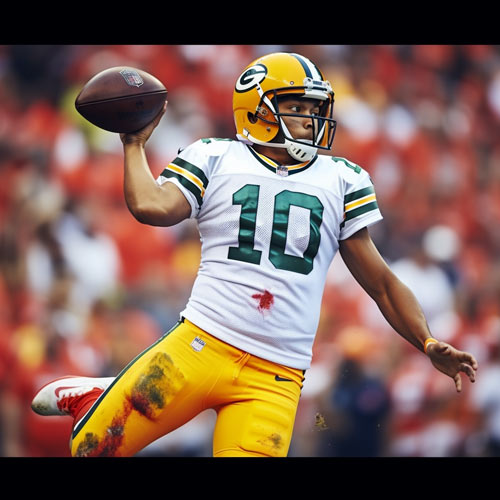 Love the Packers
Masonic Temple
Trivia time: which Packer has scored the most points in history? Ahman Greene? Jordy Nelson? Paul Hornung, maybe?
Nope. It's kicker Mason Crosby, and it isn't even close.
Dillon Pickles
The Dirty Doubs
Game of Jones
If you love this Packers fantasy football name and team logo, be sure to check out our article on Game of Thrones fantasy football names.
Elementary, My Christian Watson
Onward Christian Watsons
S.Wat Team
Truth or Za'Darius
Junior Savages
Coming to Disney+ this fall.
LaFleurce of Nature
Lambeau Dors
Lamborghini Doors plus Dorsey Levens. This Packers team name is perfect for the fan that appreciates the finer things in life.
Aaron Jones Fantasy Team Names
Jones put up decent yardage this past season but could not reach the endzone as often as fantasy owners wanted. With LaFleur implementing more of his system, Jones should have more opportunities to get in the endzone.
I-Run Jones
AJ and the Green
This Aaron Jones fantasy team name is good if you're an owner that's also a drag queen. This name is perfect if you're an Aaron Jones owner that's also a drag queen stoner.
AJ Styles
Aa Batteries
Sometimes I wonder why we use two A's to spell Aaron. The best answer that I have is that Aron looks weird.
Green Bay Packers Fantasy Football Name Generator
Green Bay Packers Fantasy Football Names From Writers & The Community
Romeo Doubs Fantasy Name Ideas
A breakout season for Jordan Love (entirely possible, given his pure talent) could push Doubs into the RB2 realm. A poor campaign for Love could keep Doubs at or below last year's production.
The Romeo Commandos
Wherefore Art Thou Romeos
The Romeo Cameos
The Romeo Dynamos
AJ Dillon Fantasy Football Team Names
AJ Dillon is a low-risk, high-reward draft pick in all formats for 2023 leagues. Here are a few original AJ Dillon fantasy team names so you're ready if he breaks into the starting lineup.
The Dillon Mulvaneys
Dillon Me Softly
Quadzilla
Dillon in the Name Of
Matt LaFleur Fantasy Football Names
Matt LaFleur came to Green Bay with a reputation as the quarterback whisperer behind Matt Ryan's MVP campaign. Now he's the head coach behind Aaron Rodgers' MVP.
Or rather, one of the head coaches behind one of Rodgers' MVPs.
Four on LaFleur
LaFleurs for Algernon
LaFleurce of Habit
LaFleur It
Historical Green Bay Packers Fantasy Football Names
If there's any fanbase that appreciates an obscure reference, it's the one that owns literal shares in their team.
UnLevens Bread
Farve from Over
Ahman for All Season
Driver to the Green
Starr Players
Nitschke's Beyond Good and Evil
Lacy Underalls
That's an Eddie Lacy reference and a Caddyshack reference. Which is nice.
Green Bay Packers Fantasy Football Names From Readers
The Green and Gold
Submitted by

Magdalena
Max 3 votes.
All you need is Love
Submitted by

Samuel
Max 3 votes.
Ridin In my lambeau
Submitted by

Damien Lancaster
Max 3 votes.
Corn on the Doubs
Submitted by

Andy
Max 3 votes.
Green Bay Packers Fantasy Team Names from Around the Web
Just as the Packers belong to the people of Green Bay, these Packers fantasy team names are now public property.
Leader of the Packers
Green Bowl Packers
You potheads really have options here. But what do you expect from a team with green in their name?