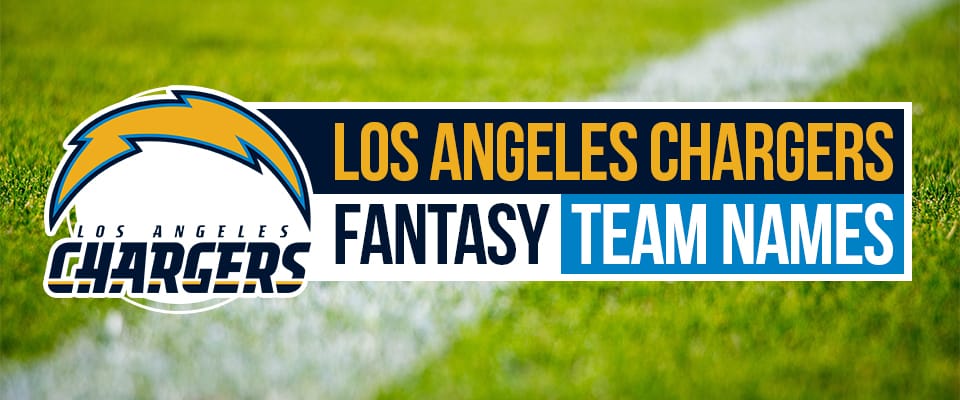 Things are in flux for the San Diego Charg.. – oops, my bad. I still forget sometimes – and I live in Los Angeles.
The Chargers sometimes feel like a little stepbrother. You don't necessarily dislike them, but you didn't grow up with them either.
The focal points of the offense have moved to greener pastures. But interesting players have stepped into the void, hoping to create a new team identity.
In the spirit of new beginnings, I present this list of all-new Los Angeles Chargers fantasy football team names. It's time to start the bandwagon onto which fantasy owners will soon be climbing.
Keenan Allen Fantasy Football Names
Two or three more productive seasons will give Keenan Allen a real shot at being the Chargers' all-time leading wide receiver. But he'll have a hard time topping any of the franchise stat records, thanks to an old-timer named Antonio Gates.
Keenan Peele
Like Key and Peele, Kennan Allen has been excellent for years. But only the real nerds seem to care.
Allend Me a Hand
Keenan Your Car
Maskeenan Tape
Keenteresting
Tyrod Taylor Fantasy Team Names
What's the difference between the new Chargers quarterback and the guy that fixes your car? One is Tyrod Taylor and the other is a Tie Rod Tailor.
I'm sorry/you're welcome.
TyRod Stewart
Or Tie Rod Stewart if you're kinky.
Tyrod "The Tools Man" Taylor
Tyrodical Ruler
Tyrod Taylor Soldier Spy
Tyrod Lannister
If you like that, then check out our full Game of Thrones fantasy names article.
Austin Ekeler Fantasy Football Names
Austin Eckler has gone from undrafted free agent to the best pass-catching running back not named Christian McCaffery. Not too shabby.
Austin City Limits
Austin, TD
Ecklerning Curve
Ecklurkers
Eckstreme Sports
Ecks Factor
Other X/Ecks names can include (but are certainly not limited to):
Ecks Marks the Spot
Ecks-Men
Rated Ecks
Ecks Boyfriend
Hunter Henry Fantasy Names
Every year I'm told that this is the year that Hunter Henry breaks out. But for real though: this is the year that Hunter Henry breaks out.
Hunter the Hungry
This Chargers fantasy football name is a reference to the movie Popstar, which you probably didn't see. You'll just have to take my word that this is a brilliant team name and I'm a hilarious genius.
Night of the Hunter
1955 classic that's being remade as you read this. You probably also didn't see it.
Regarding Hunter Henry
How about this 1991 Harrison Ford non-classic? No?
Snow White and the Hunter
Or this 2012 non-classic with Kristen Stewart?
King Henry the 86th
You must at least know the British king or this stupid song:
Philip Rivers and Melvin Gordon Fantasy Football Names
Sure, two franchise icons leaving in the same offseason is a bummer. But maybe it's for the best?
Like a particular Vikings fan once sang: the loser now will be later to win, for the times they are a-changin'.
Melvin Gord-Gone
Moovin' GordOn
Or Move-On Gordon.
A Rivers Runs From It
Rivers-al of Fortune
Cry Me a Rivers
Rivers Bolts
Simple and to the point.
Historical Chargers Fantasy Names
Phillip Rivers and Dan Fouts lead the franchise in total value. But in my heart the greatest Charger will always be Junior Seau. RIP.
Great LaDainian
Natron Means Business
Ways and Natron Means Committee
Heaven's Gates
The Complete Works of Gatespeare
Fouts of Wisdom
L.A. Chargers Fantasy Football Names from Around the Web
Yes, home games in the StubHub center sometimes feel like away games. But I know there are people out there that still love the Chargers.
Here's proof that I'm not the only one that's out there thinking up Chargers fantasy names.
Hard Chargers
Nuts and Bolts
Peachy Keenan
Allen the Family
Allen a Day's Work
Tyrodasaurus Rex
Taylor Made
Lynnsanity
All Lynn
Lynn It to Win It
More Fantasy Football Team Names for NFL Fans
If you enjoyed these Chargers team names, check out our 2021 list of the best fantasy football names. If you're a fan of a different NFL team, here's our complete list of team-specific names.