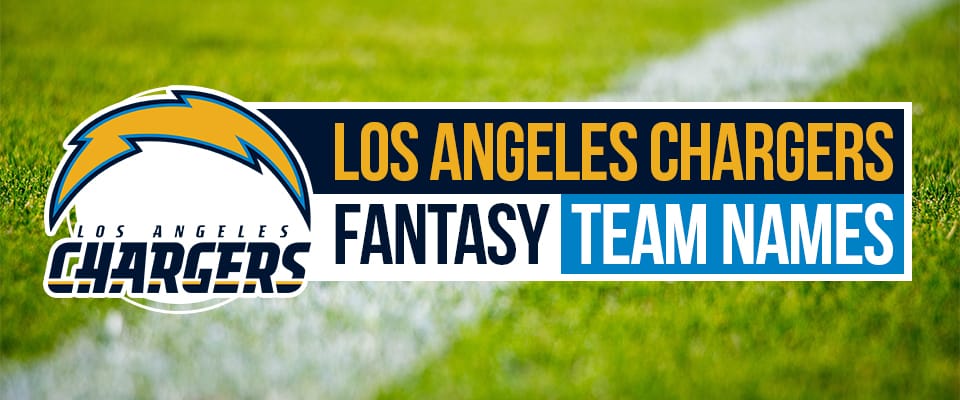 So full disclosure, I sometimes forget that the Chargers moved to Los Angeles. And I live in Los Angeles.
Within the city, the Chargers can feel kind of like a little stepbrother. You may not dislike them, but you also didn't grow up with them.
Maybe Justin Hebert will be the guy to help bond the team to LA. Or maybe it will be these Los Angeles Chargers fantasy football names.
Los Angeles Chargers Fantasy Team Names for 2021
If you're out there looking for bandwagons to jump on, the Chargers are a good one. They have an up-and-coming QB, a new coach, and you would literally be one of the first people on it.
As far as bandwagons go, the Chargers' has some elbow room. Plus then once they're good, then you can say I was a fan way back when.
Justin Time
After Tyrod Taylor's insane accident, Hebert was just in time to step up. And after posting a top-10 fantasy season, it is now officialy Justin Time.
Bert and Ekky
Ecks Factor
The Uncanny Ecks-Men
Rated Ecks
Keenan Peele
Like Key and Peele, Kennan Allen has been excellent for years. But only the real nerds seem to care.
Cry Me a Rivers
Rivers Bolts
Simple and to the point.
A Rivers Runs From It
Heaven's Gates
Don't worry, he's just retired, not dead. No cause for concern.
Great LaDainian
Natron Means Business
Justin Herbert Fantasy Football Names
Some rookies have to sit on the bench for years before getting a shot at a starting job. Justin Herbert sat on the bench for all of one game before grabbing the starting job and never looking back.
Justin Time
JusTin Soldiers
His and Herbs
Herbie the Love Bug
Smokin' Herb
Keenan Allen Fantasy Football Names
Two or three more productive seasons will give Keenan Allen a real shot at being the Chargers' all-time leading wide receiver. He'll have a hard time topping any of their overall receiving records though, thanks to some old-timer named Antonio Gates.
Talk about Gateskeeping.
Keen Eye for Talent
Allend Me a Hand
Keenan Your Car
Maskeenan Tape
Keenteresting
Austin Ekeler Fantasy Football Names
Austin Eckler has already had quite a journey. He's gone from undrafted free agent, to pass-catching specialist, to a legit lead back.
Ecksellent.
Austin City Limits
Austin, TD
Ecklerning Curve
Ecklurkers
Eckstreme Sports
Ecks Marks the Spot
Ecks-Boyfriend
L.A. Chargers Fantasy Team Names for Former Players
Phillip Rivers and Dan Fouts lead the franchise in total value. But in my heart, the greatest Charger will always be Junior Seau. RIP.
Rivers-al of Fortune
Melvin Gord-Gone
Moovin' GordOn
Or Move-On Gordon.
Ways and Natron Means Committee
The Complete Works of Gatespeare
Fouts of Wisdom
Los Angeles Chargers Fantasy Football Names from Around the Web
Yes, home games in the StubHub center sometimes feel like away games. But I know there are people out there that still love the Chargers.
Here's proof that I'm not the only one that's out there thinking up Chargers fantasy names.
Hard Chargers
Nuts and Bolts
Peachy Keenan
Allen the Family
Allen a Day's Work
Lynnsanity
More Fantasy Football Team Names for NFL Fans
If you enjoyed these Chargers team names, check out our 2021 list of the best fantasy football names. If you're a fan of a different NFL team, here's our complete list of team-specific names.