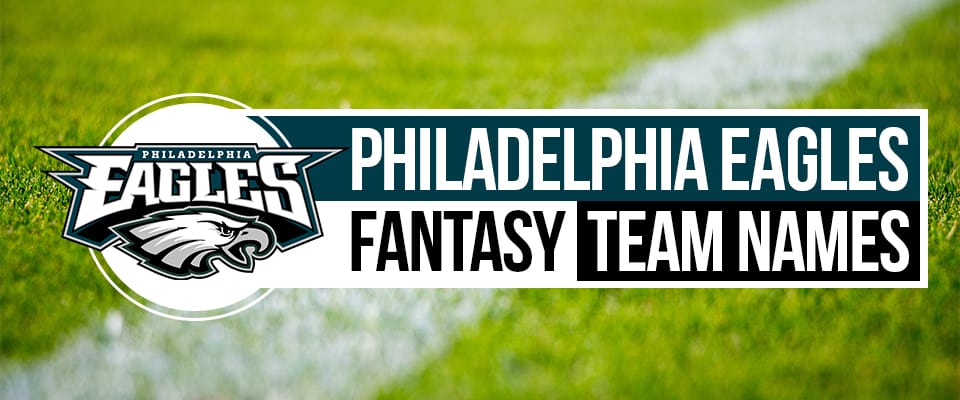 The Philadelphia Eagles are one of the NFL's oldest and most storied franchises.
Unfortunately, until just a couple of years ago, a lot of those stories were bad. Like, Donovan-McNabb-literally-puking-in-the-Super-Bowl kind of bad.
And then 2017 happened, and all was forgiven. Here are our best Philadelphia Eagles fantasy football names to help you keep living in the past. The good part, that is.
Philadelphia Eagles Fantasy Football Names for 2021
As great as that Super Bowl win was, it's starting to feel like a long time ago. Most of the players from that team are gone now, including the top two quarterbacks on the depth chart.
But Nate Sudefeld yet remains. Don't worry – there aren't any Nate Sudefeld names on this list.
Jalenter the Dragon
Hurts' Bees
Hurts Doughnut
DeVonted Offense
DeVonted Poster
DeVonted Man, I DeVont You to DeVont Me – anything with wanted, really.
Waiting for a Goedert
Alshon Bright Like a Diamond
Alshon Jeffery Didn't Kill Himself
Too dark? If not, here are more inappropriate fantasy football team names.
Clear a Lane, Johnson
Hi, Howard You?
Just in case you're still carrying a torch for recent re-addition Jordan Howard.
The Millennium Eagle
If outer space is your thing, check out these Star wars team names.
Iggle Pop
Kelce Me, Feel Me
He's a three-time Pro-Bowler and two-time All-Pro, a Super Bowl Champ, and still only the second-most famous player in his own family.
Linc and the Legend of Zelda
The Invincible Wahlbergs
Not to burst anyone's bubble, but the original Vince Papale only had one catch in his career and never scored a touchdown.
Midnight in the Garden of Green and Eagle
Midnight Green is the Eagles' signature color, and Midnight in the Garden of Good and Evil is a 3rd tier Clint Eastwood joint that only one guy reading this remembers.
Zach Ertz Fantasy Football Team Names
According to SportScience, Zach Ertz was in the 96% percentile in terms of name
First to Ertzt
Or Ertz to Worst, if that suits you better.
ErtzZachtly
Who's on Ertz?
ExpErtz
Zaccination
Or you can always try Anti-Zaccination if, you know, you hate science.
Carson Wentz Fantasy Football Team Names
Ah, what a brief, passionate affair the Carson Wentz era was. There were highs, there were lows, and then it was over.
Ah, l'amour. She is fickle, no?
Came and Wentz
Oh, I Wentz There
Wentzday Addams
The Wentz and Future King
This Piggy Wentz to Market
Wentzlevania 6-5000
I'm not sure if this is a Young Frankenstein reference, a Jeff Goldblum reference, or a Glen Miller reference, but either way, it's way too old for the vast majority of people reading this article.
Eagles Defense Fantasy Football Team Names
Just because defensive players don't get fantasy props doesn't mean they can't be the spiritual inspiration for your fantasy team.
Singleton Pickup
Cox Communications
Fletch Lives
Honey Baked Graham
Mills Communication
Insider Eagles Fantasy Football Team Names
If you get any of these references, then you might know too much about the Iggles.
Frankford Yellow Jackets
Or you could go Frankford Athletic Association if you want to get real historical with it.
The Phil-Pitt Steagles
Because who doesn't love a good team-up?
Free Entry with Shovel
Crisco Cops
Cops: If we cover these light poles with Crisco, then people won't try to climb them, right?
Philly: Challenge accepted.
1989 Bounty Bowl Champs
Bring me the head of Troy Aikman! – Buddy Ryan, 1989
Cunningham and Eggs
Nabb Time
Midnight Green Akers
Foles Me Once
Is Nick Foles the greatest backup QB ever?
Jaworski Bums
Jaws of Death
It's Always Sunny in Philadelphia Fantasy Football Team Names
I know this seems like a weird change of pace. But after the Eagles, IASIP has gotta be the best thing to come out of Philadelphia, right? Unless I'm forgetting something.
Thunder Gun Express
Frank Reynold's Little Beauties
Ass Kickers United
Kitten Mittens
Does your cat make too much noise all the time?
The Charlie Workers
Chardee MacDennis
The game of games.
The D.E.N.N.I.S System
The Nightmen Cometh
Philadelphia Eagles Fantasy Football Names from Around the Internet
I didn't write these Eagles fantasy team names, but game recognizes game.
Wentz It Rains It Pours
You Only Live Wentz
The Sixth Wentz
Slippery Wentz Wet
Wentz Bitten, Twice Shy
My Ball Zach Ertz
Ertz Rent-a-Car
Love Ertz
So Good it Ertz
The Perderson Principal
More Ideas for Fantasy Football Names for NFL Teams