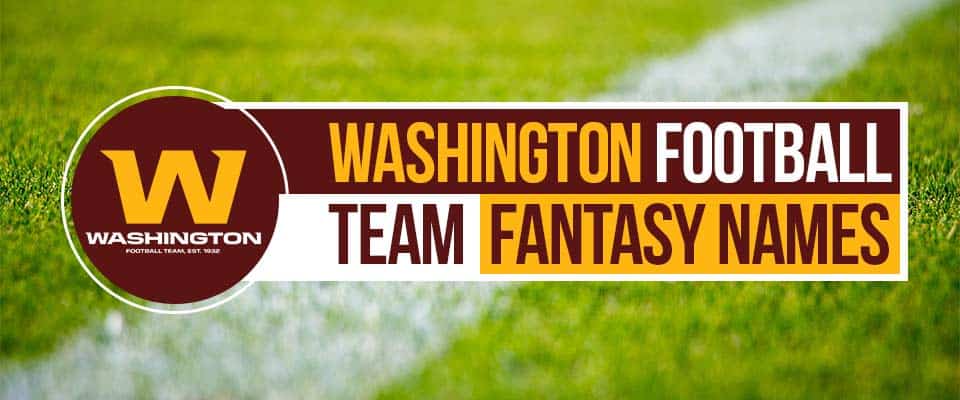 The Daniel Snyder tenure in D.C. has been rough. How rough, you ask?

While researching team names, I found multiple 10 Worst Decisions of Dan Snyder's Tenure articles. From as far back as 2010. And let's just say the lists haven't gotten any shorter since then.
Snyder isn't going anywhere, but at least we can laugh at these Washington Football Team fantasy football names. Laugh, because it beats the alternative.
Washington Football Team Fantasy Names for 2021
I'm not saying that it's taking a long time for the WFT to decide on a new name, but look at the team in Cleveland. They decided to change their team much later, but they'll start playing as the Guardians next season.
Meanwhile, the WFT is still just making announcements about what names they've ruled out. Frankly, it would be very off-brand to do it any other way.
Throwing Fitz
The Shoe Fitz
WTF (TM)
This is the year that Terry McLaurin puts his trademark on the league.
McLaurintock!
This Washington Football Team fantasy name is for all you old men still watching John Wayne movies.
Office of the AG
Antonio's Line
For those WFT fans who are also fans of 1990's indie cinema. Or big, fat box scores.
McKissic My Ass
McKissic From a Rose
It's too bad JD wasn't on the 'Skins a few years ago because McKissic Cousins would have been a fantastic fantasy name.
Kissic My Tonio
D.C. Insurrectionists
Is InsurRedskinists too much of a stretch? If this is your speed, then we've got more political fantasy team name ideas where that came from.
WTF WFT?
WFT with Marc Laurin
You have to be a podcast nerd to get this one. But if you are, then you get this one.
Skins Game
What's Skin a Name
This Washington fantasy team name is a subtle reference to both Romeo and Juliet and the Redskins' naming crisis. See, in Act II, Scene II, the infamous Balcony Scene, Juliet is musing on the nature of language and the…
Sorry, I got carried away there. Moving on.
Snyder Whiplash
This WFT team name is like the old cartoon character – remember that guy? But also because Washington fans' necks are sore from getting yanked around by Snyder for the last few decades.
Dwayne Haskins' Lonely Playbook
Poor Dwayne Haskins really got a raw deal… from Dwayne Haskins.
Haskins Too Much
Down the Dwayne
The Hogfather
ABCDC's Nutz
There are numerous permutations for this Washington fantasy team name:
ABDC's Nutz
CDC's Nutz
DC's Nutz.
All equally classy.
Terry McLaurin Fantasy Football Team Names
Terry McLaurin's been pretty good the last few years. Now imagine if he'd had a legit quarterback.
Is Ryan Fitzpatrick that QB? TBD, WTF, TBD.
McLaurin Racing
Alternatively, you could go with the simpler fantasy name: McLaurin Automotive. Either way, you get the point.
He's fast, like a fancy-ass car.
Scary Terrys
I'd also accept Scary Fast Terrys.
Terry McLovin
McLaurin' It
Terring Out
Terring Ass
Antonio Gibson Fantasy Football Team Names
I like watching Gibson run because the dude changes direction with the best of 'em. The guy is slippery as a fish in Valvoline and shiftier than my college roommate who sold "study aids".
Gibson, Neat
This Washington Football Team fantasy name is classy, old-timey, and fun, with just a hint of alcoholism.
Gibsonova
Return of the McGib
AG College
Curtis Samuel Fantasy Team Names
Is this the year Curt Sammy finally lives up to that 4.31 forty time?
Curtis Blow By You
Curtis the Season
Samuels Gamgee
Free Samuels
Alex Smith Fantasy Football Team Name Ideas
The Washington Football Team is going to miss Alex Smith now that he's gone. But let's be honest, it's not like they appreciated him while he was there.
Smithing You
Dancing With the Smiths
I also like The Smith and Theisman School of Dance. But then again, I'm sick in the head.
Smith You Know, You Know
Those with an astute ear for puns will notice that Smith and if can be used interchangeably. Those familiar with the English language will also notice that the word if comes up frequently.
Smith You Give a Mouse a Cookie
Smith You Like Pina Coladas
Smith You're Happy and You Know It
Smith the World Was Ending
Smith I Die Young
Smith I Ain't Got You
Smith the Shoe Fits
Historic Washington Football Team Fantasy Football Names
The old equation is tragedy + time = comedy.
For example, it's easy to laugh at Gus Frerotte, the Spurrier era, and even Alfred Haynesworth. Someday Dwayne Haskins, RGIII, and even the Dan Snyder era will be hilarious. Someday.
73-0
Nixskins
Dick's Picks
You can also try Nix's Picks, Tricky Dick's Picks, or Dick Picks Skins. Or just throw all subtlety to the wind and do Dick Picks.
Haynesworthless
Spurriers Accusations
Frerotta Be Kidding Me
Lest Gus ever be able to forget his shame:
Redskins Fantasy Football Team Names
Just because the big club doesn't call themselves the Redskins anymore doesn't mean you can't! After all, we're no stranger to inappropriate team names.
Maybe you shouldn't, but no one is saying you can't.
Principle Redskinners
No, it's the children who are wrong.
What's the Redskinny?
RedSkinny Jeans
Marlboro Redskins
Tater 'Skins
Snyder's Redskinflints
Joe Gibbs' Racist Team
Because of Joe Gibbs Racing Team and, well, you know, the whole name thing.
Skin It to Win It
Godfrey Daniel, Pesky Redskins
This Redskins fantasy team name is for anyone that still remembers the Firesign Theatre.
Ron Rivera Fantasy Football Names
You may love Ron Rivera, you may hate him, but it doesn't matter. We all know that the man who should be coaching the Redskins is still Marty Schottenheimer.
Riveraboat Gamblers
Sunday R&R
Potomac Rivera
This funny Washington Football fantasy name works with any river, the Potomac is just the most famous in D.C. You can pick a river near you, or try Snake Rivera (depending on how you feel about ol' Ronny Rivers).
The French Rivera
Rivera of Dreams
Or just Rivera Dreams, depending on your faith in your audience's ability to get Billy Joel puns.
Ronald Rivera McDonald
After reading that article about how he treated Alex Smith, I kinda think the dude's a clown.
Washington Football Team Fantasy Football Names from Around the Internet
I tried to find some quality Washington fantasy team names for you. But to be honest, most are pretty bad.
If your list still references Roy Helu's fantasy value, then it might be time for an update!
FitzMagic
Or Blood, Sugar, Fitzmagic for you Red Hot Chili Peppers fans.
Mr. Smith Goes to Washington
This Washington fantasy team name is admirable, but Mr. Smith WENT to Washington might be more accurate now.
Beauty is Only Skins Deep
Zorn Staches
RumplestiltSkins
Washing Foreskins
Fantasy Team Name Ideas for all NFL Teams
If your favorite NFL team is outside the D.C. area, maybe you'd enjoy one of these team name articles for the rest of the NFL.
More Ideas for Washington Football Fantasy Team Names?
If you have a funny idea for a Washington Football Team fantasy name, tell me about it in the comments below. I'll add the best names to this list.