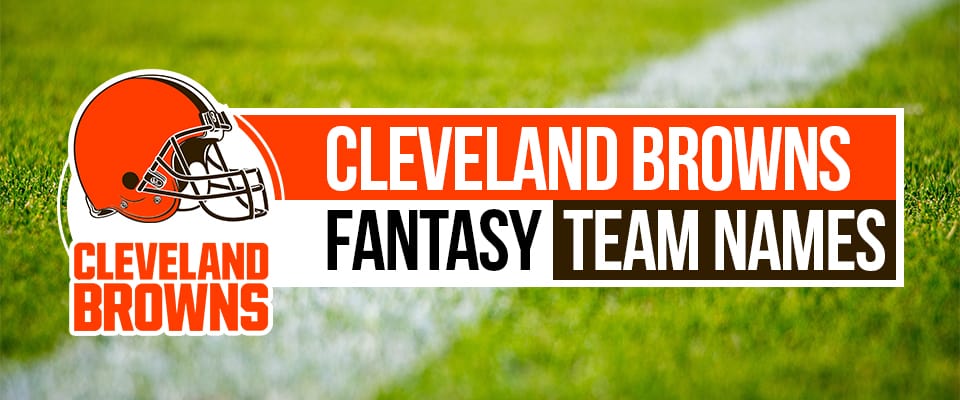 Things in Cleveland were awfully bleak for an awfully long time. Which is more embarrassing: their list of coaches pre-Kevin Stefanski, or their list of QBs pre-Baker Mayfield?
Don't answer that. Don't even think about it. Things are different now.
To celebrate this bold new era, here's a fresh list of Cleveland Browns fantasy football names for 2021.
Cleveland Browns Fantasy Names for 2021
Baker Mayfield may be the face of the franchise, but he's probably the fifth Brown off your draft boards. Not long ago, the only Cleveland player I'd draft is Myles Garrett – but only as a PF in NBA leagues.
Mayfield of Dreams
Kevin Costner's body. Baker Mayfield's head. Done.
We Mayfield a Winner
Baker's Eleven
We have more Baker Mayfield fantasy football names down below.
Chubbsolutely
Chubbsetting
We've got plenty of Chubb fantasy team names where that came from.
You Win Some, You Newsome
You know, the Browns have a new Newsome now. Appropriately, he's even Newsome II.
Landry Down Under
Myles High Club
Beckhamming It Up
Check out all of our Odell Beckham fantasy team names.
Ground and Dawg Pound
Clevelandia
Hunting Party
Title Hunt
Yep, we have an entire section dedicated to Kareem Hunt fantasy football names.
Nick Chubb Fantasy Football Team Names
Look, I know what you savages want. And yes, we've got some of those team names. But we'll try to start highbrow and work our way down.
If you want to go full fantasy football filth, check out our dirty names article.
Chubbly Ducklings
If you like this Nick Chubb fantasy name, you can also go with Chubby Ducklings. But I like Chubbly because it's closer to ugly. And it's silly.
Chubbmarines
Chubb in the Air
Chubba-Lubba-Dub-Dub
For all you squanchers out there, check out our Rick and Morty Fantasy Names article for more options.
Full Chubb
Chubby Hunters
Sometimes the universe does all the work and you just need to get out of the way.
PornChubb
I promised you lowbrow. You got lowbrow.
Kareem Hunt Fantasy Team Names
There was a question about whether or not Nick Chubb and Kareem Hunt could co-exist in the same backfield. They answered that by combining to form the most terrifying two-headed monster since that purple thing on Sesame Street.
Maybe you think that thing is cute. I think it's nightmare fuel.
Hunting for Chubb
On the Hunt
Kareem Team
Krispy Kareems
This Kareem Hunt fantasy name uses my personal favorite of the Kareem/cream puns. But there are so many more possibilities:
Kareem of the Crop
Getting' Kareemed
Kareem Soda
Kareem Cheese
Kareem Pies
Ice Kareem, etc.
Mayfield Fantasy Team Names for 2021
Oh, you like Baker Mayfield? Well, I have some good news for you.
We have an entire article dedicated solely to Baker Mayfield fantasy football team names. Life's just better when your team's good.
Catching Mayfeelings
Bakes and Pains
You Mayfield Some Pressure
Or if your league is a little saucier, You Mayfield a Little Prick.
Odell Beckham Jr. Fantasy Football Names
We haven't seen Beckham at his best in some time. Are his fantasy-relevant days behind him, or does he have at least one more WR1 season in the tank?
I know what my highlight-loving heart has to say about it. But I've also learned not to trust my cardio-pulmonary system when it comes to fantasy football draft advice.
OBJ Killed Kennedy
OdEl Guapo
This is the perfect Odell Beckham fantasy team name if you're Mexican, or a fan of the Three Amigos, or you just think OBJ is handsome.
Posh Beckham
Because Posh Spice is married to David Beckham, and because Odell is such a fancy lad.
Watch Odell
Odell's Fade Route
If nothing else, Odell will leave the legacy of his signature hairstyle.
Jarvis Landry Fantasy Football Team Names
OBJ may be flashier, but Landry has been the better receiver for years. Also, Landry has never been fined for wearing a watch on the field.
Not once.
Landry of the Free
Gym Tan Landry
Oh man, remember when the Jersey Shore was a thing? That seems, like, two realities ago.
Landry Strip
This Jarvis Landry team name is suitable if you're into aviation. Or maybe you're a personal grooming kinda guy?
High and Landry
Landreez Nutz
I could just think of these Browns fantasy football names and not write them down. Yet here we are.
Browns Defensive Players Fantasy Team Names
One of the keys to the Browns' rebound has been the transformation of their defense. Under head coach Kevin Stefanski and defensive coordinator Joe Woods, the Browns have gone from gracious doormat to tenaciously mediocre.
By the by, Tenaciously Mediocre isn't that bad of a fantasy team name either.
Myles From Here
This name is fine on its own, but it's perfect if you happen to be from Arlington, Texas (the actual hometown of Myles Garrett).
Myles Garrett's Masonry
Myles' Gar-retcon
Let's just say that Myles Garret has applied a little retroactive continuity to that whole helmet incident.
Oliver Clothesoff
Clowney Car
Mitchell vs. the Machines
Taki Torch
Or even better Takitaki Torchtorch.
Classic Browns Fantasy Team Names
1964 was a long time ago. That even longer in Dawg years.
Jim Brown's Dirty Eleven
Yes, I know this name is similar to Baker's Eleven. But did you know that Jim Brown was in the Dirty Dozen?
Oh, you did? Cool, good on ya.
Warfield of Dreams
This Browns fantasy football name is like Mayfield of Dreams, but for the old-school heads out there.
Speedie Delivery
Dude, if fantasy existed in the 40's Mac Speedie would have been a monster. Sure, 67 receptions don't seem that impressive. That's until you consider the second-best receiver only caught 49!
Groza Pair
Groza was a combo placekicker and offensive tackle. If you consider today's players' bodies, that's hard to picture.
Tragic Cleveland Browns Fantasy Football Names
I give you these Browns fantasy names because there are three ways to deal with tragedy:
Cry about it
Laugh about it
Name your fantasy team after it.
Manziel Down
Josh Gordon My Nerves
Josh Gordon got on many peoples' nerves. For example, any fantasy owner that's drafted him in any of the last six years.
Couch Potatoes
Willie Green's Backstabbers
If you don't know what I'm referencing, here's ESPN's coverage from the time.
Kitchens' Ink
I honestly don't know if Freddy Kitchens has tattoos or not. But if he got one of a kitchen sink, that would be epic.
Kitchens' ink kitchen sink!
Browns Fantasy Football Names From Around the Web
I'd like to take this opportunity to point out that in this entire list there isn't a single brown = poop name on the list. Not one!
It's 2021, and we all deserve better.
A Clockwork Brown and Orange
The Ohio Players
You might say that this name is… fire?
Brown and Orange is the New Black
Cleveland Rocks
Fabulous Baker Boy
This Browns fantasy team name is for all my Bridges-heads out there.
Shake-N-Bake
Mayfields of Gold
Mayfield Day
Hot Chubb Time Machine
Chubb Chasers
Hey, weren't those same names used in your Denver Broncos Fantasy Football Names article? So what if they were?
What are you, the name police?
Bend it Like Beckham Jr.
OBJYN
Knights of the Odell Republic
Dude, You're Getting Odell
O, Dell No!
Saved by the Odell
TacOdell
At Your Beckham Call
Landry Day
Dirty Landry
Njoku's on You
Personally, I'm hoping for a return to relevance for David Njoku (if only because the possibilities for Njokus are endless).
More Fantasy Names for NFL Teams
More Ideas for Browns Fantasy Team Names?
Tell me all of your ideas for Browns' fantasy football team names. I'll add the good ones to this list.