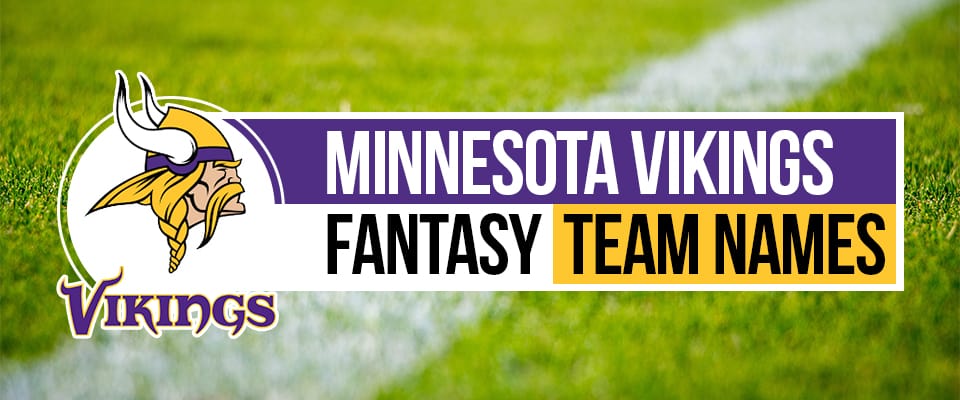 Minnesotans are a hearty bunch. They've been known to survive brutal cold stretches by being optimistic about the chances of brighter days ahead.
And in addition to the Vikings, they have to deal with the weather too. I'm kidding Vikings fans! Mostly!
Here are some piping hot Minnesota Vikings fantasy football names to keep you warm in 2023.
Minnesota Vikings Fantasy Football Names for 2023
Now that Washington has ditched their old nickname, could the Vikings be next? Could swarms of taciturn Scandinavian men descend on US Bank Stadium to politely protest being used as a mascot?
I'm guessing that's not likely.
Viking Kong vs. Godzilla
Addison Wonderland
Check out more Jordan Addison fantasy names down below.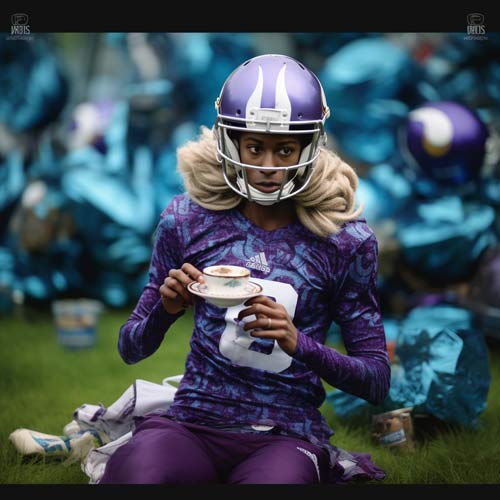 Viking of Monsters
For a team image, you just put a Vikes helmet on Godzilla. Easy-peasy.
Justin the Name of Love
Justin Time
Mullen It Over
Hock Shop
Minneapolis Miracles
Rolling SKOL
The Captain Kirks
Remind me to write that article on Star Trek fantasy football names.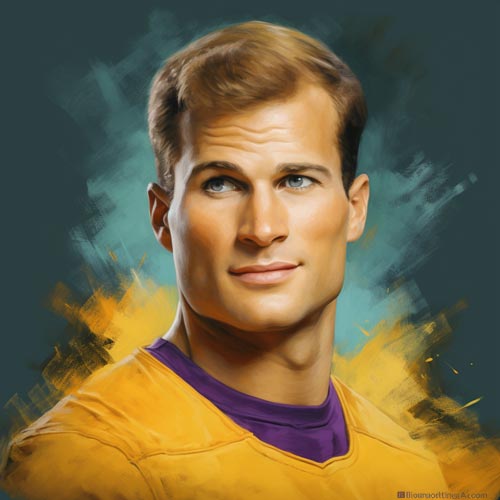 SKOLvid-19
MinnesoTons of Fun
Vikings of Leon
Are the Kings of Leon even still relevant?
The Hock Itch
All athletes have to face the itch down at some point.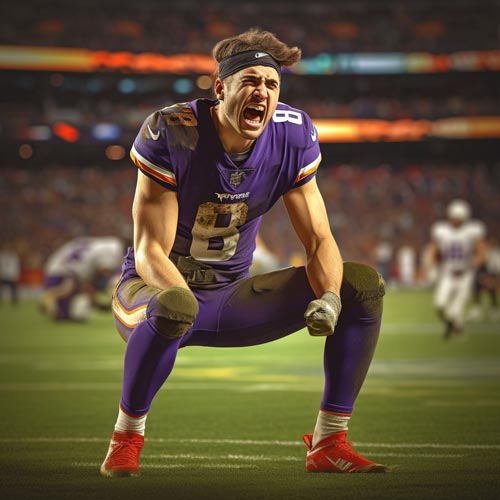 Viking of the Road
King of the Road will always be relevant.
Baby, It's SKOLd Outside
SKOLd Skool
I suppose you could spell this Vikings fantasy team name correctly. But where's the fun in that?
Dippin' SKOL
SKOL' Grand-Dad
This Vikings fantasy football team name is for grandfathers or lovers of cheap whiskey.
Vikinky
Or Vikink Positive.
Your Purple Highness
Is it a coincidence that both Prince and the Vikings use purple as their signature color? Are some things just meant to be, or was Prince secretly a Vikes fan?
Walsh Wide Left
Tragedy + Time = funny Vikings fantasy team names?
Jared Allen's Missing Mullet
There might have been better NFL players out there, but there were none swaggier.
Smoot's Boats
When referencing the most shameful (and hilarious) incident in Vikings history, you have options:
Smoot Cruise
Fred Smoot's Life Preservers
Smoot Operators
Freddy's Love Boat
J. Jefferson Fantasy Names
Is this the season Jefferson goes from one of the best to the best WRs in the game? Well, he certainly thinks so – and can you truly be a great NFL wide receiver without magically outsized confidence?
For our full list of ideas for 2023, check out Justin Jefferson fantasy football names.
Justin Case
JefferSon of a Gun
Or JefferSon of a… well, you know.
Fathers and Jeffersons
Jefferson's Montecello
TBH, this is likely the Vikings fantasy team name that I would use. Probably no one else would, as it's boring and weird. But I might.
JJ's Dynamite
Kirk Cousins Fantasy Football Names
Kirk Cousins is one of the most polarizing quarterbacks in the NFL. Is he one of the worst of the best quarterbacks or one of the best of the worst quarterbacks?
KF'nC
You can mumble this Vikings team name with appreciation any time Cousins makes a nice throw. Kirk. F'n. Cousins. K. F. C.
Kirk Diggler
You're a star.
Kirk Covids
Irked by Kirk
Not everyone's a Cousins fan. Like our old buddy Mike Zimmer.
Minnesota Vikings Fantasy Football Name Generator
Minnesota Vikings Fantasy Football Names From Writers & The Community
T.J. Hockenson Fantasy Team Names
I'm thrilled to see Hockenson in the NFL for a couple of reasons:
His ability to create separation from an overly-instinctive defender
My ability to create a team name idea from his easily-malleable surname
Hock of Seagulls
Hock and Roll
Hocked and Loaded
The Hard Hock Hotel
My Pet Hock
Hockin' the Hock
Jordan Addison Fantasy Football Name Ideas
Addison was one of the top wide receiver prospects in the NFL draft. He is expected to hit the ground running in the NFL with first-round draft capital and plenty of opportunities to shine.
If you took a chance on him this fantasy season, these Jordan Addison fantasy names are for you.
Addison through Subtraction
Addison Ignition
Air Jordans
Attrition through Addison
Minnesota Vikings Fantasy Team Names from Around the Web
These are the best Vikings fantasy team names that I could find in the frigid wasteland of the internet.
Purple Reign
Magic Skol Bus
Skol-line Defense
This Nordic fantasy name is the perfect Viking rallying cry.
Hockenson Big Loogies
Vikings Booze Cruise
First Cousins
Battle of DunKirk
Fantasy Team Names for all NFL Teams
If the Vikings aren't your team, fret not. We have a dedicated fantasy name article for every team in the NFL. Enjoy.
Ideas for Vikings Fantasy Football Names?
If you have an original idea for another Minnesota Vikings fantasy team name, tell me about it in the comments below. I'll add the best ones to this article.