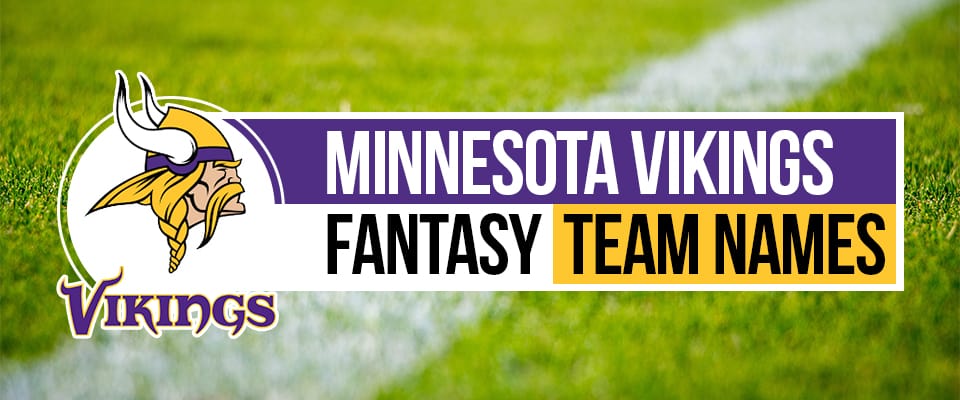 Minnesotans are a hearty bunch. They've been known to survive brutal cold stretches by being optimistic about the chances of brighter days ahead.
And in addition to the Vikings, they have to deal with the weather too. I'm kidding Vikings fans! Mostly!
Here are some piping hot Minnesota Vikings fantasy football names to keep you warm in 2023.
Minnesota Vikings Fantasy Football Names for 2023
Now that Washington has ditched their old nickname, could the Vikings be next? Could swarms of taciturn Scandinavian men descend on US Bank Stadium to politely protest being used as a mascot?
I'm guessing that's not likely.
Viking Kong vs. Godzilla
Viking of Monsters
For a team image, you just put a Vikes helmet on Godzilla. Easy-peasy.
Dalvengence is Mine
Dalvin Miss Daisy
Justin the Name of Love
Justin Time
Catching Thiels
Fantasy football team names this perfect don't come along that often, people. Get it while it's good.
Kirkland Signature
Mond Top of the World
Just in case Kellen Mond turns into something. I want to be able to show that I was in on the ground floor.
Minneapolis Miracles
Rolling SKOL
SKOLvid-19
Ball of America
MinnesoTons of Fun
Vikings of Leon
Are the Kings of Leon even still relevant?
Viking of the Road
King of the Road will always be relevant.
Baby, It's SKOLd Outside
SKOLd Skool
I suppose you could spell this Vikings fantasy team name correctly. But where's the fun in that?
Dippin' SKOL
SKOL' Grand-Dad
This Vikings fantasy football team name is for grandfathers or lovers of cheap whiskey.
Vikinky
Or Vikink Positive.
Your Purple Highness
Is it a coincidence that both Prince and the Vikings use purple as their signature color? Are some things just meant to be, or was Prince secretly a Vikes fan?
Walsh Wide Left
Tragedy + Time = funny Vikings fantasy team names?
Jared Allen's Missing Mullet
There might have been better NFL players out there, but there were none swaggier.
Smoot's Boats
When referencing the most shameful (and hilarious) incident in Vikings history, you have options:
Smoot Cruise
Fred Smoot's Life Preservers
Smoot Operators
Freddy's Love Boat
Justin Jefferson Fantasy Names
Is this the season Justin Jefferson goes from one of the best to the best WRs in the game? Well he certainly thinks so – and can you truly be a great NFL wide reciever without magically outsized confidence?
Justin Case
JefferSon of a Gun
Or JefferSon of a… well, you know.
Fathers and Jeffersons
Jefferson's Montecello
TBH, this is likely the Vikings fantasy team name that I would use. Probably no one else would as it's boring and weird. But I might.
JJ's Dynamite
Dalvin Cook Fantasy Football Team Names
Dalvin Cook is good. So good, in fact, that we dedicated an entire article to just Dalvin Cook fantasy team names. Here's a sample.
Sunday Cook Out
Dalv-in Movies
Dalvin Me Crazy
Or Dalv Me Crazy for those of you that still remember the Fine Young Cannibals.
Dalvfense Wins Championships
Kirk Cousins Fantasy Football Names
Kirk Cousins is one of the most polarizing quarterbacks in the NFL. Is he one of the worst of the best quarterbacks or one of the best of the worst quarterbacks?
KF'nC
You can mumble this Vikings team name with appreciation any time Cousins makes a nice throw. Kirk. F'n. Cousins. K. F. C.
Captain Kirk
Kirk Diggler
You're a star.
Kirk Covids
Irked by Kirk
Not everyone's a Cousins fan. Like our old buddy Mike Zimmer.
Adam Thielen Fantasy Team Names
Born in Minnesota, Thielen played high school and college ball in Minnesota. Then, he landed a spot on the Vikings practice squad in 2013. The rest is history (in the making).
At this point, Thielen is a Minnesota institution on par with Caribou Coffee and hot dish.
Thielen Minnesota
This Thielen fantasy team name is pretty solid – provided you're old enough to remember the '96 Keanu movie, that is.
The Creation of Adam Thielen
A.T. Phone Home
Thielen Groovy
You may have noticed that Thielin and Feelin' sound pretty similar. Me too.
Thielen Good
Thielen All Right
More than a Thielen
Thielen It
I Thiel You
I suppose I could put the old standby Purple People Eaters in this section. If you can't come up with that Vikings fantasy team name on your own, you have bigger issues.
Minnesota Vikings Fantasy Team Names from Around the Web
These are the best Vikings fantasy team names that I could find out in the frigid wasteland of the internet.
Purple Reign
Magic Skol Bus
Skol-line Defense
Vikings Booze Cruise
First Cousins
Battle of DunKirk
Dalvin and the Chipmunks
Can't Stop this Thielen
Hooked on a Thielen
Fantasy Team Names for all NFL Teams
If the Vikings aren't your team, fret not. We have a dedicated fantasy name article for every team in the NFL. Enjoy.
Ideas for Vikings Fantasy Football Names?
If you have an original idea for another Minnesota Vikings fantasy team name, tell me about it in the comments below. I'll add the best ones to this article.