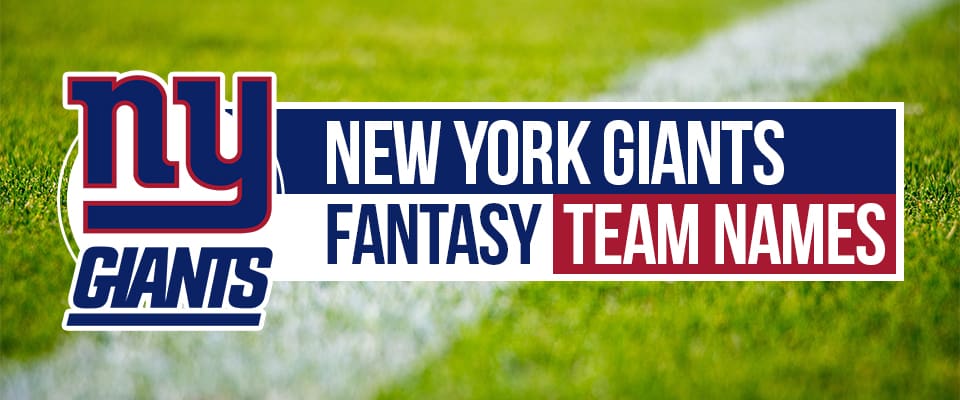 Daniel Jones and Saquon Barkley are currently defining their place in Giants history. Are they going to be the next Eli and Tiki, or the next Dave Brown and Rodney Hampton?
Only time will tell, but if I know anything about New York fans it's that they're patient, forgiving, and kind.
Here are some New York Giants fantasy football names to help build a new legacy – for better or worse.
New York Giants Fantasy Football Team Names for 2022
A number of things have to go right if the Giants are going to make it back to the top. They need health, luck, effective player development, and they should probably stop doing stuff like this.
MetLife Style
If you want to go longer, try MetLifestyles of the Rich and Famous.
Saq Shack
If you're looking for Saquon Barkley fantasy football team names, then we've got you covered. Just click the link for a whole league's worth of Saquon-specific names (and even a logo or two).
DJ's Jazzy Giants
Tonight A DJ Saved My Life
The Giants are tied for the league lead in players that you expect more out of next season.
Squad Golladays
Golladay Inn Express
Hotel Motel Golladay Inn if you want to be a little funkier, Golladay in Cambodia if you want to be a little punkier.
Sterling Performance
Sandrone Pilots
Sandro Platzgummer is the best name in the NFL, and a pretty good story, too.
Sunday is Gumm Day
Spinning Platz
We Slay Tons
This is Dari-Us
Or you can do The Story of Dari-Us if you're more into 90's tearjerker movies instead of 2010's tearjerker TV.
MetLife Sentence
How bad of a rep does New Jersey have? Well, neither Giants nor the Jets are willing to admit that they play there.
How I MetLife Your Mother
Seacaucnballs
This N.Y. Giants fantasy team name may not be a good choice for your work league.
Kenny Golladay Fantasy Football Team Names
Kennysiology
Go, Lladay, Go!
It helps if you say this Giants fantasy football name with an Irish accent.
One Fine Golladay
Golladay of the Dead
Daniel Jones Fantasy Football Team Names
The Daniel Jones era is officially underway! Now we'll see if the Duke grad can play like the devil or just a pile of Dukie.
The Devil and Daniel Jones
You can also do The Blue Devil Daniel Jones as a nod to his Duke past.
Danny Dukie
Daniel Striped Tiger
The Jones-Foxborough Massacre
This Giants fantasy football name is pretty dark. It references a brutal historical tragedy, as well as that horrible cult.
Eli Manning Fantasy Football Team Names
Let's take a moment to reflect back on Eli Manning's career:
Four-time Pro-Bowler, but led the league in interceptions three times.
Two championships, but only .500 as a starter.
7th in passing yards, but only the third-best quarterback in his own family.
Eli's legacy is secure. But I have no idea what it is.
Eli's Sports Bureau
Eli-minated
Eli to Me
Manning Overboard
Manning Brothers Retirement Home
Giants Head Coach Fantasy Names
Joe Judge is the latest Pats' assistant to get a head coaching job. The Giants are hoping he's a success, like Alabama's Nick Saban, and not a failure, like Miami's Nick Saban.
Judge Dread
Judgement Day
Here Come the Judge
Judge Joe Blue
Ye Be Judged
I like this Giants fantasy football team name because, for whatever reason, it is funnier than Judge Not.
Shurmurdered
It was a mercy killing.
Historical Giants Fantasy Football Names
The Giants are tied with the Washington Football Team for the second most Hall of Famers of any franchise. If recent success is any indicator, the G-Men won't be sharing second place for long.
Carrying the Tiki Torch
Taylor-Made Team
Simms League
Amani Roll
I give you this Amani Toomer fantasy football name because you deserve better than It's Not a Toomer.
You Can't Gifford It
Shockey Jockeys
Adopt a Strahan
Tate Golden, Pony Boy
GT flirted with 10-team relevance throughout his career, but he was always a first-rounder in name quality.
Yukon Golden Tates
It's a potato joke.
Hermetic Order of the Golden Tate
This Giants fantasy team name is for the conspiracy theory fans out there.
Lionel Manuel-Miranda
I know receivers from the '80s aren't the most common choice. But this Giant fantasy football team name just too perfect to pass up.
Besides, this name makes for an excellent flex in leagues with folks that like to think they know the Giants.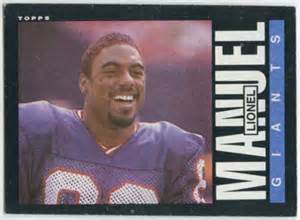 Giants Fantasy Football Names from Around the Internet
Sometimes I think about how weird it is that New York used to have two teams called the Giants. Did Tim Mara just figure Well, Giants is just what we call teams here in New York?
His problem was probably just that he didn't have these sweet lists of New York Giants fantasy team names. Or was he just trying to trick people into thinking they were seeing a baseball game?
G-Men
Assuming you don't mind using a real team nickname for your fake team's nickname.
Keeping Up With the Jones
Game of Jones
Playbook of Eli
Manning of Steel
Last Manning Standing
The league is Manning-less for the first time since 1998. Don't get used to it, though, as Arch Manning is right around the corner.
Golden Taint
Not classy but a classic.
Golden Tate Warriors
Straight Outta Coughlin
This Giants fantasy team name is objectively true. The Giants are currently out of Coughlins.
Even More Fantasy Football Team Name Ideas for NFL Teams
The best fantasy names reflect your personality, sense of humor, and allegiances. If the Giants aren't your primary team, here are some other ideas for fans of other teams.