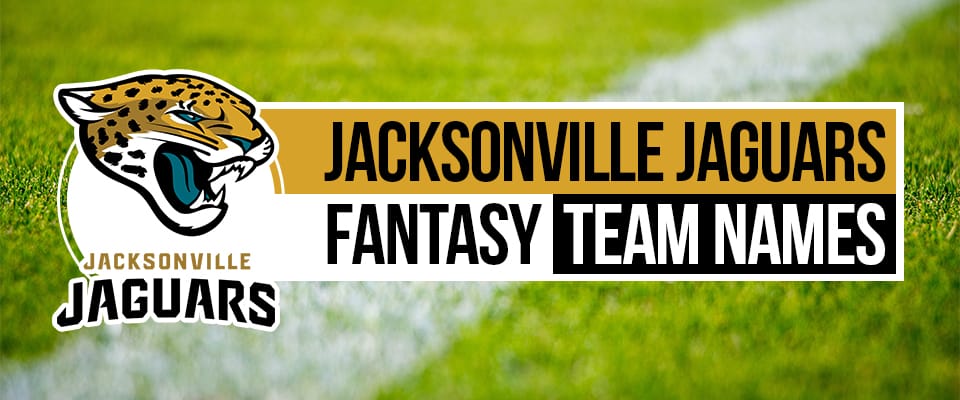 Things are a little different in Jacksonville.
There's a new coach. A new quarterback. A new running back, new receivers, and new tight ends.
Also let's not forget that one of those tight ends is also new to the position. Some guy no one's ever heard of named Tebow.
In honor of all these fresh starts, here are some new Jacksonville Jaguars fantasy football names for the 2022 season.
Jacksonville Jaguars Fantasy Names for 2022
Finally, it's cool to use Jaguars fantasy team names again. Actually, you can probably strike the again from that last sentence.
Catty Shack
This Jacksonville Jaguars fantasy team name truly has it all.
Your team is a house for Jaguars, aka cats.
It's a local Jacksonville legend.
It's one of the greatest comedies of all time.
Jaguar King
If you happen to be a Joe Exotic fan, check out our full list of Tiger King fantasy football names.
Trevor Lawrence's Luxurious Hair
Long Arm of the Lawrence
T.E. Phone Home
Friends and Etiennemies
Clemson Tigers East Campus
Chark Attack
Marvin's Room
Teboh, No
I would also accept Teboh, No, Why? or Teboh No, Not Again.
Tebow Keeps it Tight to the End
If the Minshew Fits
You Stupid Marrone
Hey, remember in 2017 when Doug Marrone took over a 3-13 team and lead them to the playoffs? Yeah after going a combined 12-36 over the next three seasons, I don't either.
It's Marrone Fault
Poppin' Bortles
Champagne Bortles
You can adjust this Jaguars fantasy name to your poison of choice:
Whiskey Bortles
Beer Bortles
Win Bortles
McCardell is a Marcedes
James Stewart in Meester Smith Goes to Rasheanton
If you're confused, this is a James Stewart, Brad Meester, Jimmy Smith, and Rashean Mathis reference all in one.
Trevor Lawrence Fantasy Names
Look, I don't want to put too much on Trevor Lawrence too early. That said, anything less than multiple Pro Bowls, an MVP, and the Jags' first title will be a disappointment.
Hair Apparent
Teal TL
Or TL in Teal, Teal TL – you get it. His initials are the same as the team's weird 90's-tastic color scheme.
Trevaling Man
We Will Trevail
Lawr and Trevorder
DJ Chark Fantasy Football Team Names
DJ Chark has emerged as a Pro Bowl receiver with an All-Star name.
Baby Chark
Raiders of the Lost Chark
Don't open your eyes!
CharkAngel
Character Chark
Charkapellago
Chark Welder
James Robinson Fantasy Team Names
I'm not ashamed to say I didn't see James Robinson coming. He played in the MVFC, he went undrafted, and he played for the league's 30th ranked offense.
Plus, he might have the most boring name in football – even more boring than Trevor Lawrence. That said, after scoring 10 TDs and piling up over 1400 yards from scrimmage, I see him now.
The Jimmy Robs
Cops and Robinsons
Batman and Robinson
J.R. Jags
Because James Robinson is the most accomplished player on this offense, and because the team is composed of junior Jaguars.
Urban Meyer Fantasy Football Names
For all his past success, Urban Meyer is becoming the Larry Brown of the football world. He might turn your team around instantly, and he'll most likely be gone within the next few years.
Meyer's Lemons
Urban's Outfit
Urban Cafe
Urbanished
That's Mey Boy
Gardner Minshew II Fantasy Names
Few have ever gone from total nobody to total legend and back to nobody as fast as GM2.
Minshew Me What You Got
Gardnerding Out
Shew Too?
MinshU2
Florida Min
Jacksonville Jaguars Defense Fantasy Names
Historically, the Jags have had trouble scoring. But more often than not, they've at least been able to field a solid defense.
Schobert and Hernie
Schotime
Chaisson Lounge
Jackuars
Jack of All Tres
Jacksonville Jaguars Fantasy Football Names from Around the Web
Because you aren't the only one out there that loves the Jags, even though sometimes it likely feels that way.
Blood, Sweat, and Teal
Jaggernaut
Sacksonville
The Constant Gardner
Chark Week
Charkizard, I Choose You
Driving a Lambo
Lambo!
Genie in a Bortles
WWJD: What Would Jones-Drew