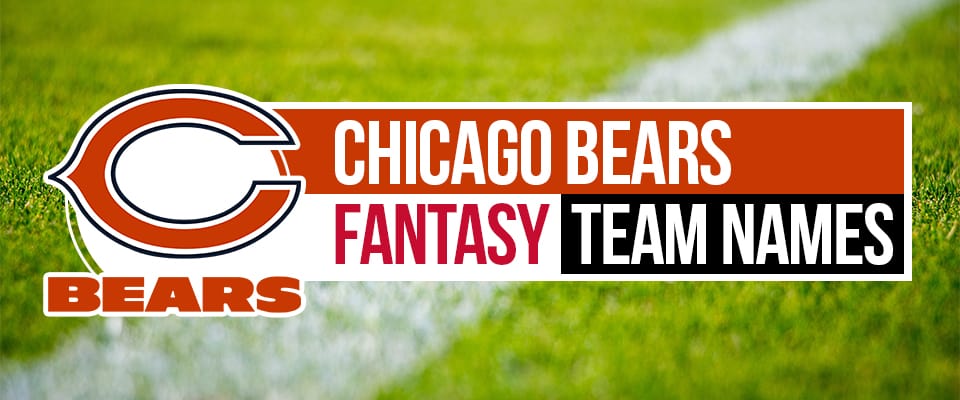 If you want a deep cut Chicago Bears fantasy football team name, try the Decatur Staleys or Staley Starch Makers. Those were the team's original names when it was founded back in 1920.
The nerds among you have no doubt realized that 2020 marks 100 years of Bears football. To celebrate, I present 40+ brand new Bears fantasy football names (plus a few classics, just for fun).
Nice Mitch Trubisky Fantasy Football Team Names
Mitch Trubisky takes a lot of flak, very little of it justified. He has a winning record as a starter, a respectable career TD-INT ratio, and even played in a Pro Bowl.
For those of you still backing Mitch, these names are for you.
Tru Believers
Season of the Mitch
Cool name, cool theme song.
The One Trubisky
Los Trubicabras
Get Mitch or Die Tryin'
Lobster Bisky
Little Mitch Can't Be Wrong
Spin Doctors anyone? Anyone? Anyone?
Mean Mitch Trubisky Fantasy Football Team Names
Mitch Trubisky takes a lot of flak, much of it justified. He had single-digit fantasy points in seven of his 15 starts last year.
Those are tight end numbers, people!
MitchMatched
Too Good To Be Trubisky
Karma's a Mitch
Mitch Please
Mitched Blessings
Allen Robinson II Fantasy Names
You could make the case that this dude was the only Bear worth owning in fantasy last year. He finished 7th overall in WR points but was only 30th in ADP.
Nice.
Cops and Robinsons
II Much Robinson 4 U
Or just II Much if you're into the whole brevity thing.
Allen's Wrenches
Swiss Family Robinson
Mr. Robinson's Neighborhood
Classic Eddie Murphy.
David Montgomery Fantasy Football Names
I'm not gonna lie. I was pretty disappointed with David Montgomery last year.
But not so disappointed that I won't be getting an unreasonable amount of shares this year, but still.
Hit Me In My DM's
Run DM, See?
It helps if you say it in a threatening gangster voice.
The Montgomery Ward
Michelangelo's David Montgomery
Monty's Ball Problem
For those unfamiliar with the Monty Hall problem, here's creepy Kevin Spacey to help explain it:
Tarik Cohen Fantasy Team Names
After a productive 2018 (162 total fantasy points), Tarik Cohen fell off in 2019 (only 84.9 fantasy points). Maybe I'm a sucker, but I predict a return to 10-team relevance next year.
Cohen My Way?
There are a ton of good Cohen/Going names:
Cohen All the Way
Coming and Cohen
I'm Cohen Crazy
Cohen Out of Business
Cohen out of Style
Cohenheads
Cohen the Barbarian
The LaBrea Tarik Pits
We're Going Tariking!
Old School is itself now old school. Crazy.
Bears Defensive Fantasy Names
There are few constants in this world. But a few things are predictable.
The sun rises in the East, sets in the West, and the Bears have a good defense.
A Time to Khalil
Khalil Bhill
Haha, Clinton Dicks
This is just a lesson about the importance of spelling and punctuation.
Fuller House
Fist Fuller Dollars
Bilal About the Benjamins
Rip Cordarelle
Not a defensive player, but he was a special teams Pro Bowler in 2019.
Cut the Cordarelle
This is what you should do if you don't get points for individual special teams players.
Classic Bears Fantasy Football Names
Here's a trivia question for you: which NFL team has the most Hall of Famers? Answer: The Bears, of course.
It'd be weird if I was asking that question in a Bears article and the answer was some other team.
Truth Sayers
Moby Ditka
Buccing Bronkos
NagurSki Bums
Two things:
This is an excellent fantasy football team name.
Bronko Nagurski was a certified badass.
Bill George Conner
This one might be too deep, even for some Bears fans. Bill George and George Connor are two Hall of Famers.
These guys essentially helped invent the linebacker position.
Bear Jordan
Not a football player, but no one in Chicago cares.
The Best Bears Fantasy Names From Around the Web
Puns are like fruit, hanging on trees and ready to be grabbed. This fruit was hanging a little too low, and other writers grabbed it first.
Da Bear Necessities
Grin and Bear It
Bear Force One
Bear Goggles
Bearzerkers
Theme song:
Loaded for Bear
Trubiscuits and Gravy
Mitch Perfect
The Bear Mitch Project
Double puns can be tricky, but this one sticks the landing.
Trubisky Business
Tried and Trubisky
Mitch Slapped
The Big Trubisky
Baby Got Mack
Khalil or be Khaliled
License to Khalil
More Fantasy Football Name Ideas for NFL Teams