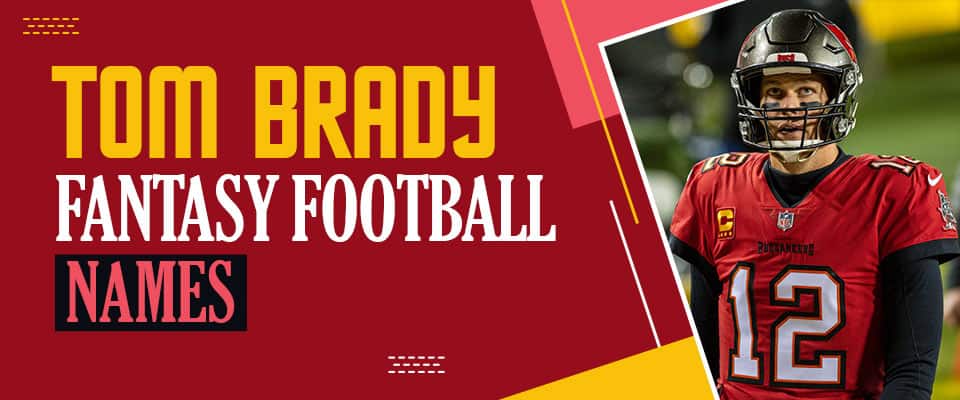 I thought the days of writing Tom Brady fantasy teams were over in like, 2016. And then he just… kept going.
And it keeps going, and going, and going. Brady just had a legit incredible year at an age when most pro athletes had long since retired.
It's starting to feel like I'll retire before Tom Brady. So let's get into it. We're not getting any younger.
Tom Brady Fantasy Team Names for 2022
Tom Brady stated he was going to play until he was 45. Like most folks, my thought was typical athlete hubris.
It turns out he was scarily accurate. And are we surprised? Accuracy is, like, Tom Brady's whole thing.
The Tom Machine
TB or Not TB
That is THE question every off-season.
Tom Bombadil
If you want more Lord of the Rings fantasy names, we've got em. Speaking of which…
Lord of the Rings
Seven. 🐐@TomBrady | #SBLV pic.twitter.com/HtrQfYRnNA

— NFL (@NFL) February 8, 2021
Just Terrific
Brady and the Tramps
Brady and the Champs
My Old Brady
Tomniscient
Tommy Guns
Tommy First and the Gimmie Gimmies
Honestly, it's pretty selfish what Tom Brady is doing. I mean, let somebody else have a chance, y'know?
Tommy Bahama's
Tommy the Cat
Tommy Ballflinger
Tom Cruising
Tom Thanks
The Tom Tom Club
Tom Waits for No Man
Tom-Time puns are almost too perfect. After all, no one has managed to evade time better than the Tomlord himself.
No Tom Like the Present
Tom After Tom
On Borrowed Tom
Standing the Test of Tom
Only Tom Will Tell
In the Nick of Tom
Only Tom Will Tell
For the Tom Being
Eighth Tom's the Charm
Tom Magazine
Funny Tom Brady Fantasy Football Names
Tom Brady doesn't seem like he has much of a sense of humor. But then again, you can't be so successful if you're joking around all the time, right?
But he did host Saturday Night Live once, so who knows? Here are some funny Tom Brady fantasy team names, just in case.
Tom Brady Can Go Tuck Himself
Tampa Brady
Brady Gaga
Droppin' Tomshells
Raymond James Bradium
Hit Me Brady One More Time
Brady Shark
Tom and Jerry
This Tom Brady fantasy name entirely depends on a theoretical trade to Dallas. It's a long shot, but this name was so good I had to throw a hail mary.
The Brady Bunch
The Brady Bündchen
Tomnivorous
Tom Brady Fantasy Names from Around the Web
Did you know that Tom Brady owns every QB record? Seriously, all of them. Just check the football reference leaderboards.
It's no wonder folks write so many Tom Brady fantasy names.
Brady Antebellum
Tom Bucing Brady
Nobody Puts Brady in the Corner
Tompa Bay Gronkaneers
Tom Brady and the Heartbreakers
The Old TomCat
Here's My Number, So Call Me Brady
My Fair Brady
Or My Unfair Brady if you're still holding a grudge about those deflated balls.
Brady's Got Back
Dude Looks Like a Brady
Can't Get Enough of You Brady
Team Names Based on Quarterbacks
If you love naming your team based on your stud QB, check out these other articles:
More Fantasy Team Names for Tom Brady?
Do you have a funny, original fantasy team name idea for Tom Brady? If so, put it in the comments below. I'll add the funny ideas to this list.