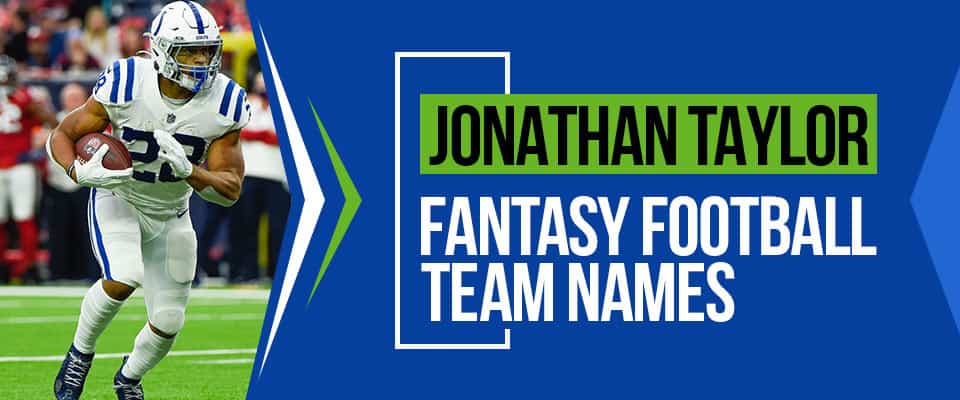 In 2021, Jonathan Taylor blew past every other running back by a huge margin. The last time anyone finished so far ahead of the #2 back was a guy named OJ Simpson in 1973.
Let's hope that this is the last time we compare JT to OJ Simpson! Here are our best Jonathan Taylor fantasy team names in hopes that he keeps slaying in 2023.
In a football sense! Slaying in a football sense!
Jonathan Taylor Fantasy Team Names for 2023
At some point, Jonathan Taylor must stop getting better. But his career thus far has been one straight-upward trajectory.
But that has to stop sometime, right? I mean, he can't top 2021, right? Right?
I dunno – I'm not betting against him. Are you?
John Colt-Train
Your more sophisticated fantasy football players will have a Love Supreme for this Jonathan Taylor fantasy name.
Jonathin Mints
Delicious.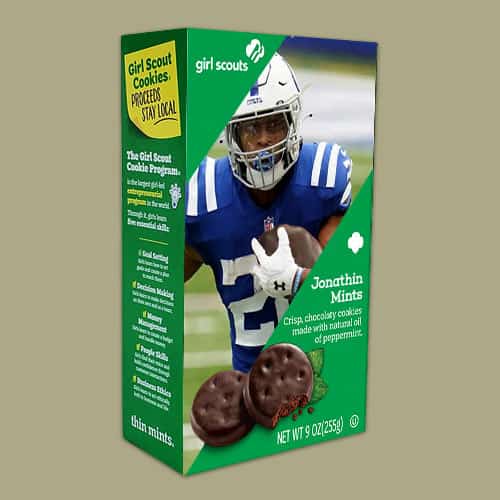 Swifties
The Brave Little Taylor
Taylored Suits
Jonny Cash Money
Swift Taylor
Swift Taylor is my favorite of the Jonathan Taylor-Taylor Swift fantasy team name options.
Lords and Taylor
Very Jonathinteresting
Bespoke Taylor
Long Gone John
Jonathan Legend
Suggest a Jonathan Taylor Fantasy Football Team Name
Your name may be added to this post!
Funny Jonathan Taylor Fantasy Football Names
Off the field at Wisconsin, Taylor was a philosophy major who loved the writing of Emmanuel Kant. When he was on the field with the Badgers, he was "Emmanuel Kant tackle".
A man you all can't tackle? Please don't hold your breath waiting for our 18th-century philosophers fantasy team names article.
Wisconsathin Badglors
28 Plays Later
Jonathan Taylor wears #28.
Taylor Moon
The photoshop of this would be terrifyingly hilarious.
28 Days Taylor
Tractor Taylor
Taylor Trash
Taylor Park
Put it all together, and you've got Taylor Park Trash.
Jonathan Taylor Fantasy Football Team Name Generator
Jonathan Taylor Fantasy Football Team Names From Writers & The Community
Jonathan Taylor Fantasy Names from Around the Web
Jonathan Taylor is an incredible running back with an incredibly dull name. I'm sorry, but it's just a fact.
Look at how these lesser writers struggled to come up with anything amusing. These are the best Jonathan Taylor fantasy names that the entire Internet could muster.
Taylor Made
Tay Slay
T-Swizz
Jonathan Taylor Thomas
This Jonathan Taylor fantasy name works best if you also have Michael Thomas. And if you do, congrats my dude!
Tinker Taylor Soldier Spy
That's how bereft of ideas the Internet is for Jonathan Taylor fantasy name ideas. Their best options are 90s tween heartthrobs and Gary Oldman movies nobody saw.
Fantasy Names for Other NFL Running Backs
If you have another stud running back, check out these other fantasy names for NFL RBs.
More Jonathan Taylor Fantasy Football Team Names
Do you have a funny and original fantasy name idea for Jonathan Taylor? Put it in the comments below, and I'll add the funniest ones to this list.