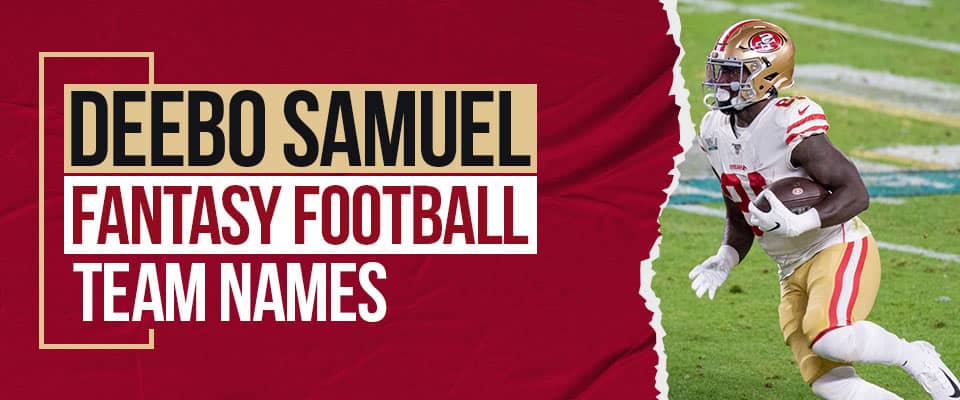 With a nickname like Deebo, you know Tyshun Samuel must be an intimidating figure. As one of the most explosive players in the NFL, Deebo has earned the respect of fantasy footballers.
This year's list of Deebo Samuel fantasy football names borrows from numerous genres: music, television, and, of course, the timeless comedy Friday. Let's take a trip down memory lane, and always remember, That's my bike, punk!
Deebo Samuel Fantasy Names for 2023
Following the 2022 Pro Bowl, Deebo Samuel declared that he had created a new football position, the wide back. As someone who writes software for fantasy football leagues, I politely ask that we ignore this declaration.
You're a flex player, Deebo.
Deebos and Arrows
Deathblow Deebo
Big Show Deebo
Deebo's Pigeon Coup
Fantasy football owners are always sweating like slaves.
Bo the Knee
Bo Ahead, Make my Day!
Going Deeb
Bo Your own Way
Bo Forth and Prosper
Live long and prosper.
Go forth and prosper.
Deebo Must Go On
Yes, he's a must-start every week.
Steady Flow Deebos
Boing for the Kill
DeeBo Bridges
The Devastating Deebos
Funny Deebo Samuel Fantasy Football Names
Thank you, Deebo Samuel, for ensuring that those Friday quotes burned in my brain will ultimately be put to good use.
Deebo's Bike Repair
The Book of Samuel
Deeb Fakes
Primo Deebos
Bo-ing Deep
Uncle Sam Wants You!
Green Eggs & Sam
They may be canceled Dr. Seuss. But you can show your rebel side with this revolutionary Deebo Samuel fantasy team name.
Deeb Fried
As You Go, Deebo
Airshow Deebos
Deep Threat Deebo
Deep Pockets
No Love Deeb Web
For this Deebo Samuel fantasy team name, we'll spare you the cover art.
DeeBo Knows Football
Deebo Samuel Fantasy Football Team Name Generator
Deebo Samuel Fantasy Football Team Names From Writers & The Community
Deebo Samuel Fantasy Team Names from Around the Web
How Deebo Your Love?
Finding Deebo
Son of Samuel
Fantasy Name Ideas for Other Stud WRs
We have an extensive collection of team names for NFL wide receivers.