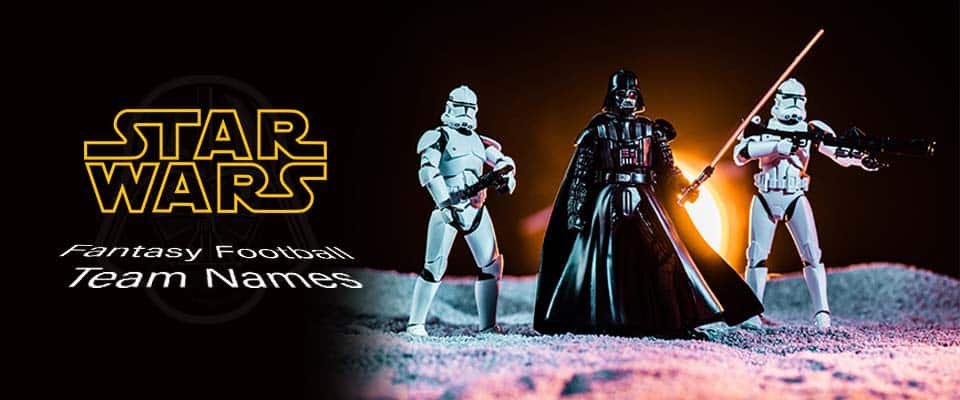 When you think about it, fantasy football and Star Wars aren't all that dissimilar. It's you and your rag-tag band of heroes, misfits, and super-humans vs. the rest of the universe.
Both universes are rife with colorful names, places, and sayings that are perfect for your fantasy teams. Feel free to use any of these Star Wars fantasy football team names, or to mix and match these names with your favorite teams and players.
Funny Star Wars Fantasy Football Team Names
1. Admiral Dakbar
Dak Prescott already kind of sounds like a Star Wars Character.
2. Wookie Mistake
3. Kelce-3PO
Travis Kelce is a droid that translates Patrick Mahomes' passes into touchdowns
Check out our entire article dedicated to Travis Kelce fantasy names.
4. May Deshaun Be With You
This is how Texan Star Wars fans greet each other.
Obi-Wan Kenobi Fantasy Football Team Names
5. Help Me, Obi-Quon
6. Obi-Wan Kamara
7. OBrees-Wan KenoBrees
Old Drew lives out beyond the Dune Sea. He's kind of a strange old hermit.
Star Wars Fantasy Football Teams Name Generator
Star Wars Fantasy Football Teams Names From Writers & The Community
Patrick Mahomes Star Wars Fantasy Football Team Names
Last year's New Hope has become this year's Return of the Jedi.
15. Mahom Solo
16. Darth Maulhomes
17. The Mahomian Falcon
Check out our entire list of Mahomes fantasy football name ideas.
Drew Brees Star Wars Fantasy Team Names
8. Drewbacca
9. Brees-3P0
10. R2-Brees2
11. DB-9
It makes sense that there are so many droid-based names for Brees, given that he's been a robot at QB for practically the entire millennium.
Lamar Jackson Fantasy Star Wars Names
If you built your team around this future MVP, then the force truly was with you on draft day.
12. LaMandalorian Jackson
13. Jak-Son Jinn
14. Lamar Calrissian
Or you could even try to pull off Lamar CalRavan, though that may be one step too far.
Check out our full list of Lamar Jackson fantasy team name ideas.
More Saquon Barkley Star Wars Fantasy Football Team Names
18. Quon Solo
19. Ana-Quan Skywalker
20. Bar Bar Binks
The most hated Star Wars character meets the league's most feared running back. Check out these Saquon Barkley team names for more ideas and free logos.
Want to spice-up your league? Check out these funny fantasy football league names for 2023.
Cam Newton Star Wars Fantasy Football Team Names
21. A Newton Hope
22. The Camtom Menace
23. I Cam Your Father
Or, if that's not going far enough for you: Luke Keuchly, I Cam Your Father
More Quarterback Star Wars Team Names
24. Brady Yoda
Fan theories are that he's actually almost 50! Check out these other Tom Brady fantasy football names.
25. Wentz Antillies
If you like this team name, check out my Eagles fantasy football team names.
26. Kyler Ren
Star Wars Names Based on NFL Teams
Here are some options if your loyalty is to a specific team instead of just one player. Imagine that, fantasy junkies.
27. Linc Skywalker
What if Luke Skywalker played for the Iggles? Well, for one thing, they'd probably be having a better season.
28. Pantha Fodder
29. Monsters of the Mandalore
The Monsters of the Midway meet the Disney Plus generation.
30. The Dagobah Pound
Yoda's swampy homeworld isn't all that dissimilar to Cleveland's Dawg Pound in August.
31. FNs Up
32. Cheesewedge Antilles
For the Packer fan that sits at home re-watching the original trilogy during the cold, cold months… between football seasons.
33. Han SKOLo
Vikings were the original charismatic smugglers with great hair. We also have a full article dedicated to Vikings fantasy team names.
34. 12th Mandalorian
Seahawks fans are a character all their own. And for them, we have an entire article dedicated to Seahawks fantasy football team names.
35. R2-D2 Dat?
36. Space Cowboys
I'm thinking maybe Ezekiel Elliott driving the Millennium Falcon. More of those in our Ezekiel Elliott fantasy team names article.
Star Wars Insult Fantasy Football Team Names
The Star Wars series has always had a way with a quippy insult. Here are some team names that aren't puns, just quotes from the films that sound like fantasy team names.
36. Flea-Bitten Furballs
37. Mindless Philosophers
38. Laser Brains
39. Overweight Grease Globs
See #37.
40. Scruffy Nerf Herders
Hometown + Mascot Star Wars Names
Perhaps you're a traditionalist and your naming philosophy follows the old Location + Mascot name structure. Here are some classic Star Wars universe places and their potential mascots.
41. Kashyyyk Wookies
42. Tatooine Jawas
43. Hoth Wampas
I know it sounds like a vulgar team name, but I swear it isn't. Those come later.
44. Endor Ewoks
Star Wars Team Names For Hardcore Fans
Maybe you like to go a little more obscure, both in your Star Wars references and in your fantasy players. For you nerds of nerds, try these Jedi robes on for size.
45. Garoppolo Shot First
46. T.Y.-Wing Squadron
T.Y Hilton is the Y-Wing fighter of wide receivers.
47. Diggs Darklighter
Like Biggs, Stephon Diggs is a quiet hero that doesn't get the credit he deserves.
48. Dab Fortuna
Just picture Bib Fortuna doing a Cam Newton-style touchdown celebration.
49. Captain Kirk Cousins
I know, that's Star Trek, but hey. Take it or leave it, nerd.
Vulgar Star Wars Fantasy Football Team Names
If filthy names are your thing, you'll love our 100+ dirty fantasy football team names.
50. Nick Porkins
Chubb? Porkins? Get it?
52. Little Death Stars
This name is perfect for anyone that falls into the nexus of Star Wars fans, fantasy football players, and french erotica readers.
53. Moisture Farmers
54. Hand Solo
55. Leia's Buns
51. Kupp Fisto
Cooper Kupp + Kit Fisto = maybe the most obscure reference on this list.
We've got entire articles dedicated to Cooper Kupp team names.