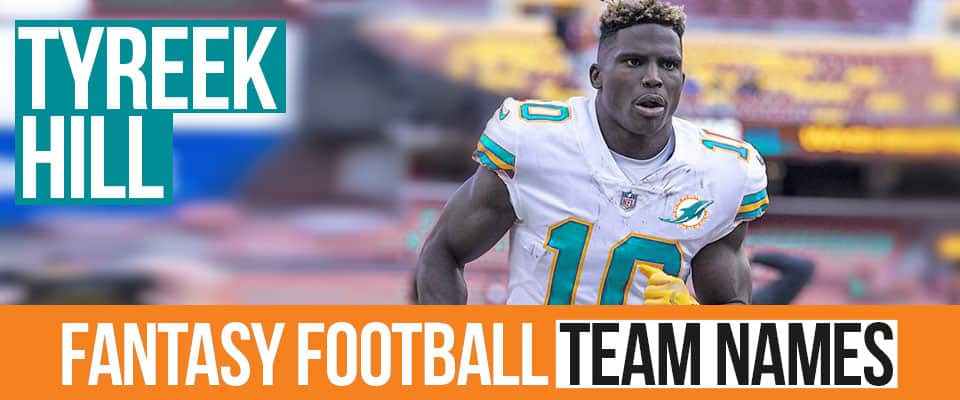 In one sense, Tyreek Hill beat the odds:
Made the leap to the NFL from the University of West Alabama
Kicked off his first college team, where he'd never been a full-time receiver
In another sense, Hill was a favorite all along:
The NFL always has a place for dudes that run 4.29 40's.
Here are some Tyreek Hill fantasy names to give your team some of that nasty cheetah speed in 2023.
Tyreek Hill Fantasy Names – My Favorite for 2023
You know you're the king if usurpers keep trying to take your throne. Here's a list of peasants that have all been put in their place by King Cheetah:
Terrell Owens
Mecole Hardman
Juan Thornhill
Damien Williams (kind of)
Usain Bolt (but not really)
Netflix and Hill
Reeking of Success
Cheetahs Always Win
Imagine how fast you have to be for other NFL players to nickname you cheetah. A bunch of super-fast guys all agreed that this is the guy that gets to be named after the world's fastest animal.
Cheetah Pack
Cheetah Habitat
Patreek Mahills
This Tyreek Hill fantasy football team name is a merge of the Chiefs' two stud fantasy players. Our Kansas City Chiefs fantasy team names article has even more team name ideas for 2023.
Travie and Ty are Mahomies
Mahomes on the Hill
Check out my full list of Patrick Mahomes fantasy team names.
Winning Reek
Running Hills
We're Going Tyreeking!
Old School is old school now. Wild.
Suggest a Tyreek Hill Fantasy Football Team Name
Your name may be added to this post!
Funny Tyreek Hill Fantasy Team Names
Want to hear a joke? Tyreek Hill was a 5th round pick. Every NFL GM passed on him at least four times.
Now that's funny.
Eight Days a Reek
Hill of Beans
You could go with this Tyreek Hill fantasy name, or the more whimsical spelling, Hill O'Beans.
Hill Communication
SO HiLL
The weird caps are to make this Tyreek Hill Fantasy team name idea more readable. The other alternatives would be So Hill, which also works for me, or So HIll, which does not.
Reek-A-Leek
Ty the D in Knots
All-Performance Tyres
Over the Hill
Reek and Destroy
At least this Tyreek Hill fantasy name gives you a kick-ass theme song:
A Hill to Die On
Reeking Out a Victory
Reeking of Success
Tyreek Hill Fantasy Football Team Name Generator
Tyreek Hill Fantasy Football Team Names From Writers & The Community
Clever Tyreek Hill Fantasy Football Team Names
How do you know you're good at football? If someone says you're the first since Gayle Sayers to do anything, then you're pretty good.
Tyreek Hill was the first player to score a touchdown rushing, receiving, and returning a kick (in the same game) since Gayle Sayers.
Cheetah King
Are Tiger King references still a thing that we're doing?
What a dumb question! Here's our latest Tiger King team names.
Hill Street Blues
Like this Tyreek Hill fantasy team name? You could also go with Hill Street Reds, if you're confident enough in your league-mates.
Hill Street Blues did go off the air thirty-some-odd years ago, but that might also be yall's style.
Win, Loose, or Tyreek
TH Balance
Cheetah Spots
Cheetah Coalition
A coalition is a word for a group of people working together. Plus, it's the official name for a pack of cheetahs.
If you're a team built around Hill (and maybe a few other burners) then it's basically perfect.
Tyreeky Blinders
This fantasy team name idea for Tyreek Hill is for that unique soul found at the intersection of fantasy football and British period dramas.
The Haunting of Hill Taking it to the House
Ant Hill
Hill Killers
This Tyreek Hill team name is slang for ATVs and dirt bikes because they chew up rugged terrain.
Hill Kill Cult
Or My Life With the Hill Kill Cult if you want to go 90's goth with your Tyreek Hill fantasy football team name.
Tyreeking Havoc
Tyreek Hill Fantasy Football Team Names From Readers
give em' hill
Submitted by: Deklan sullivan
The Hills have RAC
Submitted by: Cary Bach
I Think Thy Reek
Submitted by: Jeff King
Hill
Little blue hill
Submitted by: Nico k
Tyreek Hill Team Names from Around the Internet
Want an utterly free ninja fantasy team naming tip? If you type your team name in italics, it looks faster.
Also, if your text function doesn't allow for italics, you can try using this weird font tool.
Suit and Tyreek
One Tyreek Hill
King of the Hill
Hill Seeker
Hill Seeker. See? The italics thing works.
Get Your Reek On
Thrill Hill
Cash Money Hillionaires
The Tyreekoning
Ty Fast, Ty Furious
Tyreekasaurus Rekt
Run for the Hills
Other Team Names Based on NFL WRs
If you didn't land Tyreek, you can still name your team after your top WR. Here's our running list of wide receivers' team name articles:
Have an Original Tyreek Hill Fantasy Name Idea?
Do you have a unique and funny idea for a Tyreek Hill fantasy name? Tell me about it in the comments and I'll add it to our list.