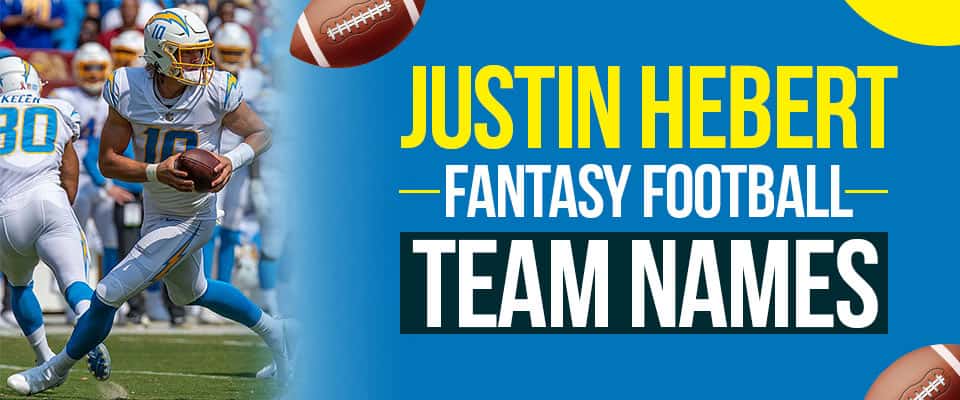 Chargers QB Justin Herbert is popular with the ladies for his long, blond hair. But I don't trust him.
He looks like the villain in a movie about nerds defeating college bullies. A popular rumor even claims he spent his entire rookie signing bonus on conditioner.
These facts don't have anything specific to do with Justin Herbert fantasy team names. But in this game, having an intimate understanding of a player's psyche is invaluable.
Justin Herbert Fantasy Team Names for 2022
Poor Tyrod Taylor.
First, he gets cracked ribs in week one of the 2020 season. Then in week two, the team doctor punctures his lung while administering a pain killer.
To make matters worse, his backup was a high first-rounder that sets all the records. Justin Herbert took over, and everyone in Chargers nation is thrilled.
Well, everyone except Tyrod Taylor, the unluckiest man in NFL history.
The Blonde Bombers
Siskel and Herbert
Peaches and Herbert
Herb Your Enthusiasm
Herban Outfitters
Herbert and Ernie
For this Justin Hebert fantasy team name variant, I also like Bert and Ekky. That is if you're lucky enough to have Austin Eckler on your team.
Justinfied
Justinfication
Justin-N-Out
Justin-N-Out is the perfect SoCal fantasy football team name for Justin Hebert.
Justinteresting
This Justin…
I think this Justin Herbert team name ideas is funnier with the ellipses.
ErmaHerb
Pee-Wee Herbert
Justin Herbert and the Tijuana Brass
Filthy and Herberted
Herman's Herberts
Herbert Crabs
#10 Herbs and Spices
This fantasy team name idea for Justin Herbert is based on the KFC slogan but modified slightly to include his uniform number.
Funny Justin Herbert Fantasy Football Team Names
When Justin Herbert showed up to training camp in 2022 totally ripped, the Internet lost its collective mind. But remember, he's a quarterback.
Tom Brady just put up some of the best numbers of his career with the daddest of dadbods. Better abs don't always equal better accuracy.
Do You Really Want to Herb Me?
Justin Time
Justin Case
No Justin, No Peace
Know Justin, know peace.
His and Herbs
Justin the Wind
All we are is Justin the Wind.
Justin a Pinch
Justin a Nutshell
Justin a Minute
Herbert's Dune
Maybe the nerdiest Justin Herbert fantasy name on this list. But hey, nerds play fantasy sports too.
Smokin' Herb
If this type of pun is your bowl of tea, then here are a few more kushy Justin Herbert team names:
Bowl of Herb
Kind Herb
Dank Herb
Doin' the Herb
Herbal Refreshment
Justoned
Justin Herbert Fantasy Names from Around the Web
The rest of the Internet is Tyrod Taylor, and I'm Justin Herbert. I'm snatchin' all your best Justin Herbert fantasy names, and I'm never giving them back.
Lemon Herbert
Or Strawberry Herbert, Rainbow Herbert – whatever your flavor of choice is.
Herbert Hancock
Herb Stomped
Herbert the Love Bug
Herbert's Heroes
Justin Do It!
His and Herbs
Herb Garden
Fantasy Team Names for more NFL QBs
Here's our complete list of team name ideas for NFL quarterbacks:
More Ideas for Justin Herbert Fantasy Football Names?
Do you have a funny idea for a Justin Herbert fantasy team name? Put your best ones in the comments below.