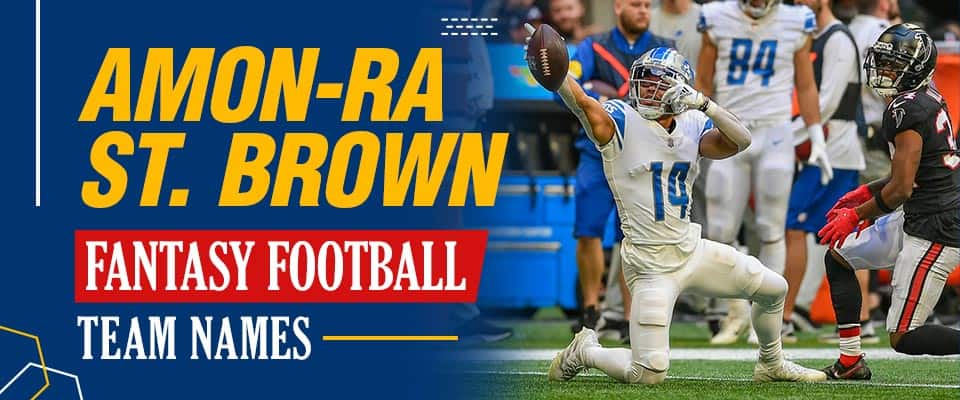 Amon-Ra St. Brown's 2021 season is the type that makes fantasy managers fans for life.
Most folks either drafted him with their final pick or grabbed him off the waiver wire. Then, he kept getting better throughout the season before peaking in the fantasy playoffs.
It's safe to say St. Brown will never go that cheap again. Here are our best Amon-Ra St. Brown fantasy team names to pay tribute to a championship crowner.
Amon-Ra St. Brown Fantasy Names for 2023
While his talent is rare, a name like Amon-Ra St. Brown is God-tier – literally. Amon-Ra was the ancient Egyptian supreme deity, with a name meaning one-one or no second.
The only God that could rival him was Osiris (which happens to be the name of one of Amon-Ra St. Brown's brothers). It also makes their older brother Equanimious seem pretty mediocre by comparison.
Amon a Roll
Amon It
A Man Amon Men
This Amon-Ra St. Brown fantasy football name comes with a logo.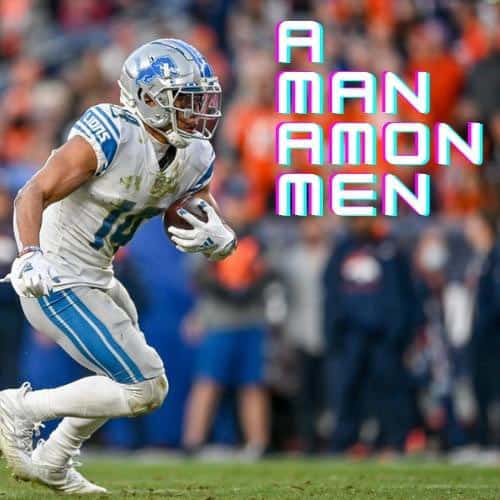 I Like it Ra
Amon Us
Sus.
Kouign-Amon
If you don't know what this is, find your nearest French bakery and get one now. Then, thank me!
Ra Deal
Brown to Clown
You can also be Down to Brown.
Amon Top of the World
In the Ra
The St. Brown Note
Ra Dog
If this Amon-Ra St. Brown fantasy name is not gross enough for you, how's Ra Doggin'?
Saints and Soldiers
Saints Row
Funny Amon-Ra St. Brown Fantasy Team Names
Amon-Ra, Osiris, and Equanimious' dad were named John Brown. Apparently, having one of the world's most common names makes you want to go the other direction with your kids.
As for the Saint part? John just thought it would look better on the back of a jersey. And you have to admit, he's not wrong.
Amon-Rastafarians
Boondock St. Brown
Saint Misbehavin'
Highway Ra-bbery
Highway robbery – like any trade you made for Amon-Ra before week 12.
I'm No St. Brown
Ra-Ra Sis Boom Ba
Rolling Brown-Outs
Amon-Ra St. Brown Fantasy Football Names from Around the Web
St. Brown not only took the league by surprise, he straight-up sucker-punched fantasy football team name writers. The Amon-Ra St. Brown fantasy names pool is woefully slim.
I promise you this, my friends: there will be way more out there for the [currentseason] season. Until then, I had to swipe some A.J. Brown fantasy team names to round out the field.
What Can St. Brown Do for You?
St. Brown Sugar
St. Brown Eyed Girl
In case you're more of a Van Morrison fan than a Rolling Stones fan.
Lawrence of Amon-Rabia
Browntasaruses
Brownie Troop
Wide Receiver-Based Fantasy Names for 2023
If you're looking for a WR fantasy team name, check out these articles:
More Amon-Ra St. Brown Fantasy Names
Do you have an original idea name for Amon-Ra St Brown? If so, add it to the comments. I'll add the funniest ones to this list.