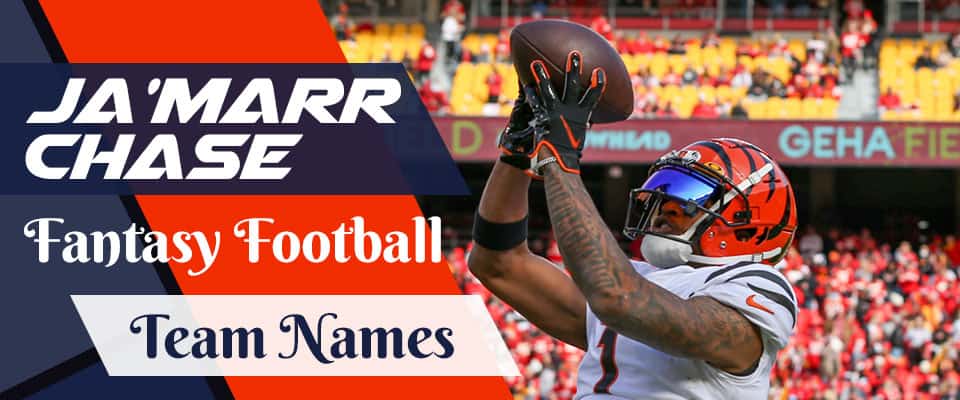 Ja'Marr Chase burst on the NFL scene as a rookie in 2021, finishing the season as one of the top wide receivers in the league. And, of course, he helped the Bengals advance to Super Bowl LVI (their first since 1988).
To celebrate this infusion of young WR talent into the league, we present our best Ja' Marr Chase fantasy football names. Let's hope Chase's career trajectory mirrors that of the best rookie wide receiver ever, Randy Moss.
Ja'Marr Chase Fantasy Names for 2023
Ja'Marr has stated that he wants and expects to eclipse his rookie numbers in 2022. Do you think he can avoid the feared sophomore slump?
If you're reading this article, you're likely on the Chase bandwagon. Just be sure there's room for me!
Ja'Maar's All-Stars
Maarface
Sure, this Ja'Marr Chase fantasy team name would be more applicable if he played for Miami. After all, he is most definitely not a homicidal drug lord.
But it is a cold-blooded fantasy team name if you're trying to strike fear in the heart of other teams in your league. And you get a free logo: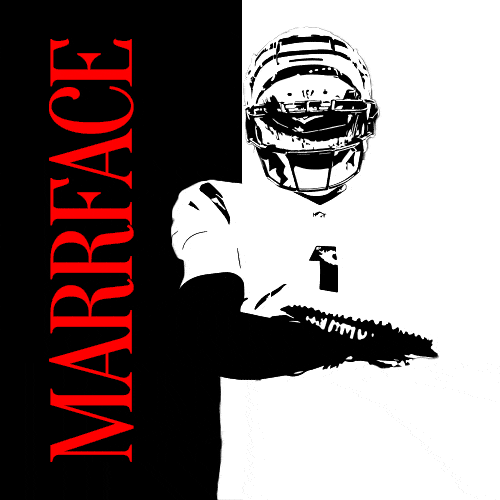 Ja'Maar of the Beast
Chase Me if you Can
Record Chasin'
Chasing Glory
Ja'marr X-Type
Chase for the Cup
This Ja'Marr fantasy name admittedly rips off NASCAR to a degree. But you can alter it to your liking:
Chase for the Prize
Chase for the Trophy
Chase for the [fill-in-your-league-prize-here]
NASCAR fans will also enjoy our article detailing the best fantasy racing team name ideas.
Wild Cat Chase
We're talking bengals here, not geese.
Cheat Code Chase
Chamarr Jace
5-Star Jamaar
Uno Flow
Uno is Ja'Marr Chase's nickname.
Chase Airspace
On any given Sunday, Chase owns the defensive secondary.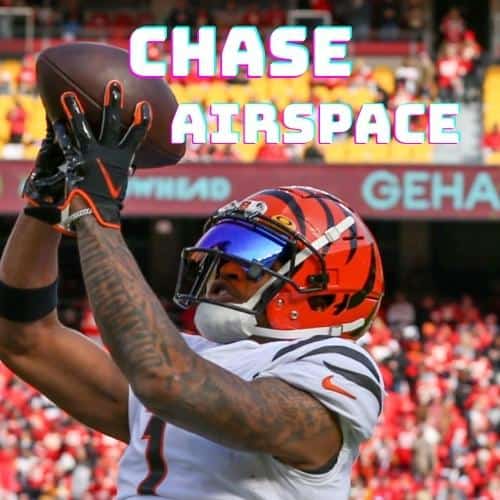 Chase-Down Ass-Up
That's the way we like to…. play.
Funny Ja'Marr Chase Fantasy Team Name Ideas
When Ja'Marr Chase helped the Bengals clinch the NFC North against the Chiefs, he had more receiving yardage (266) than Patrick Mahomes threw! And what did Ja'Marr say when confronted with this fact?
He apologized!
Now that's funny.
Maar Maar Binks
If you're a Star Wars fan (and you enjoy annoying the hell out of your league mates), this Ja'Marr Chase fantasy name could fit the bill.
You Jar Jar fans (and haters) will enjoy our article dedicated entirely to Star Wars fantasy football team names.
Kareem Abdul Ja'Maar
This combination would make one hell of an athlete.
Chubby Chasers
Every fantasy football league has one.
Saving Chase
Chase, the Final Frontier
Ja'Marr Chase Bank
Mar Chase
Playing the Chase Card
The Chase card trumps all others.
All You Chase are Belong to Us
Middle-aged computer nerds will have no problem knowing this meme.
Chase of Bass
Chase Your Ja'reams
Chase Time
A Chase in the Hole
Chasing Rainbows
Thrill of the Chase
Ja'Marr Chase Fantasy Football Names From the Web
In this rookie year, Uno surpassed all expectations. I can't say the same for the Internet writers brainstorming funny Ja'Marr Chase fantasy team name ideas.
Let's hope we can all step up our game in year two.
The Chase is On
Chasing Points
Chasing Greatness
Chasing Tacos
Fantasy Name Ideas for Other NFL WRs
If you enjoy naming fantasy teams after your stud WR, check out our other articles for specific wide receivers.
More Ideas for Ja'Marr Chase Fantasy Team Names
Do you have an original, funny team name idea for Ja'Marr Chase? If so, put it in the comments below.
We'll add the funniest ideas to this article.