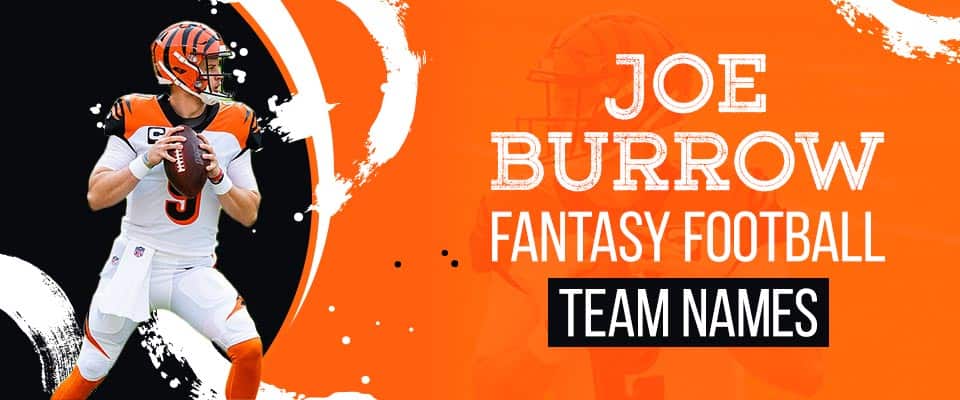 So here's a stat that says as much about the Bengals franchise as it does Joe Burrow's success. After two seasons, Burrow is already tied for the most playoff wins in franchise history.
Let's assume these Joe Burrow fantasy team names are in honor of the inevitable team leader in playoff wins. Then again, this is the Bengals. So maybe that's a little preemptive?
Joe Burrow Fantasy Football Names for 2023
Joe Burrow is Ohio through and through. Before he was drafted by the Bengals, he played both high school and college football in the Buckeye state.
His whole football career has been in Ohio. Well, other than that brief stopover in Louisiana. Ohioans think of that as his time abroad before coming home to claim his rightful throne.
JoeboCop
Joe Dirty
This Joe Burrow fantasy team name comes with its own logo.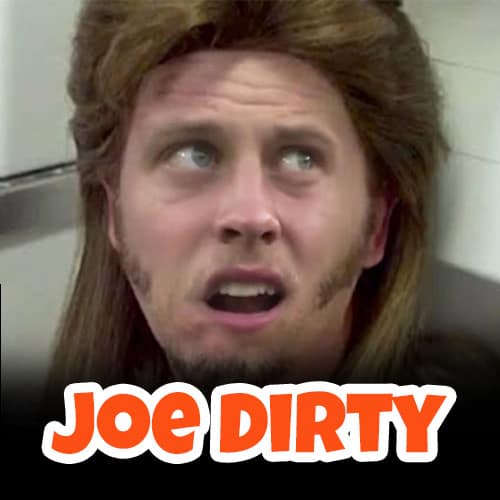 Joe-Hio
Joe'Marr and the Chase
If you love this duo, we've got plenty more fantasy team name ideas for Ja'Marr Chase.
The Joe Throwgan Experience
Jobots
The Jobotic Knee
Joe Burrow's lost rookie season was disappointing. But I think it's safe to say he bounced back ok.
Indiana Joes
G.I. Joe Burrow
Yo, Joe Burrow!
The Burrowers Afield
This Jow Burrow fantasy name is for anyone else that remembers The Borrowers.
Burronly the Lonely
Bur-Rowing Machine
FantasyJoes
This Joe Burrow fantasy team name idea is a shoutout to our friends at FantasyPros. If you want to read more about their fantasy tools, check out our full latest FantasyPros review.
President Joe
We have another article dedicated to hilariously patriotic fantasy names.
Funny Joe Burrow Fantasy Football Team Names
The fashion, the attitude, the cigar – it's undeniable that Joe Burrow's got swagger. But I suppose you'd have swagger too if you'd won:
Gatorade High School Player of the Year
The Heisman
The CFP National Championship
Comeback Player of the Year
And your high school named their stadium after you
And you took The freakin' Bengals to the Super Bowl your second year in the league? So yeah, he's earned a little swagger.
Joe Mama
This is the list of funny Joe Burrow fantasy team names, not classy Joe Burrow fantasy team names.
The Joe of Arcs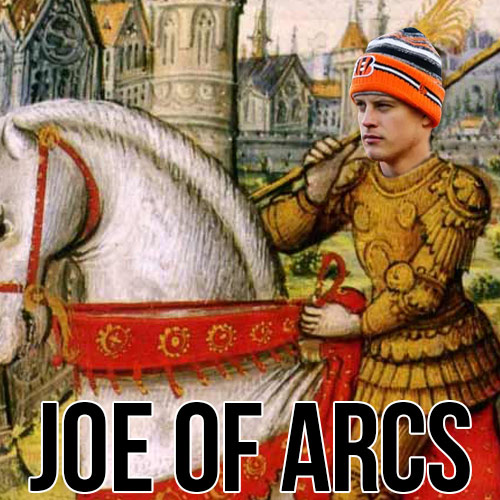 Bengal Burrow
Joe Burrow, Tiger King
Joe Exotic, Tiger King also works for the Joe Burrow team name idea.
MarlBurrow Smokes
MarlBurrow Man
Burrowing Down
Brother, Can I Burrow a Dime
Burrowed Time
Burrow Row Row Your Boat
If you're cocky, you could go with Burrow Row Row the GOAT.
Dead and Burrowed
You the Heis-man, Joe
Joever-the-Rhine
You probably don't get this team name idea unless you live in Cincinnati. But if you do live in Cincinnati, then you might have just found the best Joe Burrow team name ever.
Joemosexuals
The Joek's On You
If that Joek isn't your sense of humor, here are some other options:
Practical Joekers
Just Joe King
Inside Joeks
Sick Joeks
Joe Burrow Fantasy Names from Around the Internet
I've done one of the most challenging things in football. I've picked off Joe Burrow.
Well, I've picked off some Joe Burrow fantasy names. That's basically the same thing, right?
The More You Joe
Smokin' Joe
Geaux Jeaux
The Joely Trinity
Joevid-19
Burrowed Alive
Burrows Before Hoes
My Burrow is Thorough
Joe Six-Pack
Can I Burrow a Feeling?
This Joe Burrow team name is a deep Simpsons reference, and I love whoever thought of it.
Team Name Ideas for Other NFL Quarterbacks
Here's our other article dedicated to NFL QB fantasy team names.
More Joe Burrow Fantasy Team Name Ideas
If you have a funny and original team name for Joe Burrow, tell me about it in the comments below. We'll add the funniest ideas to this list.