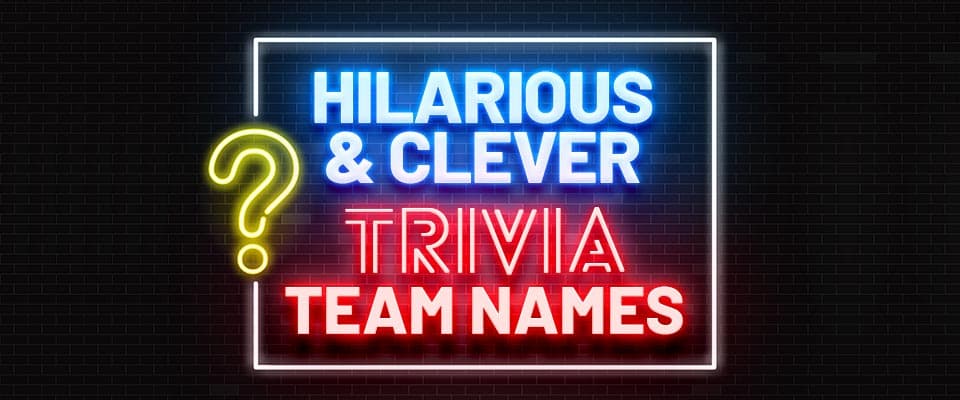 I've spent nearly a decade hosting trivia nights. So when it comes to trivia names, I've seen it all. The best names for trivia teams are quick jokes or puns that express your team identity.
Are you subtle and witty? Crass and brash? Maybe you're just a bunch of drunks?
Regardless of your team's personality, you'll get some inspiration from my collection of trivia team names for 2023. So let's put on our thinking caps and establish your squad's presence on the field of mental combat.
The Best Trivia Team Names for 2023
Is your trivia team a "same name every year" gang or a "new name every time" gang? Both approaches are valid, though one is harder to decide on, the other harder to remember.
Perennial Losers
Zero Facts Given
Question Everything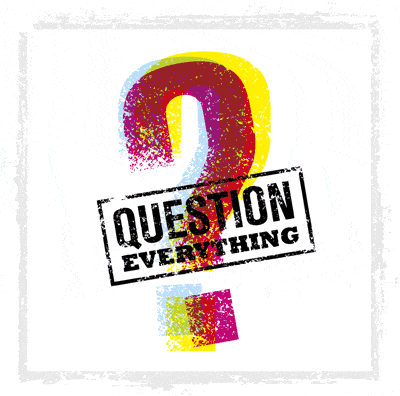 What the Fact
Fact Naturally
Knowledgendary
Thirstysomethings
Trebek Forever
YOLO Contenders
The Ramones of Trivia
It doesn't have to be the Ramones. It really can be any band. But let's face it, the Ramones just feels right.
Dirty & Offensive Trivia Names
Remember that no matter how gross or inappropriate your team name is, the host has to read it.
Know Job Artists
Sleazy Does It
I Gotta Quiz
You can go crazy with this dirty quiz team name:
Quiz in my Pants
Quiz On Your Face
Drink Your Own Quiz
Fact U
Team #68
You do us and we'll owe you one.
Esoterotic
Fact Sluts
Some other ideas for this NSFW trivia name:
Data Sluts
Info Sluts
Really, sluts of any kind
A Null Set's Not Empty Sets
This team name for trivia might be the dirtiest, most obscure thing I've ever written. But I can't fully explain it in good taste.
Let's just say that this is true mathematically, as well as for a certain style of lovemaking.
Red Wingmen
I think Well Read Wingmen could be an even better filthy trivia name. But it isn't for every room.
You have to be playing with folks smart enough to get the pun and raunchy enough to like it.
Playing for Peeps
Causal Sex
The dirty category wouldn't be complete without some sex trivia team names. As far as the name goes, there's nothing casual about it.
Cumming In First
Funny Trivia Team Names
My trivia team naming tip of the day: Stay away from jokes that make sense on the page but are harder to get aloud. Whine and Dine may be a witty and apt description of your cool team name, but the room most likely won't get it.
The Team of the Future of the Past
We used to be very promising.
And In First Place…
Or, of course, the more humble version of this trivia team name: And In Last Place…
Dumb Chumps
Grabasses
No Horseplay
Quiz You Is Or Quiz You Ain't My Baby
Don't Quiz on the Electric Fence
We've Got an Ask to Grind
This moniker is a funny trivia team name on a few levels.
Getting Our Answerve On
A hilarious trivia team name if you're playing trivia in a bar.
Quizzards of Quaverly Place
Coronavirus and Quarantine Trivia Team Names
These trivia names are only for rooms that can handle the hilarity. That said, trivia nights (especially pub trivia nights) can have dark senses of humor.
Your Mom's a Super Spreader
Quaranteam
Bubble or Nothing
Fatten the Curves
The name is for your more zaftig of trivia teams. Or, it could be for those that gained the "quarantine fifteen".
Vax Scenesters
We Test Positively
We tested positive…for fun!
Covid-21 and Up
Corona Nation
Bubble Boys
Impatient Zero
Unprecedented Teams
Sourdough Starters
Antisocial Distancing
Six feet is a good place to start.
Mask Me a Question
A great quarantine trivia name that will (hopefully) lose its relevance soon.
Mask and You Shall Receive
2020 is Hindsight
Stay at Homies
Zoom to the Top
Clever and Creative Trivia Names
Sometimes the person you most want to amuse is yourself (and maybe the other doofuses on your team).
Former Child Geniuses
Round Three is Odd
Yes, it is.
Factually Accurate
ErrAtta Boy
Fact of Contrition
Hero's Question
The Spanish Quizition
I, the Host, am Wearing a Purple Thong
It doesn't matter if it's a purple thong or jockstrap, as long as it's embarrassing. Remember: no matter how goofy or witty the trivia name, the host has to read your team name out loud.
A Round for the House
They have to read it out loud.
Political Trivia Team Names
Nobody's saving the free world with a political trivia team name. So let's all just relax and have some fun, okay?
If you're into fantasy football, you'll love our article dedicated entirely to political fantasy football names.
QAnon Anonymous
QAnon And On And On
I hope this political trivia team name doesn't get me de-platformed!
Electoral Décolletage
Separatist Fact Shun
Alternative Fascists
Joe Biden Trivia Team names
Biden Our Time
Biden Off More Than You Can Chew
Sleepy Joe's Sloppy Joes
A Case of Mistaken Bidentity
Biden-Sexuals
Kamala Harris Trivia Team Names
Kamal Out Of Ideas
Kamala's First Gentlemen
Grande Kamala Macciato
That Good Harris
Conversing with Kamala
It's pretty cool that I'm currently wearing the exact same shoes as our Vice President.
Donald Trump Quiz Team names
Bye, Don 2020
New Sedition
Very Stable Geniuses
Swamp Drainers
Rudy CAN Fail
If contemporary political quiz names are still a little too soon for you, I present some old-school possibilities.
The Slick Willies
Bob Dole Stole Our Pen
Don't Kissinger and Tell
Jimmy Carter's Nuts
FDR After Dark
Awesome, Cool, & Fun Trivia Names
Not every name has to be some pun or portmanteau. And if you don't know what portmanteau means, you're why your trivia team loses.
Known Commodities
Wonder Boys
Factcident of Nature
Vincent Price Is Right
Chill Communication
Hot Bots
How Many of These Pictures Have Street Lights in Them?
Bar & Pub Trivia Team Names
We say pub trivia because it sounds like more fun than facts for drunks. Actually, I take that back. Facts for Drunks is a fantastic name for any trivia night.
Smarty Pints
I Drink and I Know Things
My Drinking Team Has a Trivia Problem
The best pub trivia name ever.
Smarter When We Drink
Smartinis
A witty team name for dives, pubs, and speakeasys. But most of all, martini bars.
Pubstep
Good Eats Mob
Punk In Drublic
Ginned Up
Speed Data
Mr. Whiskers' Whiskey Mixers
This bar trivia name gets better and better if you have an MC that enjoys a drink or two.
TV, Movies, and Entertainment Trivia Team Names
One of the best ways to connect with a room is a sweet, shared, cultural reference. You can also go too obscure and just fly right over everyone's head, so choose wisely.
Little Lebowski Urban Achievers
And proud we are of all of them.
The Rushmore Academy Beekeeper's Club
Inglorious Basterds
I don't know why it's misspelled either, but who am I to question Tarrentino? Hey, speaking of which…
Question Tarantino
Winnith Paltrow
Esoterick and Morty
Globo Gym Purple Cobras
Last Faction Hero
The 99
The name isn't as fun as the chant is. Every time the MC reads your team name, you get to do this:
The Office Trivia Team Names
It wouldn't be a team name idea article without The Office trivia names. It's the show that keeps on giving.
Schrute Farms Beet Buds
PB and J
Jim and Pam Stans
Threat Level Midnight
The Alliance
Schitt's Creek Trivia Team Names
Ew, David
Wine and Roses
The Jazzagals
Bob's Bagels
Schitt's Creek Town Council
Roland With the Homies
Rosebuddies
Star Wars Trivia Team Names
Like The Office, Star Wars trivia names are a must. They span generations (and millennia).
Han Duo (or Trio)
All-Organa Diet
Wayne and Darth
Kylo Ren and Stimpy
Sarlackies
Never Sarlacking for Confidence
Lando Lakes
R2-D2's DJ RJ-D2
Seinfeld Trivia Team Names
Stay in Your Elaine
Jerry's Kids
Fusilli Jerry
Kramer vs. Kramer's Racism
Master of our Domains
The Summer of George
The Little Kicks
Harry Potter Trivia Team Names
Olivander's Wand Handlers
The Fantastic Beasts
Diagon Fishin'
The Short Albus
It's Not a Head Injury It's a Wizard Mark
Disney Trivia Team Names
Trigger Warning: Some of these title could harbor white supremacism undertones!
Snow White and the Seven Dorks
Lady and the Tramps
The Facts and the Hound
Ursula's Poor Unfortunate Souls
Peter Pandemic
Jafar and Away
The Lion Kinks
80's Trivia Team Names
Maybe you played pub trivia back when it was just called getting drunk and playing Trivial Pursuit. Or maybe, you've just seen those days on YouTube and want in.
Mullets Get It On
The Scrunchie Bunch
Fact Times at Quizmont High
Fact to the Future
GLOW Big or GLOW Home
For this trivia team name, I would also accept Day-Glo Big or Go Home.
Ronnie Reagan's Jelly Bellies
We Shot J.R.
All About Dat DallAss
Xanadudes
Valley Girls
If you enjoy this 80's trivia team name, you may enjoy our article dedicated entirely to girl squad names.
Bosom Buddies
Facts of Seagulls
ET Would Like to Phone a Friend
Party Keytarters
8675-3 More Wines
Try singing this 80's trivia name before making up your mind. It's pretty fun.
Daft Leopards
Eddie Murphy's Delirious Tremens
Mes Amis Vice
Sixties Candles
The math on this 80s trivia team name works out quite well.
Macchio Macchio Men
Martini McFly
Smarty McFly
The McFly Girls
Shall We Play a Game?
Nerdy Trivia Team Names
The way nerds fall in love is by making jokes that no one else understands. Then, when one person across the room laughs, you know you've found your soulmate.
Fact Toters
Actually…
Proust's Madelines
Full disclosure: this trivia team name idea is a repeat name idea from another list post.
Smarty Party
The Final Fact of the Play
Minutia Butter
Wait a Minutia
You Errata Be In Pictures
Holiday Trivia Team Names
I've always loved those trivia nights right before a holiday. No jokes here. Those are just truly fun nights.
Factsgiving
Brainy Turkeys
Green Brains Casserole
A Benihana Christmas
I know, I already did The Office trivia team names, but I couldn't help slipping just one more in. (That's what she said.)
Merry Quizmas
Quizmas Carolers
The Fight Before Christmas
Ghosts of Christmas
This holiday trivia team name works best for a three-person team as you can be past, present, and future. If a fourth person shows up, then I guess they have to be Jacob Marley.
Spooky Scary Skeletons
Sexy Liches
Evil Geniuses
For this holiday trivia name, you could go with Reformed Evil Geniuses if you want to feel like the good guys.
Fifths of July
America the Trivial
LGBTQ+ Trivia Team Names
I guarantee you the best trivia night in your town happens at a gay bar.
Genderfact
Masc Me a Question
Kinsey Ales
This trivia name idea is a perfect LGBTQ+ name if you have a smart crowd that also enjoys a good pint. If you have a super-smart crowd you can kick it up another notch with Six on the Kinsey Ales.
We Otter Be in Pictures
Useful Fluidity
Lez B Friends
It's Brainy Men
Hallelujia, It's Brainy Men.
Exes and Allies
Grinder Tribe
Night GROWLs
Wide HorNets
Quizzo Team Names for 2023
Is Quizzo different than regular pub trivia? Hell yeah, it is.
How is it different? Um… Shut up and drink your beer, Jabroni.
Quizzo Fuckyaself
I'll Quizzo You One
Or You Can Quizzo Me, whichever suits you better.
Always Money in Philadelphia
Philadelphia Fandom
Quizzo Juice
Double-Z Top
The One and Quizzonly
Dirty Jawns
Hines Quizty Seven
Now that's a deep quizzo cut.
Let Johnny Goodtimes Roll
Now there's an even deeper quizzo cut.
PubQuiz Team Names
Americans think that they invented trivia nights because, let's face it, Americans think they invented everything.
Sick Burns and Porter Ales
Now there's some trivia about trivia for you.
Union Jackpots
Jackpotheads
Marking Territory
Infinite Trouncing
Three Answer Sheets to the Wind
Publicly Housed
Smartinis
Classic Trivia Team Names from Around the Internet
These classic trivia team names have been around the circuit a time or two, but they never fail to get a chuckle.
Trivia Newton John
Let's Get Quizzical and Let's Get Trivial are also options for you ONJ stans.
John Trivialta
Quiz Pro Quo
Kids Who Can't Read Good
Quizly Bears
Don Quizote
Sherlock Homies
Quizzness in the Front, Party in the Rear
Taking Care of Quizzness
E = MC Hammer
QuizTeama Aguilera
Star Trebek
More Ideas for Trivia Team Names?
Do you have an original idea for a trivia team name? Tell me about it in the comments below.
I'll add the good ones to this list.