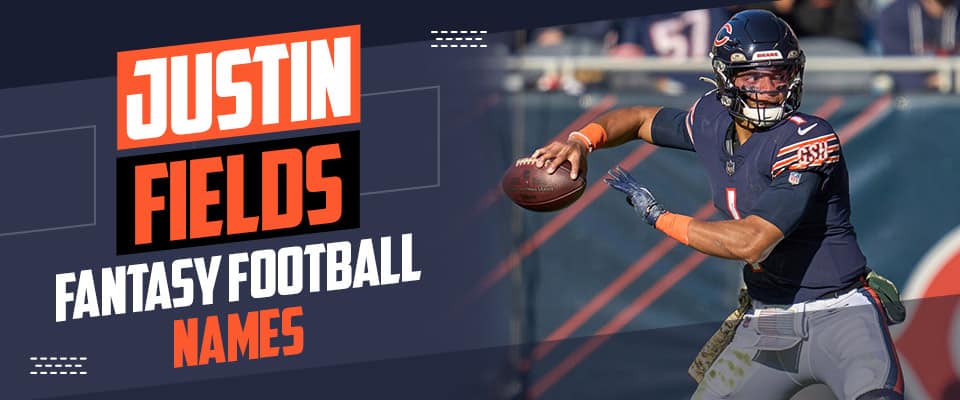 Regardless of his "insane work ethic", Justin Fields and the Bears could be in for a long season. Most pundits have the Bears winning 4-5 games, so they're facing an uphill battle.
The upside? They'll be leaning on Fields heavily to carry the team!
So in the spirit of playing from behind (and piling up the fantasy points), here are our best Justin Fields fantasy football team names.
Justin Fields Fantasy Names for 2023
FantasyPros thinks Fields is good for 4000 total yards and 20-ish TDs in 2022. That would put him right outside of the top ten quarterbacks.
Personally, I think by mid-season people will be leaning more heavily on the Georgia native. Then, you'll be thrilled you have these!
The Magnetic Fields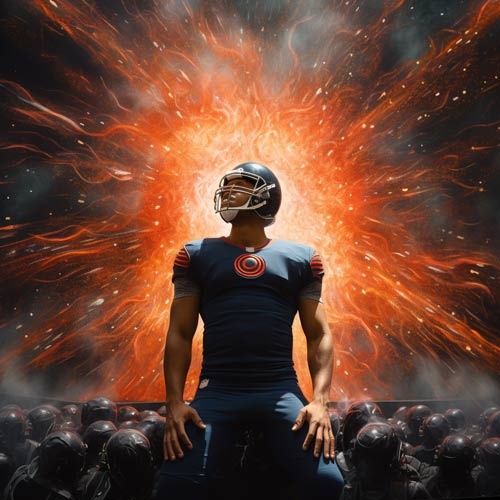 Crop Justin'
The Just Brothers
If Justin Fields has a career like these guys, we'll have to conclude that he was a huge success.
Just Causes
The Fields Generals
He can be my field general any day.
The Killing Fields
Not to be a complete downer, but I based this Justin Fields name on the 1982 biographical drama.
Field Trippin'
In Just we Trust
Strawberrry Fields Forever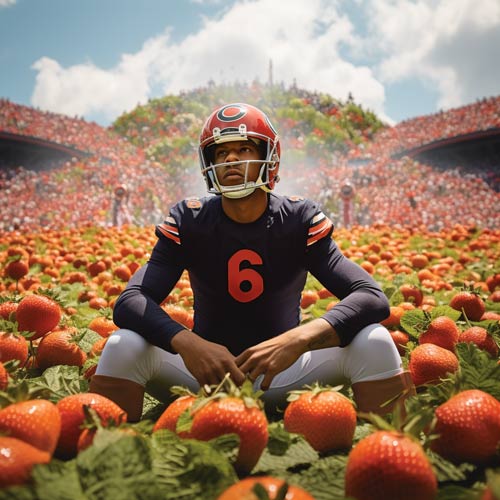 Angel Just
Fields of Battle
Got a Just for Life
Fans of Iggy Pop will love this Justin Fields team name idea.
Pay the Fields
Suggest a Justin Fields Fantasy Football Team Name
Your name may be added to this post!
Funny Justin Fields Fantasy Football Names
What does BEARS stand for? Been Enduring a Rebuilding Season.
Let's hope this season doesn't fall into that category.
The Sally Fields
All we are is Justin the Wind
Track and Fields
Check out our article dedicated entirely to Chicago Bears fantasy football names.
Just Around the Corner
Field Days
Fields Like the First Time
You Make me Fields Like a Natural Woman
Fields the Burn
Fields the Noise
Fields my Ubiquity
This is an uber-obscure Justin Fields fantasy name for Stern fans.
Fields so Good
Justin Fields Fantasy Football Team Name Generator
Justin Fields Fantasy Football Team Names From Writers & The Community
Justin Fields Fantasy Football Team Names From Readers
Justin time to lose
Submitted by: lily
Cooking with Fields
Fields like a win
Submitted by: Charlie Diamond
Forcefields
Submitted by: Gio
It Fields like Im gonna when
Submitted by: Ali Smith
Trustin Fields
Submitted by: Daniel Hope
Justin Fields Team Names From Around the Web
It turns out that Justin Fields is perfectly malleable when it comes to building fantasy team names. Still, I found a few other names around the web that are notable.
Fields of Dreams
Love is a Battlefield
Strawberry Fields Forever
Fields Like Making Love
Soldier Fields
Team Names for Other NFL Quarterbacks
Be sure to read our other articles detailing fantasy name ideas for NFL QBs.
More Justin Fields Fantasy Team Name Ideas
Put your original Justin Fields fantasy football team names in the comments below. We'll add the funniest ones to this article.