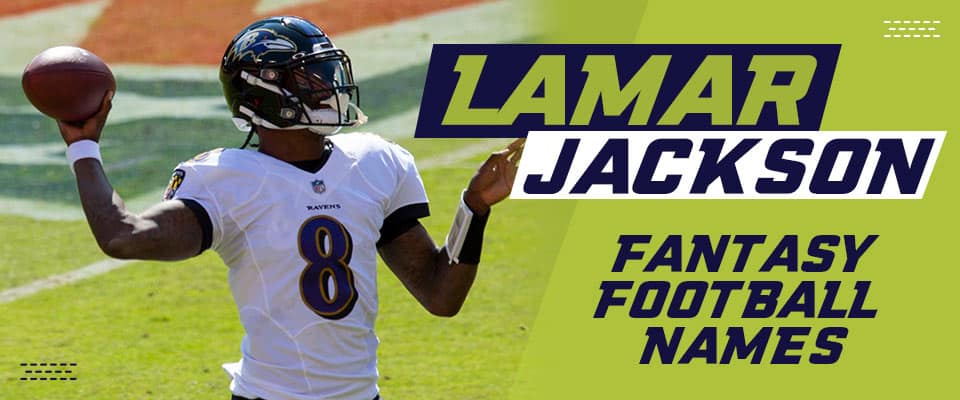 Has there ever been any quarterback as dynamic as Lamar Jackson? Here are just a few of his accomplishments:
Must rushing yards by a QB in a season
Only QB to rush for 1000 yards twice
Youngest QB to start a playoff game
Highest touchdown percentage
And honestly, there are dozens more I could include, but I don't have the time. We've just got too many Lamar Jackson fantasy team names to reveal.
Lamar Jackson Fantasy Names for 2023
You always have a sweet spot for players who outperformed their draft position. I'll never forget taking Jackson in the ninth round the year he led the league in fantasy points – ah, the memories.
Imagine how the Ravens feel about drafting him 32nd overall, the fifth QB in the draft. Think the Jets might want that Sam Darnold pick back?
Lights, Camera, Jackson
The Jackson 11
Jackson County
Lamark it 8, Dude
The Smiley Face Killer
Jacksons Speak Louder than Words
Anti-Vackson
Jackson GOT7
This Lamar Jackson fantasy football name is a K-Pop thing.
Lamarvelous
The Lamarge Simpsons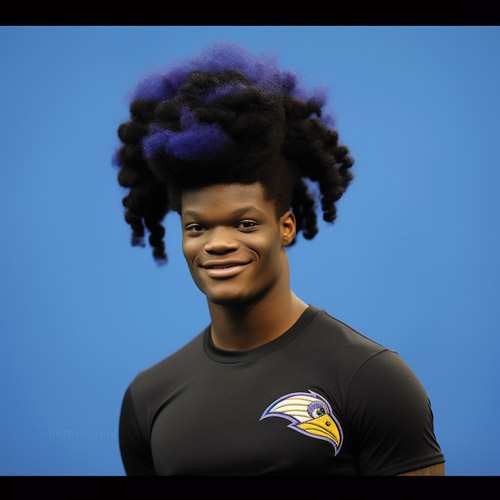 Lamarvel Universe
Jacks-on, Jacks Off
I'll never understand why we were all cool with Mr. Miyagi telling Daniel-san to whack it. Or did I misunderstand that movie entirely?
Lamartian Chronicals
Long Lamar of the Law
Alternately, Long Arm of the Lamar.
Lamarmed Forces
United States Lamarmy
Lamar Samuel Jackson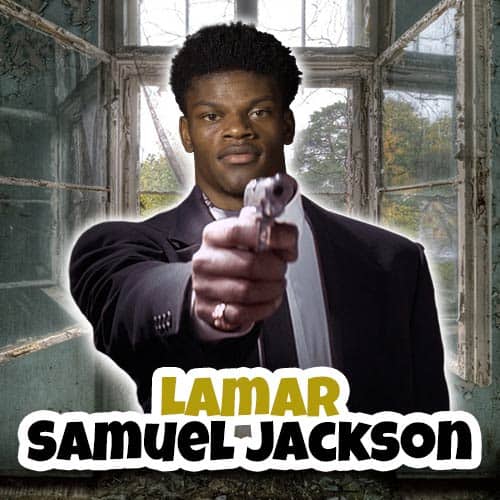 Jackson's Holes
Lamarvel Studios
LaMarzocco
This Lamar Jackson fantasy name is perfect if you're crazy about espresso and crazy rich.
Eight is Enough
Suggest a Lamar Jackson Fantasy Football Team Name
Your name may be added to this post!
Funny Lamar Jackson Fantasy Team Names
Lamar Jackson is willing to face down any opponent, no matter how big and tough. Want proof?
Lamar Jackson literally took on Amazon – yes the Amazon, like the online everything store. And you thought the Bills' defense was scary!
LaStar Jackson
Eight Ballers
Playaction Jackson
Lamar You Not Entertained
Super Lamario
Ravens of the Lost Lamarc
If you're a Ravens fan, we have an entire article dedicated to Baltimore Ravens fantasy team names for 2023.
Lamargin of Error
Lamar You Ready for This?
Eight Days a Week
Eight Legged Freak
Mr. Jackson If You're Nasty
Lamar Jackson Fantasy Football Team Name Generator
Lamar Jackson Fantasy Football Team Names From Writers & The Community
Lamar Jackson Fantasy Football Team Names From Readers
The man on the mic that they call Lamar
Submitted by: Mike S
Loaded on Lamar
LaMoney Jackson
Submitted by: Jonathan Vazquez
Lamar Jackson Fantasy Names from Around the Web
Out of all the records Lamar Jackson has set, the most impressive might be beating the Madden curse. Here are a few final Lamar Jackson fantasy names to celebrate this totally fake accomplishment.
New Jax City
Dude, Where's Lamar?
How are we still referencing this one dumbass movie from like 20 years ago… said the guy referencing that dumbass movie from 20 years ago.
This Lamar Jackson fantasy football team name idea will be ideal if he starts to slide late in the fantasy season.
Lamar the Merrier
Lamar You Know
Lamar Morghulis
I'm told this Lamar Jackson fantasy name is a Game of Thrones thing.
Captain Lamarvel
Let Me Jax You a Question
Jax to Grind
More Team Name Ideas for NFL Quarterbacks
Here are some more articles dedicated to QB fantasy team names:
More Lamar Jackson Fantasy Football Names
Do you have a funny team name idea for Lamar Jackson in 2023? Put your idea in the comments below, and I'll add the funny ones to this article.