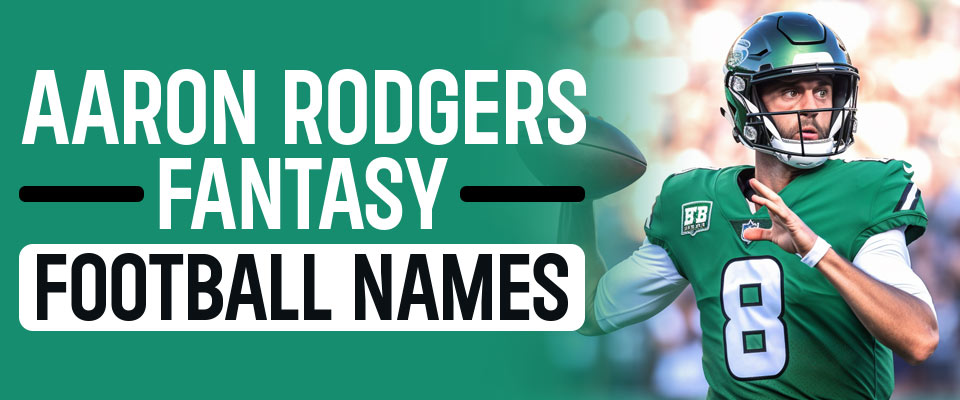 Brett Favre left the Packers as one of the best quarterbacks in NFL history. There was no way the scrubby holding Favre's clipboard for three years could replace him, right?
Well, that scrubby kid has more touchdowns, fewer interceptions, and just as many titles as the ol' gunslinger. Here are our best Aaron Rodgers fantasy team names to honor the guy that made Packers nation say Brett who?
Aaron Rodgers Fantasy Team Names for 2023
Remember when people thought Alex Smith was going to be better than Aaron Rodgers? Smith was OK (he had that one good season), but Rodgers has the second-best passer rating in NFL history.
So don't beat yourself up if you miss a pick or two in your drafts this fantasy season. Nearly every GM in the NFL screwed up that year, and it's their real-life job.
Who Framed Rodgers Rabbit?
Discount Double Checkdowns
Making Aaron for It
Cops and Rodgers
Aaron for Their Money
A Good Rodgering
Aaron Rodgers' Ponytail
Please modify this Aaron Rodgers fantasy team name with some colorful adjectives.
Aaron Rodgers Skeevy Ponytail
Aaron Rodgers Greasy Ponytail
Aaron Rodgers Stoner Ponytail
You get it.
Aarogenous Zone
Up In the Aaron
You Done Messed Up, A-Aron
Captain Rodgers' Avengers
Home Aaron
Aaronning Away With It
Aaron for Your Life
Aaronnin' Down a Dream
Aaron to the Hills
Aaron-Around
Aaronning Up that Hill
Kate Bush (and Stranger Things).
The Aaron Up There
An Aaron Judgement
As in an error in judgment – you know, like telling the press you've been immunized.
Aaron the Side of Caution
Rodgerm of an Idea
The Chico Chico
The 49ers had the chance to grab a NorCal native and make him their franchise QB. Instead, they went Alex Smith – and then Trent Dilfer, Colin Kaepernick, Blaine Gabbert, Nick Mullins, Jimmy Garroppolo, and Trey Lance.
Think there's any regret there?
Suggest an Aaron Rodgers Fantasy Football Team Name
Your name may be added to this post!
Funny Aaron Rodgers Fantasy Football Team Names
So Aaron Rodgers lost the Jeopardy hosting gig to Ken Jennings, which makes sense. Rodgers won on Celebrity Jeopardy, while Jennings won on real Jeopardy.
If Rodgers had won, that would have been like giving a fantasy team owner a real NFL GM job. Sorry, buddy. No matter how many Yahoo championships you win, you're not getting an NFL interview.
Aaron the Jewels
Aaron-DMC
This Aaron Rodgers fantasy name works if you're too old to know who Run the Jewels are.
Rodgers is in Jeopardy
AR-12 Guns
AR Glasses
Aarunning Red Lights
Still Waters Aaron Deep
AR You Messing with Me?
AR You Effing With Me, AR You Screwing with Me, etc.
Praise Godgers
Rodgersy Boys
Rodgersy Shore
This Aaron Rodgers fantasy football name uses the same pun as Rodgersy Boys, but is a lot less classy.
Rodgerk Offs
This team name idea uses a different pun and is even less classy. But who says fantasy football team names need to be classy?
Aaron Rodgers Fantasy Football Team Name Generator
Aaron Rodgers Fantasy Football Team Names From Writers & The Community
Aaron Rodgers Fantasy Names from Around the Web
No one in NFL history has been harder to intercept than Aaron Rodgers. Literally no one.
Aaron Rodgers fantasy names, on the other hand, are remarkably easy to pick off.
The Lone Rodgers
Aaron it Out
Mr. Rodgers' Neighborhood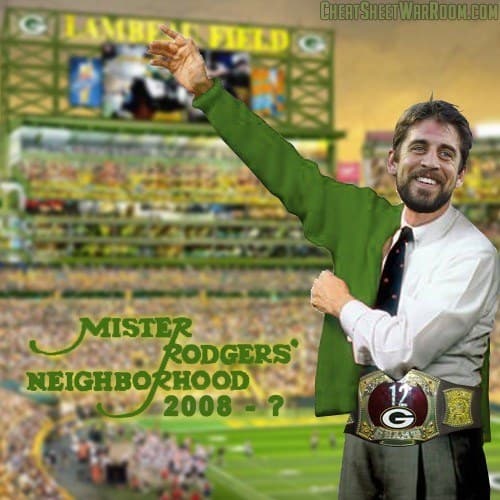 Armed Rodgery
Discount Double Check Yourself
The Jolly Rodgers
Rodgers That
Rodgers Wilco
Fantasy Football Names for Other NFL Quarterbacks
If you like naming your fantasy team after your stud QB, check out these articles.
More Aaron Rodgers Fantasy Football Team Names
If you have a cool and funny team name idea for Aaron Rodgers, tell us about it in the comments below. We'll add the funniest ideas to this list.