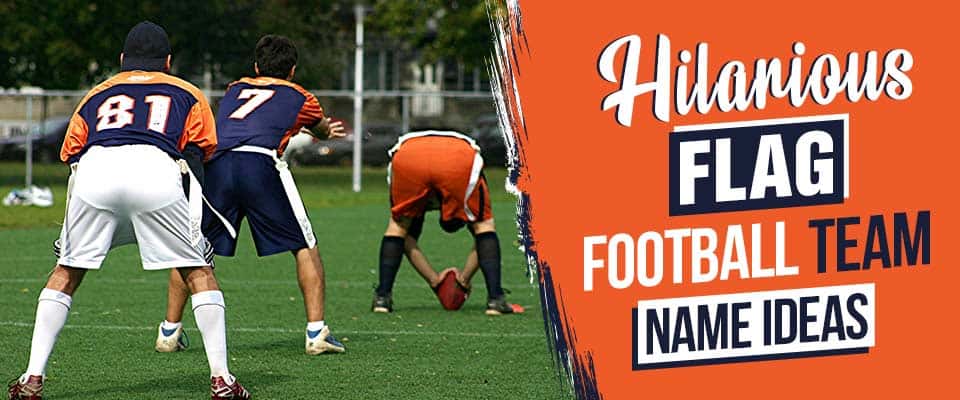 You want a bold prediction? Before long, flag football will be more popular than regular football.
Ok, maybe that's too bold. But it's not unreasonable to think that flag football will steal some of the big boys' market share.
It has all the drama of the contact game, but without the feeling that you're watching a roided-out Squid Game. What I'm saying is we're probably gonna be needing some more flag football team names.
Flag Football Names for 2021
Whether it's a rec league, youth football, or the powderpuff game, we've got you covered on the flag football names. If you're starting a pro flag football league, on the other hand, call us.
We'll set you up with some custom flag football team names for your league. And they'll be way better than the ones we give these yutzes for free (sorry, yutzes).
Catching Fields
Parents' Embarrassments
Maybe winning a rec league championship will make up for the fact that you quit the varsity team junior year.
Alligator Army
Throwbacks
That's Gotta Hurt
Once you reach a certain age it doesn't have to be tackle football in order for you to feel it in the morning.
Smashmouth All-Stars
Some Quit in 'Em
In order to make it to the NFL, there has to be no quit in you. For everyone else, there's some quit in them.
Giving 75%
This follows the same principle as the last one. For NFL players, you have to give 110%, for the rest of us, giving 75% is pretty solid.
Wounded Ducks
Dying Quails
People's Champs
You might not be the champs in the standings, but you are the People's Champs.
Returning Chumps
Passing Fancy
Running Wild
Not Gonna Lie, They Had Us In the First Half
Or just Had Us In the First Half if you're in one of those lame leagues with character limits.
Funny Flag Football Team Names
These names are literally flag football-based flag football team names. Flag football team names about flag football – you'll get it.
Flying Flags
Flags for Nothing
Flags for the Memories
Flags of our Fathers
I get it if that name is too heavy for you, what with the war stuff and all. You can also do something lighter like Flags of Our Daddies or simply Flag Football of Our Fathers.
Flags You Like It
Flaggro
Flagouraphobia
Flags the World Turns
Flaggretsuko
I don't know what kind of flag football/anime fanboy crossover there is out there, but who knows. Maybe you weebs just found the perfect intersection in the Venn diagram of your interests.
Flaggressive
Here are some other plays on the flag + aggressive combo:
Flaggressive Behavior
Flaggressive Dogs
Flaggressive Play
Displays of Flaggression
Badass Flag Football Team Names
Just because you're not allowed to kick anyone's ass anymore there's no reason you can't still be kick-ass.
Ass-Kickers Synonymous
Chicago Beers
Big Flex
The Cutters
Team Rolling Thunder
The Stampede
Ford Tough
The Drivetrain
Gunslingers
Downhill Runners
For the pros, downhill runner is about their running style. For you guys, it's about your lifestyle.
Creative Flag Football Team Names
Regardless of the score of the actual game, these will at least be wins in the team names column. And isn't that the greater victory?
No, victory is the greater victory. But it's not nothin'.
Ungifted and Talentless
And in First Place
The Ideal Team Has Never Been Assem-
Any Given Faraday
If you like this, check out this list of nerdy fantasy football team names.
First Downers
First Rounder with Cheese
Cleatspeak
Comeback Squids
It's only a Squid Game fantasy football team name if you want it to be. That does open some uniform options for you though.
Girls Flag Football Team Names
Ok, so maybe I was a little aggressive about the whole flag football will pass regular football thing.
Mark this down for real. girl's high school flag football will be a thing in America by the year 2030. And I'm not just talking powderpuff games.
Powderbuff Football
Empresses
Yardbirds
Ladyhawks
Fillys
Lionesses
Queen Bees
Chantelles
A chantelle is a female partridge. I like it because it sounds like the name of a 60's girl group.
Hembras
A hembra is a female alpaca. If nothing else, it's at least unique.
Kids Flag Football Team Names
Good kids' flag football team names tend to involve animals, cool machines, or inspirational abstract concepts. Your mascot has to walk the line between encouraging kids to play hard but not way too hard.
Tigertails
Flying Tigers
Sure, there's some history here, but mostly this name is based on the fact that kids like tigers and things that fly.
The Diggers
This name is based on the fact that kids love construction equipment, especially excavators.
Young Wizards
Superheroes
Youth Flag Football Team Names
Youth flag football team names can be a little tougher than kids team names, but not too much. You're trying to raise athletes, not sociopaths.
Running Forward
The Swarm
The Wolfpack
Young Guns
Afterburners
The Brave
We Are Groot
For more superhero football team names, check out our big list of fantasy football team names.
Dirty Flag Football Team Names
Because if you're already acting like a bunch of teenage dudes by playing football, you might as well go all the way. Heh. Go all the way.
Pull Me Off
Yankers
First Round Draft Dicks
Deep Threat
Quick Twelfth Step
Ok, that one isn't dirty, but it is an adult fantasy football team name.
Clever Flag Football Team Names
You may not get these team flag football team names, but the smart guy on your team will.
The London Silly Nannies
The Wrecking Crew
The New Power Generation
Hammer's Running Men
Running Styles of the Poor and Fameless
Has-Beens
The B-Team
The Scrubs
The Practice Squad
Taxi Squad
Gracious Losers
Kids Table
In fairness, I stole some of these self-deprecating team names from our list of team names for all occasions.
Flag Football Team Names from Around the Web
Ok, I hope I'm not shaking the foundations of your reality here, but here goes. More or less any regular football team name can also be a flag football team name.
Kiss My End Zone
Multiple Scoregasms
The Cut-Ups
Thirst Traps
Sunday Morning Quarterbacks
Commuters
Inevitable Winners
Sun's Out Guns Out
Beast Mode
Feast Mode
Wiest Mode
Turf Enerf
Field Generals
Second Effort