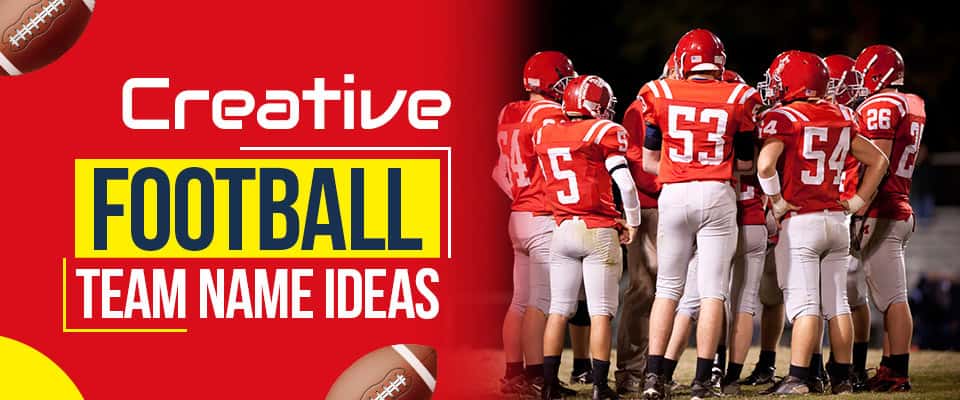 When it comes to winning, good football team names aren't the most important thing – that would probably be good players. But they are still important.
Football team names are like uniforms in that they help establish a team identity. They can create a sense of unity, set a tone for your season, promote an inside joke, or intimidate your opponents.
Also, like uniforms, the refs won't let you on the field without one.
Football Names for 2023 Teams
If you use any of the football team names on this list, please let us know!
The only thanks I ever need is seeing one of these team names on a trophy someday. Well, that and a share of any cash winnings would also be nice.
Absolute Unit
This football team name could be applicable because your team is so cohesive, not because of your impressive dadbods. Speaking of which…
The Impressive Dadbods
I love football team name ideas that come with a free logo!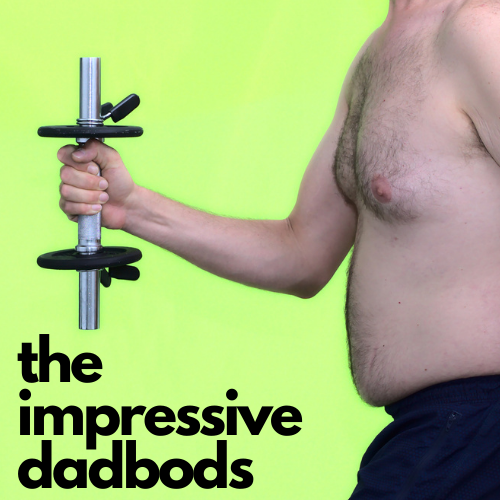 I Like Hike
Jabba the Hut Hut Hike
Throwing it Out There
Turf Guys
I love this idea for a golf team name.
Big Flex
Interception Inception
This idea is so witty you could use it as a clever flag football name.
Hard Tack
Point of Attackle
Linefronters
This football team name is pretty stupid, I admit.
#FreeSafety
Dime Package
Bringing Running Back
The N.F.L.
If you write NFL, then you're talking about the league. If you use periods, then it can mean whatever you want.
Nice Fellows League
New Friends League
No Fear League
Never Finish Last
No Fuckin' Losers
Suggest a Football Team Name
Your name may be added to this post!
Backyard Football Team Name Ideas
Backyard football team names are like the quarterback option. You may have freedom of choice, but you just don't have that many choices.
Invincible Armadillos
Ornery Hornets
Junior Tackling Dummies
Humongous Melonheads
Head! Pants! Now!
Wooly Wombats
Pretty Ponies
This sounds like one of those funny fantasy football team names that you make the last-placed team use each year.
Atomic Rockets
This version of the Atomic adjective makes sense. These versions are more like something you'd find on a B Movie poster after the phrase Revenge of the…
Atomic Monsters
Atomic Hornets
Atomic Orcas
Atomic Wombats
Atomic Frogs
Football Team Name Generator
Football Team Names From Writers & The Community
Powder Puff Football Team Names
It's always struck me as unfair that powder puff girls practice so hard but play only one game per year. Heck, even the drama kids get to do an entire weekend run.
We try to even things up in our article listing good girl team names.
Powderbuff Football
Powerpuff Football
XX's and O's
Femme Footballs
This idea is a great soccer team name for girls.
Exes and Oh's
This sports team name comes with its own kickass entrance music.
Onside Chick
Alpha Females
This girl's football name would also make a fantastic women's tag team wrestling name.
Gal-Star Team
Girls on Fire
I should note that some of these names came from our fantasy football team names for girls article. If these name ideas don't work for your squad, there are way more options there.
Football Team Names that are Offensive
No one in the league office cares about your team name. That is, as long as you're even a little subtle, you shouldn't have to worry about getting rejected.
Big Sack
Slot Receivers
Stuffed
If anyone inquires about this NSFW football name, just say it's about your team's tough D. You might also consider this as your team name for volleyball.
Long Snappers
Dirty Punts
Desperate to Score
This idea could work for an intramural softball team name.
Offsides Jokes
Ovarietime Period
Originally I had this football team name idea in the powderpuff team names section. Then I thought about how sensitive some parents can get and moved it down here.
Creative Football Team Names for 2023
Some say true creativity comes from an artist's connection to the muses. Others say that it comes from staying up until three am watching way too many episodes of NFL Films.
To each their own.
Protagonists
Ball of Duty
This is the perfect esports team name that specializes in sports.
Offensive Content
Getting Defensive
Blitz Complicated
That's just one of the many Blitz puns out there.
Blitz a Wonderful Life
Blitz Alive
Blitz a Funny Story
Blitz Nothing
Blitz Coming!
Intramural Football Team Name Ideas
Far be it from me to encourage delinquency amongst America's youth, but here goes. There's far too little gambling on intramural sports.
I'm not talking about wagering big money or anything, more like feats of humiliation and stupidity. If you want to make intramural sports fun, get some literal skin in the game.
BMOC
I learned this phrase from old Archie comics, and I don't know if it's still a thing.
College Krampus
Cutters
I like this as an idea for a basketball team name.
Linebackpackers
The A+ Team
Funny Football Team Names for Jokesters
I don't remember the boring names of the good intramural football teams that beat me. But I do remember the good football team names, even if their team was terrible.
In the end, which is more important: to be a good team, or to have a good team name? I think you know where we stand here at Cheat Sheet War Room.
Bye Week
Bye Week is a classic tricky football team name, right up there with Off Constantly.
OK Boomers
Catching Fields
The Blind Sides
This football team name idea doubles as an intimidating hockey team name.
The Good Guys
Any Given Sundae
Delicious.
Clever Football Team Names for 2023
No matter what people say, clever and football are not mutually elusive. I mean mutually exculpatory. Mutually explosive?
Whatever. It means you can be smart and play football.
Pigskinner!
If you're a Simpsons fan, you can hear this football team name in your head.
Team Name
Cleetspeak
Holding Sway
People interested in lacrosse team names could steal this idea.
Hustle Culture
Low-Key All-Stars
Chaotic Neutral Zone
That's a pretty fun Dungeons and Dragons-themed football team name. Y'know, just in case there's a football team out there that plays D&D together in the off-season.
Hey, it could happen.
Youth Football Team Name Ideas
If kids could name their own team, they'd be something like the Psycho Tiger Garbage Men. If adults got the wish, their kids would be on the Polite Valedictorians.
These youth football team names try to strike a balance somewhere in the middle.
Generation Z-Right
Young Guns
Young Guns could be a clever team name for baseball.
The Swarm
The Wolfpack
The Brave
Ben 11
Like the show Ben 10, but one more.
Football Team Names from Around the Web
Here are some good football team names I found just lying around the Internet, gathering dust. It would be a shame if we let them go to waste.
Rectile Dysfunction
Champ Kind's Kind Champs
Whammy!
I like this idea for a tennis team name as well.
Out of Our League
Slayers
The Champions
League Me Alone
Big Mood
Alligator Army
Throwbacks
This football name might even work as a team name for bowling.
Kickin' It