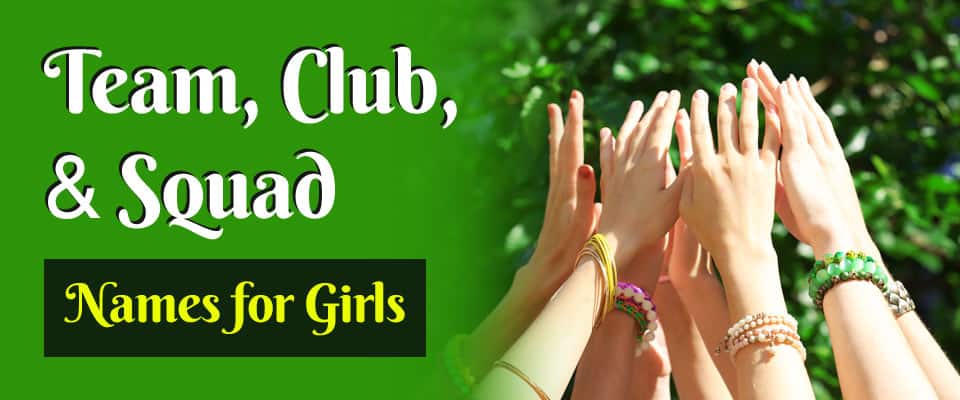 Ok ladies, the game's about to start and so it's time for your pep talk.
This team might be the best. But you can't be the best with a trash team name.
You're better than that. The right girl group names start your squad off right.
You'll be unified. Focused. Cute AF. Maybe a lil silly.
Now, let's go out there and pick some girls' squad names that match your interests and personalities!
And break!
Girl Group Names for 2021
Your team deserves a cool name because every team is a unique entity. It isn't you, but it isn't not you.
A team is the brand-new thing that results from blending yourself with all the other selves in the group. And that thing deserves a name.
Squadballs
Sisterical Laughter
The Three Amigas
This is a good one because it comes with a team salute.
The Meme Team
Bumble Baes
Ladyfriends
Tight Knitters
The team that crochets together, stays together.
The Gal-Star Team
Babesolutely
Roller Bladies
Bet Friends
Bopposites Attract
Main Characters
No side characters in this ensemble cast.
Cute Girl Group Names
Here are some girls' team names for the squad that's more cozy than kick-ass, more wholesome than awesome. Not that you aren't those other things too, you just don't have to be as aggro about it.
Peachy Queens
Lil Rascals
Awesome Blossoms
Cozy Kittens
Whole Lotta Wholesome
Funny Girls Group Names
Funny girls get underestimated when really they're the low-key MVPs of life. Comedy helps people make friends, it eases anxiety, it can teach lessons, say you're sorry, and bind people together.
Oh yeah, and it makes people laugh, which is pretty great too.
Gouda Friends
The Uncalled Four
Squad Ghouls
Catch These Frands
Susters
Maybe you play Among Us together. Maybe you just bonded over your mutual mistrust of everybody else.
Singing Group Names
Maybe the thing that binds you and your friends is the fact that you're all fans of a particular star. Maybe it's the fact that you're all going to be stars.
Either way, here are some musical girl group names for your supergroup.
Swifty Thinking
True Beliebers
Destiny's Stepchild
Backstreet Girls
Doja Kittens
Scarry Styles
Silly Eilish
Or, even sillier, Billie We-lish.
Group Chat Names
It's important to name your group chats to avoid unfortunate mishaps. Without a group chat name, a thread with your sisters looks a lot like one with your sisters and your parents.
This is very important when complaining to your sisters about your parents. Don't learn this one the hard way, people.
Meme Girls
Game of Phones
The Rolling Phones
Donut Call List
Girl Talk
Girl Gang Names
You and your gang may disagree. You may argue. You may fight, call each other heinous names, or plot revenge on one another for trespasses both real and imagined.
But if anyone else says anything bad about your sisters, then they better watch their back.
Sisters From Different Misters
Or Sistas From Different Mistas, depending on how much flava you like. Also apologies for saying flava.
Beast Fiends
Twisted Sisters
The Spicy Girls
The Lost Girls
To heck with the Lost Boys, Wendy and Tiger Lily are going out together for Lost Girls Night.
Bad Girls Club Names
Like Mae West said: Good girls go to heaven. Bad girls go everywhere.
50 Shades of Slay
Pretty Little Liars
Starbucks Sluts
She-Devils
The Bitches of Eastwick
Mom Group Names
Because mom teams can party just as hard as their kids can – assuming they can get a Starbucks first.
Or a cocktail. Or two…
Soul Sisters
The Lady Bunch
Here's a story, of some lovely ladies…
Mama Bears
The Rack Pack
The Matriarchy
The Queen Bees
Is it odd to have more than one queen bee? Y'know what, let's not overthink this.
Girls Football Team Names
With the WFA, the USWFL and more, women's professional football is on the rise. This means that the smart move is to start buying the closest team's merch now.
That way when they blow up, you'll be the one with the most legit fan cred. Or you'll be the one that makes a killing on eBay – whichever.
Dolls With Balls
Powderpuff Girls
Fly Girls
Victorious Secret
DatAss Cowgirls
Probably not for your high school Powderpuff game.
Girls Squad Names
Gamer girls are one of the most perpetually underrated classes of people. Non-gamers think gaming is frivolous, and dude gamers can be sexist trolls.
But there are two things that don't care what anyone else thinks: your squad, and the final score.
Work Hard, Slay Hard
HERd
GG GGs
Good game, gamer girls. I'd pronounce it like Gigi-Gigis, though you could also say it Four-Gee.
Birds of Prey
Or, if that's not cool enough, Birds of Slay.
Charlie's Devils
Girly Team Names
Just because we wear pink and our makeup is on point doesn't mean we can't still kick your schlubby butts.
Chick Clique
Girl Crushes
No Boys Allowed
Mary Slay Reps
Pegasi
Empowering Women's Team Names
Being cocky jerks is way more charming from a team of fun ladies than a team of actual cocky jerks.
Slay All Day
Sistas Before Mistas
Lucille Ballers
The Matriarchy
Wonder Women
The Present is Female
Creative, Cool Girls Team Names
It's good that you all have each other, because none of you would fit in anywhere else.
Taco Belles
Drama Club
We Who Shall Not Be Named
U.F.O.
That's the Unusual Friends Organization.
XY Marks the Spot