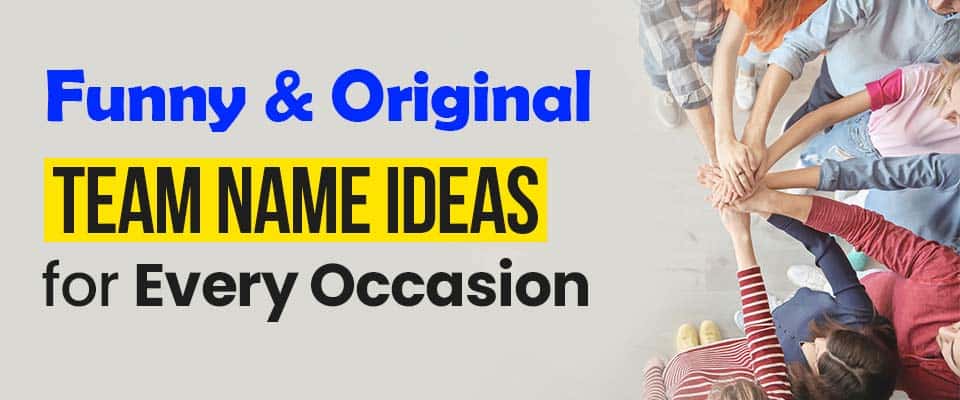 Brainstorming a cool team name is no easy feat. You need a name that's event-appropriate, embodies your team's spirit, and captures the singular essence that binds you together.
Or maybe just a dumb pun that makes you chuckle?
Here's a list of team names for just about any contest to help you and your teammates nail it in the name game. We can't promise you'll actually win anything, but at least people will chuckle before the MC reads your score!
Cool Team Names for 2023
Coming up with an original list of cool group names isn't as easy as it sounds. After all, I'm a middle-aged man who might not be on the cutting-edge of coolness.
But let's give this a shot anyway.
The Cool Kids Table
This might seem like an obvious group name if you're going strictly for coolness. But its simplicity makes it one of the coolest team names ever.
The Chill Williams
Choose this cool team name because The Silly Willies is coming on a little strong.
The Cool Kids Club
Lazer Focus
This group name is one of my favorite cool team names for work.
Lazer Cats
The Vaporwave Aesthetics
This is a cool name for teams in the tech industry.
The Rolling Stoners
This chill name is witty on several different levels.
Shady Characters
A cool name for a group of unscrupulous characters.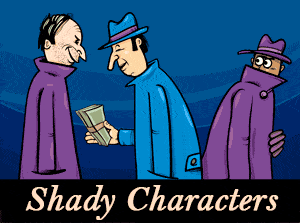 Mirrored Shades
Since nothing is cooler than sunglasses, here are some shades-based, cool names for groups:
The Ray-Bans
The Aviators
Shades Indoors
The Polarized Lenses
The Obscured Eyes
Funny Team Names for Groups of Jokesters
Life is too short to take your team name too seriously. Funny names for teams are always a good idea, especially if they're a knee-slapper.
So here's a funny team name list featuring low-effort, low-brow, and non-sensical names for your group.
The Buddy Pal Chum Friends
This is a silly team name for amigos, brothers, home-slices, etc.
Silly Billies
The Goof Balls
The Cut-Ups
Adventurekateers
Wascaly Wabbits
A hilarious team name for the boomer generation.
The Donut Call List
Team Redundancy Team
Thirst Traps
The Fast and the Furries
The Fluffers
Slapdicks
Emergency Fleshlights
Unique Team Name Ideas for 2023
Are you looking for a unique team name with meaning? Then these rare and uncommon group name ideas will be right up your alley.
These are names for more of a niche audience. If they don't get it, they can Google it.
A Pleasant Assemblage of Likeminded Individuals
I like this peculiar team name because I wouldn't know if you're starting a bridge club or a cult.
Proust's Madelines
Wall Spaghetti
Be the spaghetti that sticks.
The Even Weirder Al's
This is a unique team name idea based on one of the oddest entertainers ever. You could go with Weirdest Al if you're a one-upper.
Kawaii Leonard
If you have an artist on your team, this different team name makes for an adorable mascot.
You're Pusheen It
This unique group name has a pretty cute mascot, too.
Creative Team Names for Innovative Groups
It's ok if you think some of these awesome team names are a little weird. They'd probably think you're weird too.
The Unbearable Lightness of Being In This Team
The March of Time
This creative team name emphasizes that no one can defeat the march of time!
Artsy-Fartsy Pizza Party
The Treachery of Words
Ceci n'est pas una nomde l'équipe.
Van Gogh's Other Ear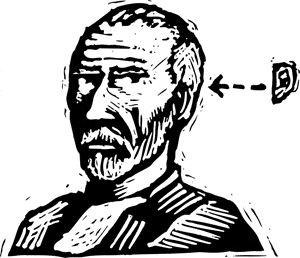 Elon's Grimey Musk
Fun Team Name Ideas for 2023
Show your competition that you mean funny business with these fun group name ideas.
The Fried Dumpling Gang
Apple Pen Pineapple Pen
Chunky Dunkers
Not everyone can pull off skinny dipping.
Meme Girls
We have an entire article dedicated to girl group names.
Petty Officers
The ultimate fun team name for work, if you're in the service.
Kawaii Not?
Yes, that's two kawaii references in the same article. No, I'm not sorry.
Clever Team Names for the Witty Among You
These clever names for a team might not get the most people to laugh, but they will get the right people to laugh.
Team A.C.R.O.N.Y.M.
With this brainy team name, at least we stand for something.
Team Palindrome Meat
The witty team name idea is not actually a palindrome at all.
Chafing the Dream
Alternative Facts
This is also a fantastic idea for a trivia team name.
Procrastinators Planning to Unite Sometime
The Undercover Cops
Shh! Don't tell anyone!
Staring Contest Champs: The Abyss
When you stare into the abyss, sometimes the abyss stares back.
Off Constantly
If your team wins, fantastic. If the other team wins, they have to say that they beat Off Constantly.
Team Names for Work
Picking a team name for the workplace is obviously a bit tricky. You want to choose a funny team name, but not too funny.
When in doubt, I always go with a work team name that won't get me fired.
Go-Getters
The Quarterly Retort
The Numbers
TGIFs
Monday Morning Quarterbacks
This is a clever team name for work if you're in the sports industry.
The Commute
The Office Fridge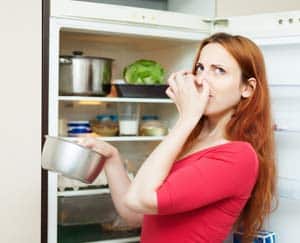 Zoom Participants
This is the most appropriate workplace team name for the post-Covid world.
Competitive Team Names for you Cutthroats
Why play if you're not playing to win? The best team names for competition can be a bit contentious, but that comes with the territory.
Here's my list of ambitious and aggressive team names for those with their eye on the prize.
The Inevitable Winners
And In First Place
This competitive team name works best when you've got an announcer that has to read it out loud.
Your Worst Nightmares
Competition team names have to be scary if you're going to intimidate your opponent.
Nice Flex But Ok
The Ideal Team has Never Been Assem-
Catchy Team Names to Stand-out
Good team names don't have to make some grand statement. Sometimes, it just has to sound right.
The Meme Team
Wobbly Goblins
Hot Content
Goofy Troopers
Sun's Out, Guns Out
This catchy team name makes for a perfect team pic after you've won.
Team Tim-Tam Slam
If you don't know what it is, you owe it to yourself to find out.
Badass Team Names for True Rebels
These are the 70's muscle cars of group names for you rebels and agitators. I present the most badass team names of 2023.
Team Rolling Thunder
The Stampede
Team Ford Tough
Wolverines!
Red Dawn. Classic.
The Drivetrain
Shelby Cobras
Shitposters
Judo CHOP!
BAMFs
Choose this renegade team name because your dissident group is a bunch of Bad-Ass Mother Funlovers.
Ass-Kickers Anonymous
"We'd quit kicking ass if only we could".
Awesome Group Names Based on Number of Participants
Numbers are just the letters of math. As such, it only makes sense to choose a team name based on the number of people in your group.
So here are my favorite team names for groups of two, three, four, or more participants.
Team Names Ideas for Two People
Sometimes all you need is your bestie. Or maybe, you just had someone randomly assigned to you.
Double Trouble
Duo Lipa
The Duality of Ham
Twin Killing
Terrible Two
The Odd Couple
A great team name for myself and any other person, really.
Han Duo
The best two person team name ever!
He-Man and Cringer
Garfunkel and Oates
Team Names for Three people
Architecturally speaking, triangles are the strongest shape. Given that, three is obviously the best number of team members too.
See? Just follow the science.
The Tripod
Triple Threat
This team name idea applies to any three person club.
Three Kings
The Triumverate
Tri Tri Again
Tri Harder
Three Musketeers
Twig and the Berries
Han Trio
I know I had this team name in the last set too, but it's just too good not to put out there again.
Team Names for Four People
Many of the greatest teams in history were foursomes:
The Beatles
The A-Team
The Ninja Turtles.
Case closed.
The Fantastic Four
The Fearsome Foursome
Fours of Nature
The Tripod and Steve
(Or whoever the odd man out is)
Fab Four
This four player team name is a tribute, not a rip-off.
Core Four
Uncalled Four
More Number-Based Team Names
The Live Five
The High-Five
This number-based team name is either good wholesome fun, or filthy dirty drug humor, or both.
The Starting Five
The Oceanic Six
The Sinister Six
Lucky Seven
The Magnificent Seven
Oceans' Eight
Oceans' Eleven
Oceans Twelve, Oceans Thirteen, give it a few years and maybe Oceans' Fourteen…
Team Names for Older Folks
These team names for elders pay homage to our older generation. Because let's be honest, old age and skullduggery beat youth and good looks every single time.
Has-Beens
Old Kids on the Block
Pace Makers
The Ok Boomers
We're not saying we're the best. We're just saying that we're ok.
Silver Foxes
The Cougar Den
Golden Girls
Confident Team Name Ideas for Bold Players
As Barry Bonds once said, "I'm not arrogant, I'm good." And that guy told the truth about everything.
The Bold Assertions
The 1%
The People's Champs
The People's Choice
Slayers
Win Diesel
Self-Deprecating Team Names for Modest Groups
Self-deprecating teams have the best attitude.
If they lose, then they called it. If they win, then they're the champs and who the hell cares what their team name was!
Last Place
The B-Team
The Scrubs
The Practice Squad
Taxi Squad
The Noobs
We Tried
The Gracious Losers
We Showed Up
One-Hit Wonders
The Kids Table
Typical Team Names for Guys
Sausage Party
Stag Party
The Rat Pack
One of the most memorable five member group names ever.
Gentlemen's Club
The Jacks Daniel
Weird Beards
Me and the Boys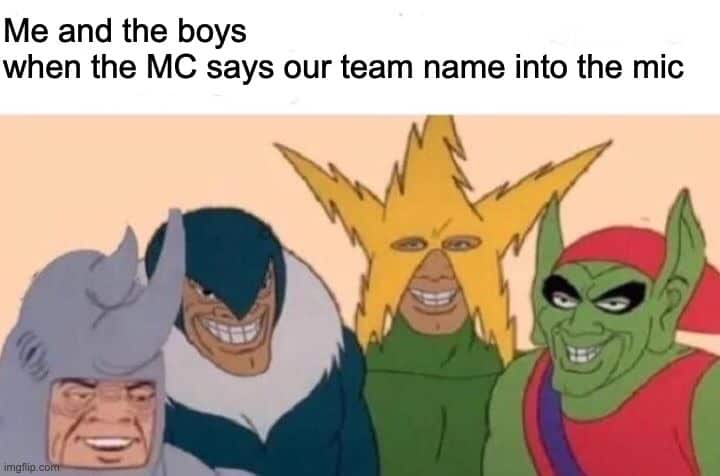 Superhero & Comic Team Names
Hero and comic team names are perfect for your team of real-life superheroes. But is your team is somewhat less than super?
Then try adding shitty before the name (or but shitty after it). I know it's juvenile, but it cracks me up every time.
Here, I'll show you.
The Avengers
The Shitty Avengers
The X-Men
The X-Men, but Shitty
The New Mutants
The New Mutants, but Bad… you get the idea at this point.
The League of Evil Mutants
The Just Us League
League of Extraordinary Gentleman
Or "The League of Pretty Ordinary Gentlemen"
Ghost Riders
Kitty Pryde's Pride of Kitties
The Uncanny Ex-Girlfriends
You can also do Uncanny Ex-Boyfriends if it's more appropriate, or just The Uncanny Exes, Man.
Aunt-Woman and the Wasps
Birds of Prey
Thirty-Teen Titans
Thirty-teen is a totally normal and not a made-up way to describe being in your forties.
The Multi-Spideys
We are all Spider-Man somewhere in the multiverse.
Strange Doctors
Doctorate Strange
This is the perfect comic book team name for those that have their PhD in weird.
TV Show Team Names
Maybe the only thing your team has in common is a tv show. But great friendships have been forged on much less.
The 99
And the fun part is whenever the MC reads your TV team name, you all get to shout 99!
Pretty Little Liars
The Originals
The Not-Ready-for-Prime-Time Players
The Sopranos
For this TV show name, you could also go with The Altos if you're feeling cheeky.
Freaks and Geeks
Monty Python's Flying Circus
I think this TV show team name is funnier if you replace Monty Python with the name of your boss or team lead. I think it's funnier still to use their first name, then replace Python with a different kind of snake. Davey Cobra's Flying Circus.
The Others
The Walking Dead
Or The Working Dead.
Kids in the Hall
The Springfield Nuclear Plant Softball Team
Vandelay Industries
Dillon High Panthers
The Wacky Racers
The Crystal Gems
Full House
The Pokedex
The London Silly Nannies
Music-Based Team and Group Names
Why not choose a team name based on music, there forming your own Supergroup?
Bed, Bath, and Beyonce
The Supremes
Smells Like Team Spirit
The Funky Bunch
The Wrecking Crew
The E Street Band
The Spiders From Mars
The New Power Generation
Dr. Crow's Medicine Show
Group Names as Team Names
Why choose a team name based on a group name? Because there are a plethora of ways to say a bunch.
The Collective
The Herd
The Cell
The Colony
The Tribe
The Clan
The Armada
The Fleet
The Squad
Have an Idea for a Cool Team Name?
If you have a good team name idea that fits into one of these categories, tell me about it in the comments below. I'll add the best team names to our list.