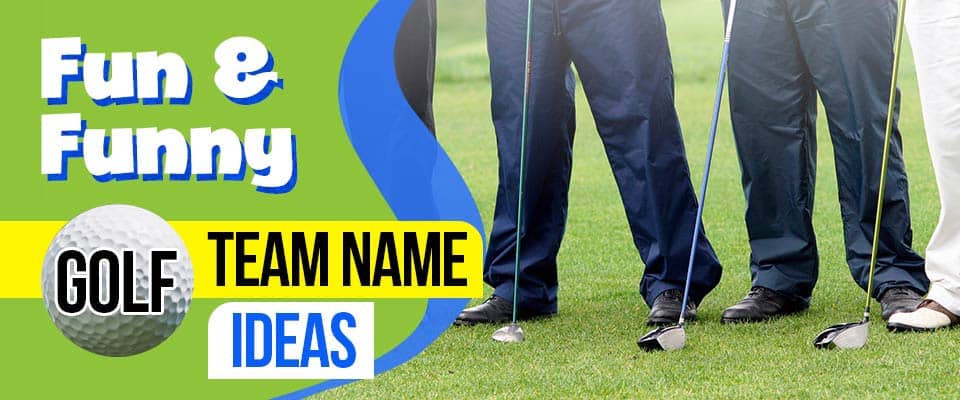 The purpose of a caddie is to assist golfers with their club selection, approach, and general life philosophy. I'm like that, except with golf team names.
Ultimately, you're the person that'll have to choose the name that's right for you and your team. But I can show you some options, tell you what I might do, and hopefully give you a chuckle or two along the way.
And you don't even have to tip me afterward.
Golf Team Names for 2021
Golf: a good walk spoiled by the need to come up with a good golf team name. Don't worry here are some options you can peruse from the sanctity of the cart.
Green Monsters
Clubhouse Rock
The Legend of Sandbagger Vance
Pin it to Win it
Pusher Men
Designated Drivers
Hole in Won
Hackers
Fairway to Heaven
Beach Babies
Bunker Buddies
Bunker Blasters
Banana Ballers
Matter of Course
Fab Foursome
Mulligan & Again & Again
I don't know why, but I like it better with the ampersands.
Funny Golf Team Names
There are two main genres of golf comedy:
1) making fun of how bad you are at golf
2) making fun of how good you are at lying about golf
Feeling Yipsy
Golden Ferrets
Marker the Beast
Hackspin
Bare Liars
Closed Face Sand Wedges
Club Sand Wedges also works, especially if you're playing in a club tournament. Plus I just like club sandwiches.
Modern Cart
Chunky Dunkers
Snobs vs. Lobs
Shanks a Lot
There are plenty of other thanks/shanks puns out there, including:
Shanks for Nothing
Shanks for the Memories
Shank You Very Much
Shank Your Mother for Me
Caddyshack Golf Team Names
One of the perks of choosing a Caddyshack team name is that it's one of the few reference points that every golfer shares. So you got that goin' for you, which is nice.
Tremendous Slouches
Noonan!
Cinderella Story
Spackler's Bluegrass
Be the Ball
Real Human Beings
Murray > Aykroyd
In all ways, really, but especially when it comes to Caddyshack.
The Worst Looking Hat I Ever Saw
Looks good on you though.
Low Grade Dog Food
Right into the Lumberyard
Flying WASPs
Clever Golf Team Names
These aren't the kind of golf team names that draw guffaws from rubes. These are the kind of names that draw appreciative chuckles from the martini-sippers at the 19th hole.
Monster Mashies
Frankly, I think Mashie Niblick is pretty good on its own.
Hackidentally in Love
The FairWay to My Heart
Divot a Chance
Worm Burners
Waggle Swagger
Frog Hair Toupee
Blame it On the Grain
Can a Milli-Vanilli reference count as clever? TBD.
DirtyGolf Team Names
What do you expect from a sport that lets you pee right on the course?
Foregasm
Or you can spell it Fourgasm. Both ways will getcha there.
Putt Stuff
Dirty Birdies
Handsy Swingers
Ball Washers
Marked Balls
I can't help but feel like I'm leaving plenty of ball references on the table. Something tells me you'll be able to fill in the gaps if you really want to.
Casual Watersports
Happy Gilmore Golf Team Names
The second-greatest golf comedy out there. Well, unless you count Dorf on Golf, that is.
The Price is Wrong
Get in the Hole!
Tap Tap Taparoo
Shanty People
It's All in the Hips
McGavin's Shooters
Landscaping Duty
All Good Things
Somebody's Closer
The Golden Jackets
Doing the Bull Dance
Feeling the flow. Workin' it.
Creative Golf Team Names
Your golf team name only has to make sense to the players in your foursome. Well, three out of four at least.
The Stimpsons
Tempo Karate
Ten-Finger Death Punch
Biarritz Crackers
Shamble Opportunity
Three Strokes of the Condor
Sandbagging Bandits
Preferred Lies
Rage Finders
Charity Golf Team Names
Ah, charity golf: the chance to feel like a hero for doing that thing you'd probably be doing anyway.
Playing for Creeps
Donated Crime
Mulligans for Everyone
Don't Chari-Tease Me
Giving Blisters
You have to give 'til it hurts.
Tournament Golf Team Names
Shotgun Hack
The Cart of War
Calcutta Beef
Liar-to-Liar Victory
Very Skinteresting
Sunday Drivers
Local Rulers
Semis
Maybe this one belongs in the dirty golf names category.
Scramble Golf Team Names
True story: I've played in one golf tournament, a best ball scramble. All I remember is that my ball was never the best ball.
Have I mentioned I'm not much of a golfer?
Best Balds
Scramitall
Scramble Legs
Scrambulous Thunderbirds
Hackswing
Mini-Golf Golf Team Names
Y'know, way more people play mini-golf than regular golf, which makes me think we've got the names backwards. Mini-golf should just be called golf and golf should be called maxi-golf.
Putter Nonsense
Short Rounds
Social Clubbers
Sunday Funnies
Windmill Communication