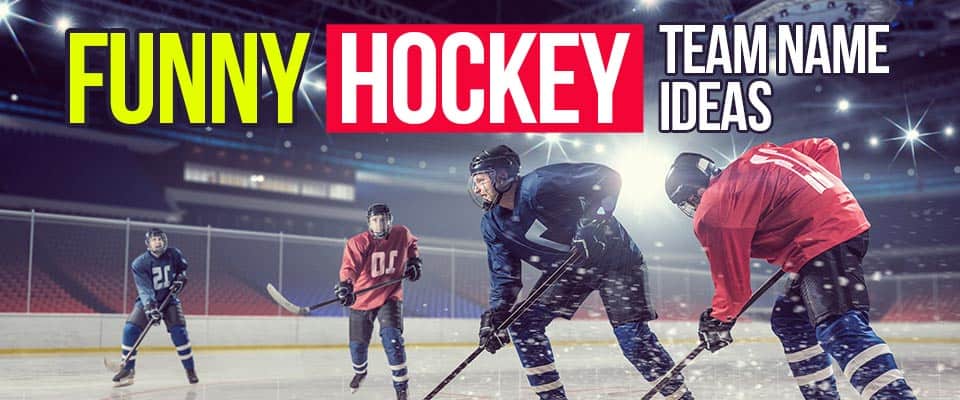 It's amazing how far hockey has come, literally. It wasn't that long ago that hockey was the province of the provinces, Scandanavia, and some other select, super cold cities.
But now southern cities like Tampa Bay are winning Stanley Cups. Youth enrolment's up, even in deserts like Phoenix or LA.
With all these new players, we're going to need some new hockey team names. So let's go top shelf with our best twisted wristers.
Ferda.
Hockey Names for 2021
Did you hear about the hockey player that retired and became an accountant?
He got an off-ice job. See, it's funny because it's an office job that's off the ice. Well anyway, here's more of that type of sophisticated, intellectual humor.
Ferda
Twisted Wristers
I know I used both of these phrases in the intro, but they're pretty good hockey team names too.
Lucky Puckers
Hits Different
The Thicc Blue Line
Checkers and Chips
Tin Knights
Or Bronze Knights, Lead Knights – really any metal less precious than gold.
Later, Skater
Thin Ice
H. E. Double Hockey Sticks
Icing the Win
Icing the Championship, Icing the Chip – whatever your favorite synonym for victory is.
RedLine Energy
Bring Your Eh Game
Funny Hockey Team Names from Movies and TV
Ok, hockey die-hards, here's a thinker: which fictional hockey player was the best enforcer?
Doug Glatt from Goon or Shoresy from Letterkenny? The Bash Brothers from The Mighty Ducks or the Hanson Brothers from Slap Shot?
Fight it out amongst yourselves.
Charlestown Chiefs
The Hanson Brothers
This works on its own, but it's also the perfect starter for a number of industry-specific hockey team names.
Hanson Bros. Mortuary – We'll lay you out cold.
Hanson Bros. Dentistry – Service with a smile.
Hanson Bros. Plastic Surgery – We'll rearrange your face.
Dog River Riverdogs
Mystery Eskimos
Walla Walla Wombats
Blades of Glory
Ok, not technically a hockey movie. But still: skating, competition, head trauma – it's pretty close.
Springfield Ice-O-Topes
Kwik-E-Mart Gougers
Mighty Pigs
Kerry County Eagles
Letterkenny Irish
Letterkenny Shamrocks
Beer League Hockey Team Names
You might not be the best hockey players, but you are the best drinkers. All you have to do is get the other team drunk, then see who the better drunk hockey players are.
Oh, and try not to hurt yourselves.
Miller Lightning
You can also do Bud Lightning, Coors Lightning, or whatever the boys' brew of choice is.
Drunk and Looking to Score
Cold Ones
Mighty Drunks
Sluggin' Mugs
This seemingly stupid name is really a sophisticated three-way hockey pun.
You're drinking beers
You're a bunch of goons that like to punch
You're actively punching faces
Cool Hockey Team Names
Here are some cool ice hockey team names, no pun intended. Actually, never mind – quite a few hockey puns intended.
Hockey Schtick
Dumpstars
Florida Everblades
Obviously this one works best as a Florida hockey team name, but you don't need to be in Florida to use it.
Icing the Blues
Ice Force
Hockey Stick Names
Are these names for your hockey team based on stick brands, or names for your hockey stick based on their brands? They're whatever you want them to be, cowboy.
Beasts of the Easton
CCMe
Flip Your Twig
The TPS Report
Bauer Power
Kohonly Fans
Fiberglassholes
Creative Hockey Team Names Based on Players
Hockey combines the creativity and artistry of basketball with the ferocity and power of football. Plus the coldness of sled racing and the not-being-able-to-stopness of a hydroplaning Humvee.
No Regretskys
Moves Like Jagr
Lemieux and I
Sid's Kids
Puck Norris
Ok, he's not technically a hockey player, but are you going to tell Chuck Norris he doesn't belong?
Dirty Hockey Team Names
I hope I'm not revealing any locker room secrets, but hockey players actually have a somewhat ribald sense of humor. I know, I know – deeply shocking stuff.
Slick Sticks
Don Cherry Poppin' Daddies
Big Test Icicles
Zamboners
Puck U
This is probably the classiest of the puck/word-that-rhymes-with-puck puns, but it isn't the only one. Here are some of the rest:
Puck Yourself
Puck Off
Mother Puckers
Pucking Puckers
Clever Hockey Team Names for Adult Leagues
There are those that would say you're too old to still be playing hockey. And sometimes those are your knees and your back.
Mid Ice Crisis
Gerri-Hattricks
Rusty Blades
Cashed Checkers
Puck Daddies
Skateful Dead
Cheapskates
Plow Kings
Floor Hockey
Roller hockey: all of the hockey action. None of the insanity of keeping water in a permanently frozen state in clear defiance of the will of nature.
Wheelie Cool
Stick Figures
Rubber Puckies
Floored
Floorgasm
Weird Hockey Team Names
Because sometimes it's the third line that scores the winning goal.
The Goons
Toothless Wonders
Net Sticks and Chill
Two Buck Puck
Queens of the Ice Age
More Hockey Team Names from Around the Web
Credit the internet with the assist.
Zambronies
The Mighty Pucks
The Big Chill
Bye Week
Rink Rats
Ice Ice Baby
Ugly Pucklings
Ice Breakers
Narwhals
Ice Holes
Healthy Scratches
The Enforcers
Eskimo Brothers
Back That Pass Up
Hatrick Swayze
Hockey Balboa