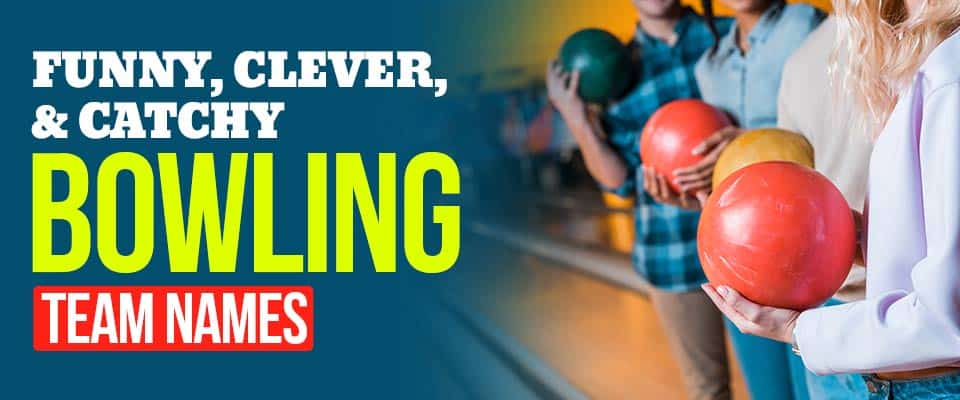 There are those who say that bowling isn't a sport. Some even say that beer isn't awesome and league night isn't a valid excuse for missing your anniversary.
What I'm saying is that people can be wrong.
Here are our best bowling team names to celebrate finer things in life: picking up a tough spare and shoe rentals that come with bottomless popcorn.
Bowling Names for 2023
Bowling is great because it levels the playing field across age, sex, and any other demographic.
There aren't many ten-year-olds that could beat a grown man at basketball. But every bowling alley in America has one kid that will roast any middle-aged chump that comes knocking.
Pin Ball Wizards
Someone Else's Shoes
Will Bowl 4 Booze
Lucky Strikes
Keep reading to see more team names based on bowling puns.
Gutter Nonsense
Stay in Your Lane
Spare Time
The Pin Pricks
This idea could be a Covid bowling team name. It can also just be a warning to others about the kind of attitude they should expect from your crew.
Alley Oops
Holy Rollers
Here is your free bowling team logo!
Bowled Assertion
Pin Pals
This is a reference to the classic Simpsons bowling episode. Or maybe it's just a super-wholesome bowling team name.
Suggest a Bowling Team Name
Your name may be added to this post!
Funny Bowling Team Names
What did the bowling ball say to the pins? Don't stop me now, I'm on a roll.
Livin' On a Spare
Splits and Giggles
I can certainly relate to this funny bowling team name.
Let's Roll
Lickety Splits
Super Bowling Champs
Circular Logic
If you think these bowling names are hilarious, check out our ideas for baseball team names.
Bowling Team Name Generator
Bowling Team Names From Writers & The Community
Bowling League Name Ideas
Ah, bowling league night. It's where an average joe can experience all the joy, pain, frustration, and sacrifice of professional sports- but without that pesky inconvenience of getting paid.
Sphere of Influencers
I like this idea as a clever team name for gamers.
Gutter Buddies
Spherical Heroes
This bowling league name describes many of the bowlers I know.
Perfect 10's
For the Love of the Lane
This also works as a B-Ball team name. We have more good basketball team names too.
The Big Lebowski Team Names
Fuck it Dude, let's go bowling.
Mark it Zero!
Shut the F- – – Up, Donnie
It's up to you to fill in those dashes.
This is What Happens
A World of Pain
The Nihilists
This bowling name idea doubles as a funny tag team name.
This Aggression Will Not Stand
The Dudes
I also think this could be a badass flag football team name.
Little Lebowski Urban Achievers
And we are proud of them.
Clever Bowling Team Name Ideas
Like a well-placed ball, these clever bowling team names have just a bit of a curve to them.
Snakes on a Lane
Split for Brains
Glidin' Down the Boards
A clever bowling team name, but also a good hockey team name.
Call Me Ishmael Boorg
This bowling team name is a Kingpin reference and a Moby Dick reference. Ok, this one might be a little too clever.
Two Left Thumbs
Turkey Buzzards
Pickup Artists
Team Name Ideas Based on Bowling Puns
If any of these bowling name ideas are gutterballs for you, call it an alley-oops.
Pin It to Win It
Bowling You Over
Generation XXX
This bowling pun may classify this name as a dirty bowling team name.
Gutter Done
I Can't Believe It's Not Gutter
Dirty Bowling Team Names
The filth in these dirty bowling team names is only matched by bowling alleys themselves.
Bowl Movements
Minds in the Gutter
Licking McCracken
I like to think that Big Ern would approve.
The Bowl Jobs
The Glory Bowls
Knuckles Deep
Pocket Rockets
I also love this idea for a cool lacrosse team name.
Bowls Deep
Gutterballs
Money Shots
Sometimes good sports team names have to be filthy.
Bowling Team Names for Bankers
After a tough day of compounding interest, you just want to smash some pins.
Bank Shot
Bank shots aren't much of a thing in bowling, but you get the idea.
Spare Change
Throwing Good After Bad
Money. Bowling balls. Whatever.
Big Money
Bankers Hours, Bowler's Powers
Bowling Team Name Ideas for Girls
Maybe it's ladies league night, or maybe you're just a group of gals that like to roll. Either way, here are some bowling team names for women.
Dolls With Balls
Gutter Gals
Pindigo Girls
The Witches of Brunswick
Someone high-five me in the comments for this girls bowling team name, please!
Kulicking the Kompetition
Ladewig's Ladies
Ladewigging Out
There's more on Marion Ladewig in this video. Plus, it's just incredible watching old-school professional bowling.
Coed Bowling Team Names
Maybe you're just some platonic friends who like to bowl. Maybe you're couples doing a double date thing.
Or maybe you're platonic pals that secretly want to do a double-date thing. Bowling is known to be a powerful aphrodisiac, after all.
Rollin' Wit Da Homies
XY, XX, XXX
This coed bowing name is a genetics joke, ya turkeys.
Bustin' Balls
Faults and All
The Family That Rolls Together, Holds Together
This coed team name could be Roll Together, Hold Together if you're dealing with character limits.
Unique Bowling Team Name Ideas
Be the one pin left standing.
4 Guys 12 Balls
Body by Bowling
Gutter Humiliation
Balls of Fury
If you play football, you could steal this for a NSFW football team name.
Shut Up and Roll
Cool Bowling Names for 2023
No, bowling and coolness aren't mutually exclusive. How dare you for suggesting such a thing!
The Bowling Stones
Alley Cats
X-Men
Your mutant superpower is throwing strikes.
Gutter Punks
How We Roll
Bowling Team Names From Readers
Hanging by our balls
Submitted by: Linda Brown
Bowling Team Names from Around the Web
It's possible that none of the bowling names above were a strike for you. If so, here comes the Internet to try to pick up the spare.
Balls to the Walls
This idea would make a cool racing team name.
Gutter Trash
I Can't Believe it's Not Gutter
Irritable Bowl Syndrome
King Pins
My Drinking Team has a Bowling Problem
Nutter Gutters
At least this bowling name sounds better than Gutter Butters.
Pin Heads
Roll, Drink, Repeat
Scared Splitless
Spare Us
Split Ends
Split Happens
Split Personalities
Tidy Bowl
More Bowling Team Name Ideas?
Do you have more ideas for funny bowling names? Tell me about it in the comments. I'll add the most hilarious bowling team names to this article.