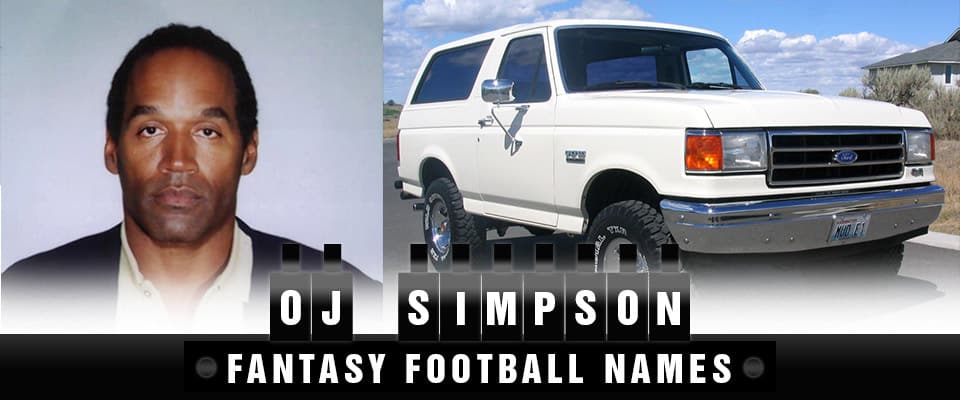 Fair warning: some of the team name ideas on this list are pretty dark. I hope that's not surprising. After all, you're the one who's looking for OJ Simpson fantasy football team names online.
Use your discretion if these offensive fantasy football names are too inappropriate for your work league. On the other hand, if you're in a league with a bunch of degenerates like me, then maybe a dark but funny OJ team name is precisely what the lawyer ordered.
OJ Simpson Fantasy Football Team Names
Lost in all the murder hoopla was an inspiring story of true friendship. A.J. Cowlings drove his buddy OJ around for hours with the entire LAPD in pursuit.
Who in your life would do that for you?
Slow White Broncos
You know, like the old joke: what's the difference between OJ Simpson and John Elway? One drives a slow, white bronco while the other is a slow, white Bronco.
OJ's Dream Team
Nordberg!
Remember when OJ was on the LAPD? That feels weird now.
Orinthologists
OJ's Twitter
OJ's Twitter account is a wild but cringy ride. Not Bronco chase level of wild ride, but still.
LizzOJ's Juice
In all fairness, this one comes from our article on fantasy football team names for girls.
Funny OJ Trial Team Names
A great novelist once said:
"There are no second acts in American lives."

F. Scott Fitzgerald
I think it's safe to say that O.J. Simson proved this wrong with one magnificent shit-show of a second act.
OJ is Innocent
Cochran It In
Marcia Clark's Helmet Hair
What do Marcia Clark, a shark, and your fantasy roster have in common?
They all need to keep moving forward or they'll die.
Buffalo Billion Dollar Defense Team
Special Teams/Defense Attorney
The League vs. OJ Simpson
OJ Makes a Kardashian For the Goal Line
It's the OJ trial that first made the Kardashian name famous. So technically, OJ is guilty of two major crimes.
The Juice's Gloves
Kato Cousins
Kirk Cousins is the Kato Kaelin of the NFL. They're both random white dudes that happen to know some NFL players.
Judge Ito Smith
Ito didn't have a great 2019. But this OJ team name was too obvious to ignore.
OJ Simpson Fantasy Football Team Name Generator
OJ Simpson Fantasy Football Team Names From Writers & The Community
Dark OJ Simpson Fantasy Football Names
There are those out there that say maybe he didn't do it – he was found not guilty, after all. Ok, sure, but then he was found guilty, and then he wrote a book called If I Did It.
So yeah, he did it.
OJ's Killer Team
Unnecessary Roughness, #32, Away Team
OJ Beats the Browns
Simpson of Sam
OJ's Backstabbers
I mean, it's a little too perfect.
Best OJ Simpson Team Names From Around the Web
Let's call this section If I Wrote It.
Ray, Rae, & OJ
#FreeOJ
OJ's Dream Girl
Loose Juice
If I Won It
OJ Cuts Left
Team Name Ideas for Other NFL Running Backs
We understand that some of you may be too old to remember the "Trial of the Century". So if you're looking for team names based on modern running backs, check out this list:
More OJ Simpson Team Name Ideas
Do you have more team name ideas for Orenthal? Do you have any tips on where to find the real killer?
If so, please me about it in the comments below. I'll add the best OJ team name ideas to this list. And I'll send the best murder leads over to OJ so he can look for the real killer.